Written by MilkShake, edited by OtakuApologist
Sexy Exile is a dating sim, puzzle game, and a side-scroller developed by 3X Entertainment, published by Nutaku.  Available for download for free on PC and Android. Released on March 30, 2022. Uncensored genitals. Partial voice acting.
You were exiled from Heaven! You must hunt down demons on Earth! Will there be a happy ending to this Biblical adventure of yours, or will you give into to the sins of lust and greed, for faster progression and digital girlfriends?
STORY
Shouldn't have fucked your boss' hot daughter! You were exiled from Heaven, and now hunt down demons. While on Earth, you meet Mayu, your busty neighbor, who seems to have a crush on you. Both Mayu and yourself end up going on a date to the park. During the date you play minigames and pick dialogue options. As you progress through the story you meet more women and complete the mission you were sent to do on Earth. The story is simple but gives you a reason to stick around to see how events will unfold.
Here's a gameplay video. Hopefully not deleted by the time you read this.
GAMEPLAY
The tutorial gives you a good understanding of the gameplay. The minigames themselves are easy to understand, but might be frustrating at times. If you fail them a certain amount of times, you will have no energy and will have to wait for it to replenish. You collect sparks, but be careful to use them wisely. The game can take a while to finish due to many levels that you need to unlock.
Spark is used to help you progress. It can give extra time to complete a challenge or give you more cards in a challenge. It is a good idea to use them sparingly, or else you will have to make in-game purchases to get these special items. Orbs are the same but not quite as rare. The more you level up your girls, the faster they produce orbs.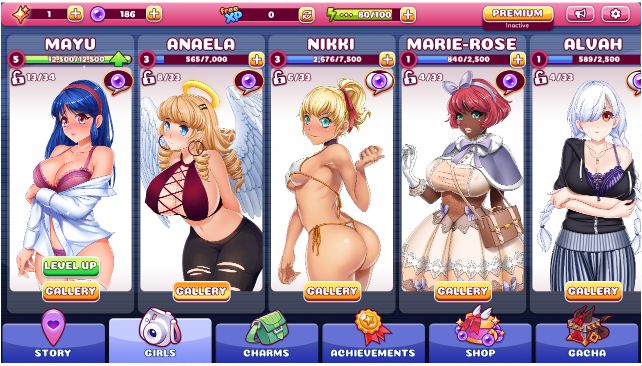 GRAPHICS
The art is appealing to look at and the designs of the women are distinct from each other. You can get the women different outfits to wear, which you can add more to, by dressing them in hats and other garments. Mayu for example can unlock a devil outfit, while Nikki can have a bikini. There are a good array of outfits to unlock. You can also access animations that you can view at any time. These animations are short but look great. During gameplay segments, the girls will make little gestures. They'll be blushing and sticking their tongue in response to your performance, or when you pick a certain dialogue option.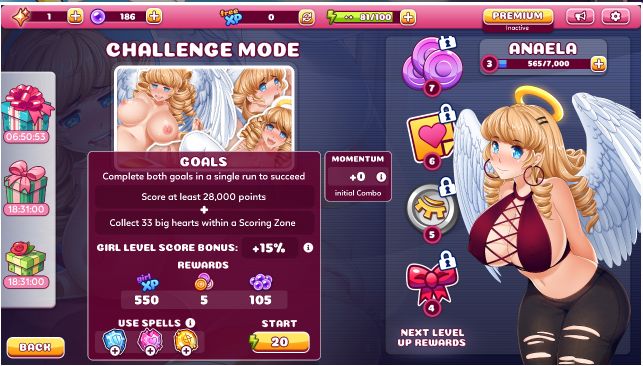 VOICE ACTING AND SOUNDS (SFX)
The overall audio and voice work are decent quality. The sex animations that you unlock have fast-forward buttons. And the sounds adjust to the speed increases. There isn't too much voice acting in the game and you mainly have to read dialogue and imagine their serene voices, be they demons, angels, or mortals.
MUSIC
The music is actually calming. You can leave the game on at night and let the music play in the background and you may just fall sleep. When you are actually trying to complete a challenge, you get upbeat song, that's good on a basic level. If for any reason you find the tracks not to your liking, you can turn them off in the Settings along with the sound and the voices. There is not much I can say about the music, as it's rather basic.
HENTAI
Unlocking sexy outfits, items, progressing throughout the story, and leveling up each girl to max out your intimacy level, will take time. If you want to complete the game as soon as possible and see all the exotic anime titties, you will need to grind for days or make in-game purchases. I played without spending on premium, so barely saw any porn. There's a lot of cocktease leading up to unlocking the actual sexual content. If you're in for a ride like that, hop right in.
CONCLUDING WORDS
This porn game is decent fap fuel, if you are looking for something with a rudimentary plot that doesn't get too deep. There's a lot of grinding, as is par for the course for these types of titles. The art is great, sporting a cavalcade of juicy anime girls of varied cup sizes and personalities. It's not an innovative game, but a finely executed one. Ideal for fun time-killing sessions between work or study hours. Start playing today for free.

Graphics

Gameplay

Story

Music

SFX

Hentai