Written by Misstress Valentine, edited by OtakuApologist
Kinkoi: Golden Loveriche, a hentai visual novel game developed by Waffle. Released June 11, 2021. Download on MangaGamer for $34.95. Download on JAST USA for $29.74. For Windows PC. Full Japanese voice acting. Uncensored genitals.
PROMO: When you download games through links on Hentaireviews, you support our hentai comics.
STORY
Kinkoi: Golden Loveriche follows the exploits of Ouro, a member of royalty from the Scandinavian-like country of Sortilège. He manages to attract the eye of the princess, Silvia. He misunderstands the situation when he sees her fleeing from some men in black suits and ends up 'rescuing' her from her handlers who punish him for his heroics. He's put in the same prestige academy as her, in the girls' dormitory!
Now forced to spend his days not being labeled as a pervert, as well as balancing school work with hilarious hijinks involving an assortment of cute blonde girls. The player's choices will allow Ouro to build true relationships with these characters as he helps them work through their traumas and insecurities. In exchange, he'll get to bed these lovely beauties and live out his deepest fantasies.
This game is HUGE! With 30-40 hours of content and loads of characters to keep track of. The four main heroines are Silvia le Cruzcrown Sortilège Sisua, the innocent and naïve type; I found the character's gullibility to be wonderfully cute. Kisaki Reina is a genky girl who is the most popular with men, she wishes to get her foot in the fashion industry door. Heroina di Caballero istaa, she is Silvia's body guard, knight and enjoys fencing. She is a prude, so I had the most fun corrupting her. Soma Ria is a foul-mouthed delinquent who steals beautiful moments with you while she smokes on the roof of the academy. You also have Kuryu Akane who is the clumsy, sporty girl of the harem.
Each character is worth spending time with. Too many to name here. Every girl has her own story and problems that you work through and some of the topics touched upon, such as loneliness and depression, lack of confidence, are explored deeply.
GRAPHICS
I cannot emphasize enough how breathtaking the artwork in this game is. I wanna frame so many of them in my house. They are gorgeous. At times it feels like most of the budget was poured into cresting these awe-inspiring visuals. The backgrounds library is so large with dozens of locations, drawn with impressive detail. Certain backgrounds are not only changed to consider time of day, but also weather. Some CGs will showcase deep dark clouds while others will show off how beautiful the night time sky is. 
Almost every character has their own sprite. They are well drawn. Many have different expressions and poses. Multiple characters have several different costumes. Sylvia has at least three different casual clothes that she wears throughout the game. The camera will zoom in or pan to give you a sense of size and scope of events. During comedic moments, sprites will often be rendered in chibi form!
GAMEPLAY
Kinkoi is a visual novel game. You advance the story by clicking the screen. Every so often you will be presented with choices. These decisions range from inconsequential, like where to cum or if you pull out, to more important ones that will affect which heroine you end up with.
You have the option of skipping the Prologue, but I'd advise against it. Once you have beaten the game, you unlock the four main heroines' routes and play again. Some of the scenes remain the same, but the bulk of the route remains unchanged. Unlike typical harem titles, the other girls do not suddenly disappear in other routes.
As you play, you will unlock CGs which can also be viewed in the gallery, as well as the Memory Mode which allows you to replay scenes. There is a separate gallery where you can listen to the soundtrack at your leisure. 

So many characters are voiced and the quality of performance is just as praiseworthy. Elle and Silvia's performance I enjoyed the most, but there were plenty of moments where Rika caused me to well up. The male VO is equally good. Ouro quickly becomes a generic male anime protagonist but the actor manages to inject him with enough likability that you don't hate him.
During sex, all the girls have cute voices that makes you wanna reach  through the screen and have your way with them. Elle and Akane stand out.
The sound effects library mostly relies on abstract noises that are used for comedic effect. There are too many of them to count, to the point where they don't even stand out. There are few other sounds like slaps and thuds but they aren't common.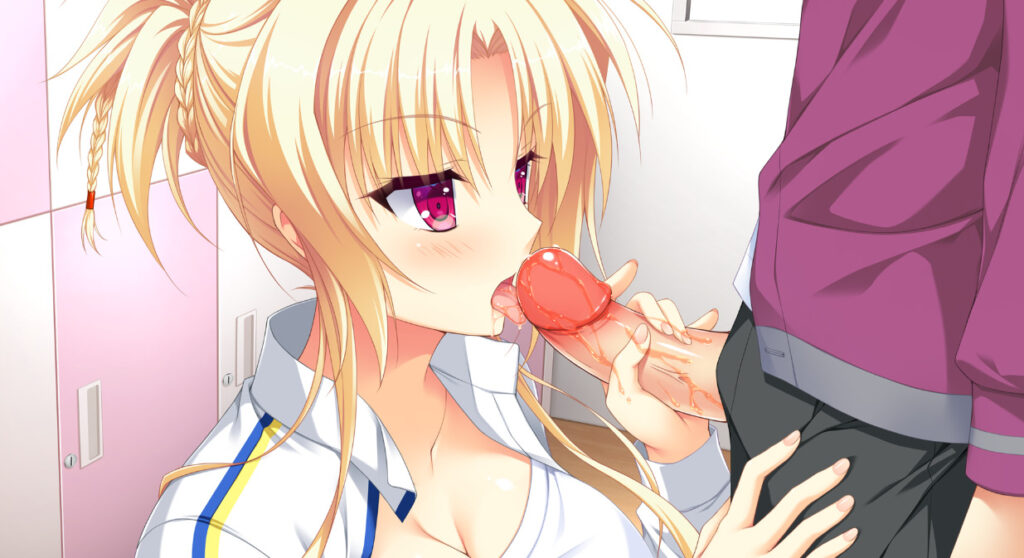 MUSIC
A fun feature of Kinkoi's is that you systemically unlock more songs by playing through each heroine's story. The final soundtrack contains over thirty songs. These tunes are beautiful. You can hear the effort that went into composing these, especially the OP movie which plays during the credits.
The soundtrack features songs for every occasion, using original instruments. Guitar, xylophone, piano, drums, flutes, organ, triangle, keyboard and many more. The longer you play, the more you notice which songs are the developers' favorites. They are used in abundance. 
Music is also very cleverly placed in scenes. This triggers the exact emotional cord I believe the developers wanted, particularly near the end of the game which brought tears to my eyes.
HENTAI
This is one of those games where I didn't mind waiting for sex. And believe me, you wait for the sex. You won't fap to a scene until you've unlocked the heroines' routes. But it's worth the patience because getting to know these girls, building a relationship with them first, makes their sexual encounters feel that much more rewarding. 
I enjoyed Elle's route the most because prudish girls who develop a taste for sex is a favorite kink of mine. In her first couple of scenes she is reluctant to give blowjobs and berates Ouro for his perversion. When she finally takes him in her mouth, my loins were on fire. In another scene, she is groped while in the shower. Her breasts are nice and big and Ouro's fingers really dig into her flesh. 
Kinkoi isn't afraid to mix humor and sex. In one scene, Sylvia walks in on Ouro plugging Elle's butt with a doggy tail and after some encouraging, joins in the fun. 
This game appeals to folks who enjoy threesomes. In quite a few routes, Ouro is having sex with two girls are once. Whether they are taking turns on his dick or stretching out their butt holes, it's all good fun. 
Some of the more intimate encounters such as Silvia or Akane's final ones with Ouro hit home for me. I found it extra rewarding experiencing an orgasm with them.
CONCLUDING WORDS
Kinkoi is worth the steep price of admission. It is more than your typical harem game with loads of complicated, but interesting characters. Dialogue and relationships are important and they are wrapped in gorgeous production values that show in the music, art, story and sex. With the amount of content to play through, this game will keep you entertained for a good while. Download Kinkoi on Mangagamer! Download this on JAST USA.
Graphics

Gameplay

Story

Music

SFX

Hentai