Fellatio Onahole Review: Maid In Fella
Hentai Reviews

>

Reviews

>

Fellatio Onahole Review: Maid In Fella
Written by John Cattle, edited by Otaku Apologist
Blowjobs, fellatio, cock-sucking – however you refer to oral sex, it's my favorite genre of hentai, but so far my experience with oral-themed onaholes has been sub-par. Until now! I want to introduce you to my new favorite toy "Maid in Fella" from the wonderful people at ToysHeart. Purchased from Toydemon. This is my fourth mouth-shaped onahole. It's by far the best.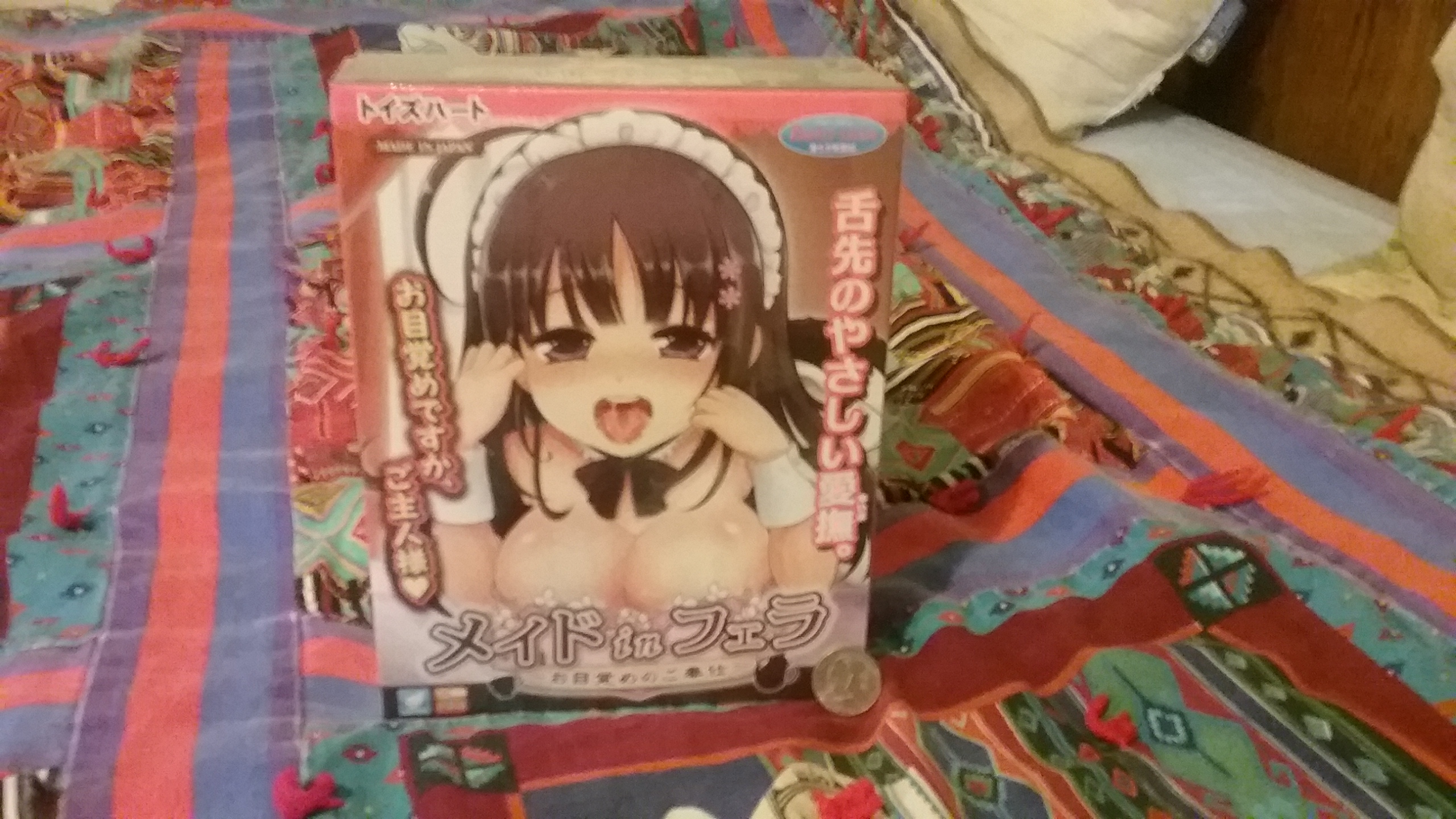 PACKAGING
When I first received my little brown box dropped on my front porch, I took her in, like a lost kitten. I quickly cut her open to reveal the treasure within, a small, sleek container with the image of a lovely anime maid. She's opening her soft, drooling mouth, ready for a taste of my dick. Upon opening the container I found a small bottle of lubricant from the manufacturer, and a rectangular plastic box housing the onahole, covered in a plastic wrap. Removing the plastic wrap, I smelled no weird odors, like some onaholes have.
MATERIAL
Like I mentioned, this is my fourth oral-themed onahole, so I have a few to compare to. Like it says on the packaging, the toy is made of "baby skin" material. The material has a firmness that reminds me of La Bocca Della Verita. This toy is smoother. Comparing it to Superb Fella 4, it seems to be much firmer and more compact. On the inside, the first thing you'll notice is the texture of the tongue, which feels like the real thing. It's larger than the small tongue in Superb Fella 4. The rest of the oral cavity seems to have the same texture as the outside, which is very pleasant.
The lubricant included inside the packaging is thick yet slick, and seems to hold its lubricating power for quite a while. These little samples almost always don't last more than 3-4 uses. For most of my rides, I use good old-fashioned Astroglide as a personal preference.
PLEASURE
I had high hopes for this product, and I was not disappointed. Sliding your member into its round opening, you first notice the firm feel of her textured tongue pressing against the underside of your glans. Going further into her, you'll notice that about halfway in, you begin to feel her lips forming a seal around the shaft. The suction, I would describe as medium intensity. As far as stroking goes, the feel of her tongue massaging the underside of your cock, is to die for. This isn't a very tight onahole, but the mellow feeling is just what I want. As a man who's had his fair share of blowjobs, I have to say it's pretty close to the real thing, at least closer than other toys I've tried. The back of the onahole is a little tighter than a real throat opening, which feels nice, but less realistic.
I have one complaint about this toy, which relates to its shallow depth. I'm usually 6-7 inches long when fully erect, and although the toy can envelop three fourths of the length of my cock, I have to stretch it, to reach the base. If you've never fapped with onaholes, or had sex, you maybe can't appreciate how important it is, to feel your cock fully enveloped by a wet hole.
CLEANING
Maintenance of the toy is similar to my other mouth-shaped onaholes. Personally, after use, I simply hold it under hot running water while squeezing it. I slip my finger on some soap, and finger the inside, then rinse the water out. The inside takes a while to become completely dry in normal room temperatures, but you can use tricks, like shoving a tampon in, to absorb the moisture. The outside gets sticky after consecutive fap sessions, but a nice rub with baby powder, or corn starch, brings the smooth texture right back.
This product has been discontinued.
Pleasure

Material

Cleaning

Package