Bondage Hentai Anime Review: Tsun M! Gyutto Shibatte Shidoushite The Animation
Hentai Reviews

>

Reviews

>

Bondage Hentai Anime Review: Tsun M! Gyutto Shibatte Shidoushite The Animation
Written by Mistress Valentine, edited by OtakuApologist
Tsun M! Gyutto Shibatte Shidoushite The Animation, Episode 1, a hentai anime produced by PinkPineapple and SHION. Released April 27, 2018. Two episodes are available. Runtime thirty minutes. Genitals censored. English subtitles are available.
This dirty anime is the story of Kioki Sako, a high school girl dating her teacher Hamoaka Takeshi. It's her journey into becoming the perfect blowjob cum dumpster for her favorite teacher.
Fetishes: Big ass, big tits, oral sex, anal sex, creampie, tanlines, BDSM
STORY
Kioki finds S&M style magazines in her boyfriend's room and scolds him for being a pervert before surrendering herself to be sexually subjugated. Out of nowhere, she wants to be fucked with her hands tied behind her back. Kioki realizes that being fucked BDSM style is awesome and lets Hamoaka have his way with her.
Several days later, Kioki cooks a meal for Hamoaka before he lures her into blindfold play. She goes underneath a work desk and sucks Hamoaka's cock like a paid slut.
The next day, some girls are flirting with Hamoaka. Kioki accuses Hamoaka of cheating on her. The argument somehow ends with Kioki tied up with a rope, Hamoaka's dick buried deep inside of her. They are interrupted by some students who walk into the showers. How they got to the school's showers shall remain a mystery. It becomes an exhibitionist scene where Kioki needs to take the dick quietly, or risk getting the couple expelled. The risk of getting their lives destroyed only incites Hamoaka to fuck her girlfriend harder and cum inside her fertile womb.
That night, Hamoaka finds Kioki in her room using a rope to pleasure herself. The scene is steamy as is, but Hamoaka levels up by binding Kioki with her swimsuit on.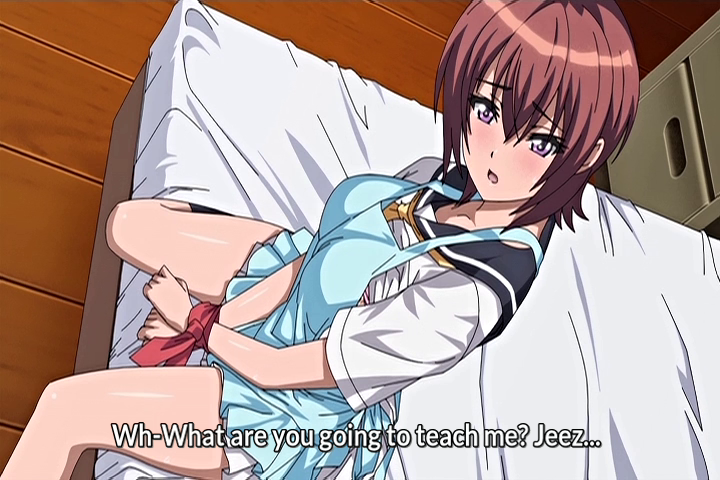 VOICE ACTING & SOUND EFFECTS (SFX)
Kioki's voice acting is superb. The actress captures the high pants and moans of someone constantly on the brink of ecstasy. She has great commentary on what is happening to her with great delivery of her lines. Hamoaka's male voice actor does a good job as well, but like in all good hentai, the guy says little.
The episode has sound effects such as cicadas chirping, water splashing, showers blasting water. The episide is mostly indoors, so the sound effects are mostly of the woman squealing when bound by rope, mumbling through a gag. When the man cums, there's a pronounced cum splashing sound. There's also the usual hard, audible thumps of cock slapping into a drooling pussy.
MUSIC
This title is almost completely devoid of music. There's a short jingle that plays during the title screen. The only vocals in the sex scenes are dialogue between characters. The series gets away with the lack of music because it adds to the sense of realism. I never noticed the music was absent.
ANIMATION
There's a particularly sexy shot of Hamoaka's dick growing larger inside of Kioki's pussy while they're in danger of being caught. Kioki's expression on her face afterwards is amazing.
The camera is obsessed with Kioki's body, showing her rope-bound goodies from many delicious angles. These snapshots are so good, they are almost more erotic than the actual sex. The show is not afraid to focus on juicy details other than girl's breasts and pussy. Her horny expressions add much to the eroticism. The submissive poses she assumes during sex highlight Kioki's submissive nature and vulnerability.
The character designs are pretty basic, not very impressive. The backgrounds during animation are quite dull. Some scenes look duller than they should, but you're not gonna pay attention with Kioki's sensual presence distracting you.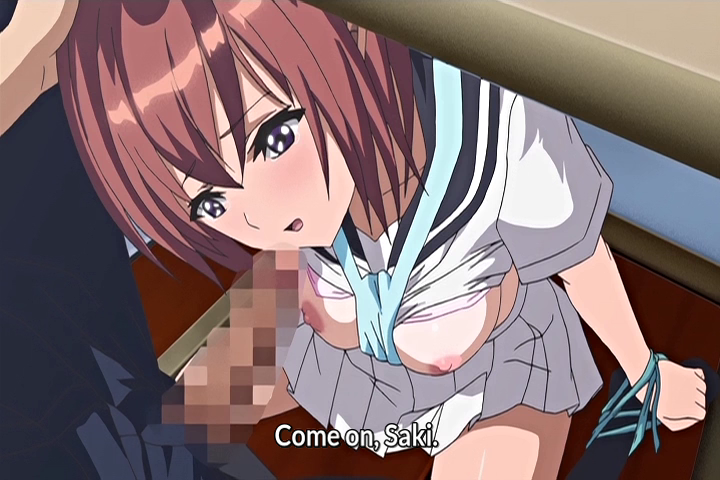 HENTAI
In the first, Hamoaka plays the dominant, while the embarrassed Kioki is the sub.
Hamoaka starts teaching Kioki about BDSM role play. It's very sexy, and features several shots of Kioki's body bound and gagged. The camera captures the action from many different angles. The shots line up to make the scene look incredibly raw. Kioki sucks Hamoaka's cock from under his work desk while her hands are bound to her feet. The dialogue and camera angles increase the immersion and make you want to experience bondage yourself.
Hamaoka and Kioki's encounter in the school's locker rooms is less sexy compared to the foreplay scenes. Seeing Kioki react with tsundere embarrassment at Hamoaka tying up her breasts and playing with her body is more arousing than the actual deed. Kioki's lust-filled commentary throughout the events heightens the enjoyment.
There's a moment where Hamoaka asks the fully bound Kioki to 'insert it' herself. That one got me. The scene is enhanced further by Kioki's commentary and the camera which shows Kioki's plush, youthful body from every possible angle.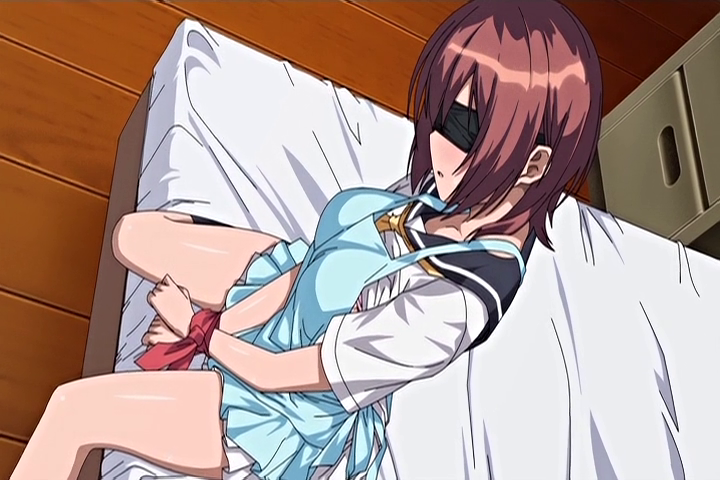 CONCLUDING WORDS
If you're a fan of S&M, I highly recommend this anime. The scenario is consensual but hardcore with great focus on the right things. I had a great time with this show.
You can watch this anime at several shady streaming sites. I recommend watching at Hentaistream, or Muchohentai.