Hentai Farming Sim Review: Booty Farm
Hentai Reviews

>

Reviews

>

Hentai Farming Sim Review: Booty Farm
Written by Otaku Apologist
Booty Farm, a free farming simulator. Released on Nutaku.net on December 2018. Available for PC internet browsers and Android smartphones. No voice acting. Uncensored genitals.
There's something deeply satisfying about running your own farm with your own animals and crops. Contrasted with city life, where the resource game necessitates constant social manipulation. As a farmer, the only assholes you have to play politics with are the soil, and the rain clouds.
There's a reason why people love living in the countryside. Sure, there's a lot of bugs, and life is significantly more uncomfortable. But you have peace. Nights are black as space, and silent as the grave. Booty Farm is pure escapism for city folk who wish to move the fuck away from their violent multicultural ghettos.
Don't have a Nutaku account yet? Sign up free with your email.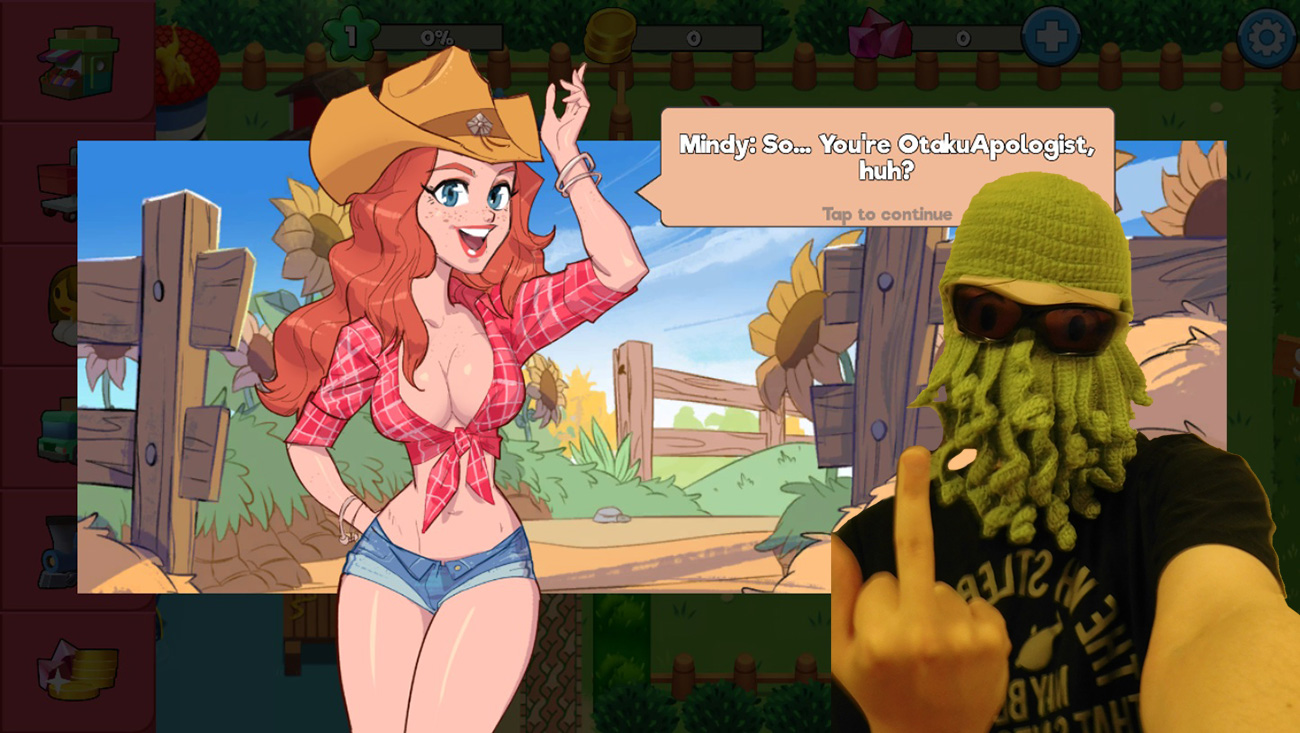 Yes, Mindy, your ad stated that your boobjobs are on a discounted sale. I want those boobs on my dick for a solid 30 minutes while we keep intense eye contact to the point of awkwardness.
STORY
You're a socially disconnected Tarzan of the urban jungle. You had no close friends trying you to the city, so you immediately abandoned your soul-sucking urban lifestyle after a blowjob from a redhead named Mindy. You inherited the farm and the horny bitches from your dead uncle. With a lifetime of humiliations to compensate for, you put all your suicidal energy into building the farm into a proverbial money printing factory.
You meet a colorful cast of young, hot girls, each more eager to suck the jizz from your balls. Every girl you fuck is a virgin, hence no sexually transmitted diseases fuck with anyone's life expectancy.
GAMEPLAY
Booty Farm is a gameplay-focused game with the most bare-bones story ever. Soon as you've completed the hand-holding tutorial, you're set to start farming your fields and feeding the chickens.
As your farm grows, you can purchase pigs and cows, and other animals, which expands the list of foods you can produce. You also get new seeds, plant apple trees, and more fun agricultural things.
The progression curve is your typical free to play experience. In the beginning, you advance fast and unlock new features every few minutes. On your third day of play, you start running out of storage constantly. The game keeps throwing you a pop-up every few seconds saying "upgrade storage".
You feed the chickens and pigs, and watch them shit eggs and bacon. I can understand the chickens pooping eggs out of their butts, but the pigs are shedding their skin, like some unholy snake sheep hybrids. Later on, you expand your crop fields, and hire new animals to shit resources. You can craft foods from various ingredients after building the production facilities.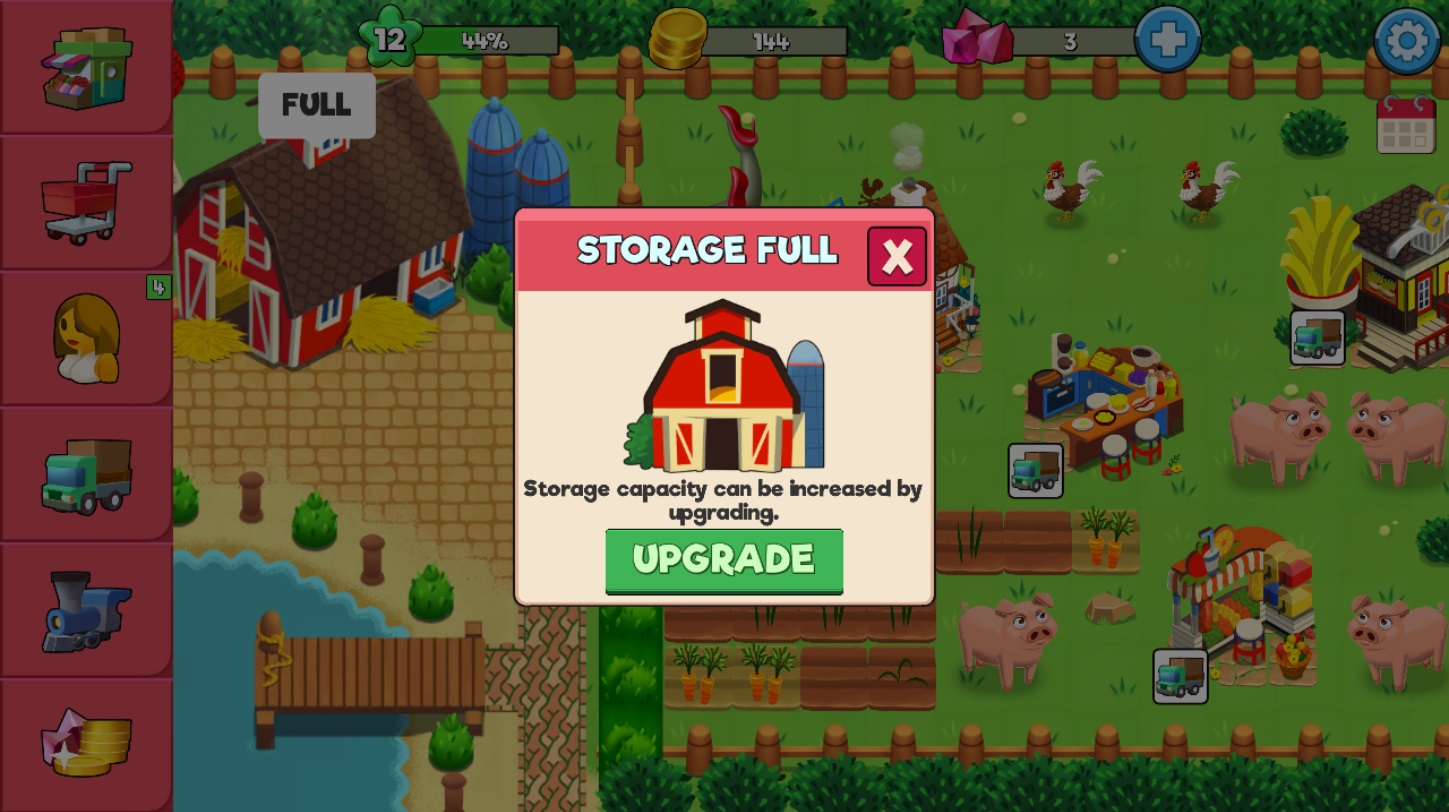 The game is gated by a leveling system. When you produce crops and foods and complete quests, you gain experience points. New features are locked behind level thresholds. For example, reaching level 15 lets you buy more land. Even if you have the cash, you can't buy more farmland until you reach the level requirement.
The storage facility is easy to upgrade if you spend the in-game premium currency. It's part of the hustle to lock freeloading players from enjoying the full experience. But, I feel it's a bad idea to disrupt the game flow with a highly limited resource storage system. It's very damn annoying, and not the kind of minor annoyance where I feel nudged towards a purchase decision. I don't approve of using pop-ups.
You can sell your produce in the in-game market in exchange for gold, which is another method of freeing up storage space. The resources needed to upgrade the storage (nails, planks, hammers) can be bought with the same gold. It doesn't take longer than a few days to get each upgrade.
So, what do the girls do on your farm? They complete quests for you. Each quest requires specific food products, and the rewards are gold, experience points, gems, and various resources. It's very important to complete as many quests as possible to keep unlocking new features in the game.
You can play without spending cash, but there are times when you'll feel annoyed with the game's constant nagging about insufficient storage facilities. Especially corn will quickly fill up your storage, and you can be completely blocked from continuing your play session until you've finished creating food products. Some foods can take hours to make, thus you sometimes have no way to spend resources to free up storage.
GRAPHICS
The visuals are cutely colored and personable. Characters look like offensive caricatures, but their boobs are big, so it's good. The women's limbs are too long, they don't have rib cages, their waist lines are shaped like literal bee hips. However, their boobs are big as mentioned, so nobody cares. There's soul in this art, like the artist gave all the fucks in the world. The icons in the game interface are a little childish in style, which makes me question how young are the customers this company serves.
The game has basic animation; Buildings do a little dancing while grinding the murdered animals into food products. Chickens and pigs and cows stare at the sky with blank, dead eyes waiting for a comet to strike down their slavers. When you don't feed them, they sleep, breathing peacefully in a short animated loop. Everything on the farm is colorful and easy to make sense of. The atmosphere is chill and relaxing.
SOUND EFFECTS AND VOICE ACTING (SFX)
Booty Farm has no voice acting. The sound effects comprise of cute beeps and bleeps prompted by your clicking. The farm animals racket up the occasional noise. When you pick up vegetables, a cute jingle rings in the air. The overall audio quality is good and there are no cracks or pops soiling the recordings.
MUSIC
The game has like one musical track. It's designed to be tastefully annoying, and it loops damn quick. It's the kind of song you'll want to mute after a couple minutes of play. Not good!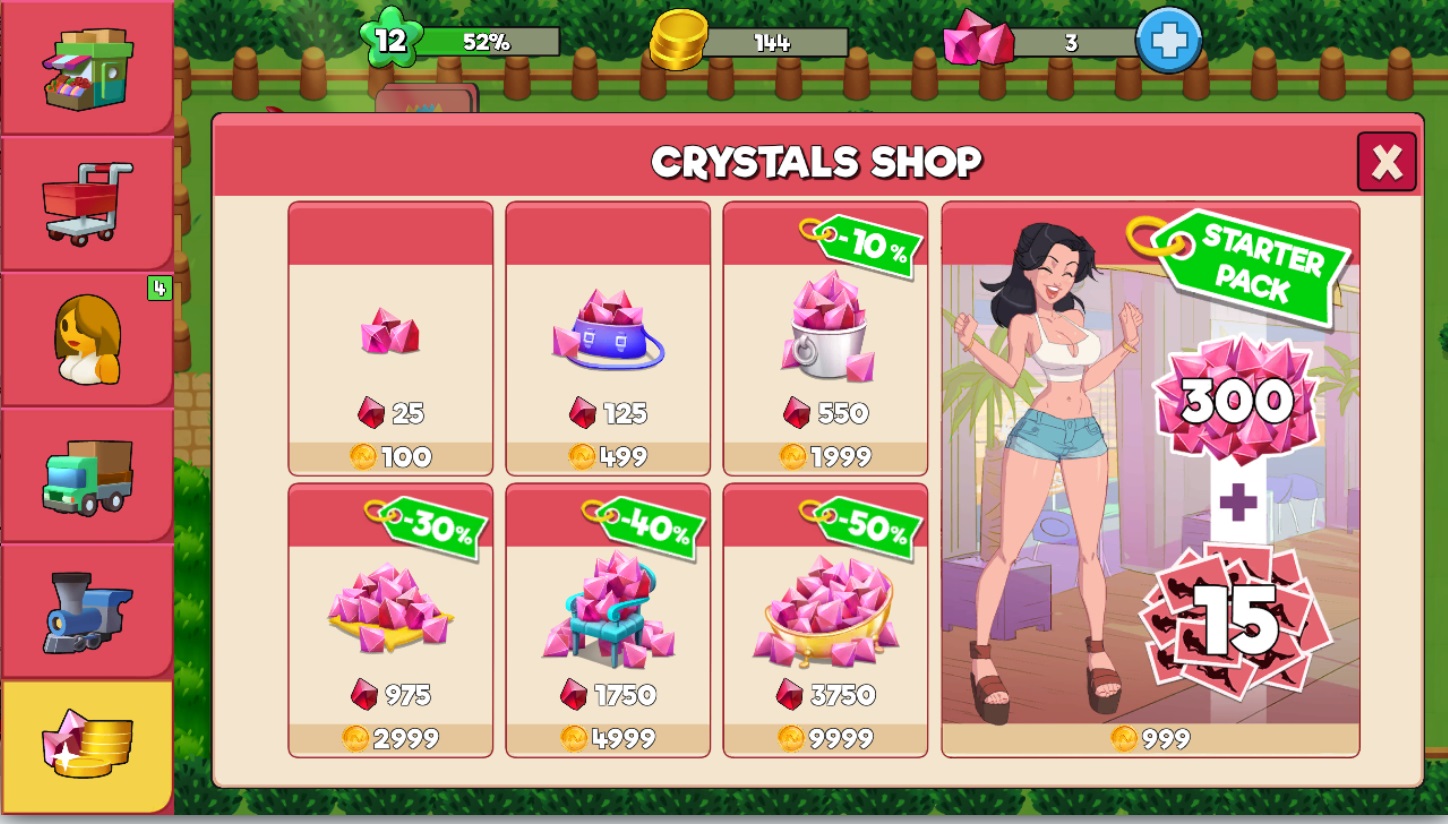 BUSINESS MODEL
Booty Farm is free to play. The things you'll want are cheap to acquire. You can unlock extra slots to produce more food products for just 15 gems per slot. The resources to upgrade storage facilities cost 5 gems per one. Each such upgrade to your facilities will make the game much smoother to play. If you enjoy the product, I recommend throwing a fiver at the developer, because that will improve your game experience tremendously, and provide the studio with the resources to keep adding new features and artwork.
The normal rate of acquiring the in-game premium currency is slow, like 1-2 gems a day. It's enough to make your life a little easier every few days. For the cost of one hamburger meal, you get tens of hours of fun.
HENTAI
Booty Farm has very light dating sim aspects. After completing their quests, the girls ask you questions, and the right answers increase their feelings of affection towards you. When you reach new relationship levels, which in absence of good tracking systems is rather random, they'll send you sexy selfies. The camera angles on the images don't always make sense. If these are supposed to be photographs, how are you taking a photo of yourself getting rammed in the ass against a farmhouse? Did someone else take the picture?
The hentai content is on the disappointing side. The girls are decently hot, and interactions with them are fun, but the CG images are not very high quality. It's good work for a western budget title, but I'm hoping the imagery will be improved if the game becomes financially successful. The lack of erotic voice acting is a bummer.
CONCLUDING WORDS
Booty Farm is a fine farming simulator with a hint of eroticism to spice things up. The hentai content could use improvement. The one thing this game does wrong and needs to improve upon are the in-game notifications. I don't need a pop-up window telling me every time my storage is full. Barring this one annoyance, the game is lots of fun, and I highly recommend anime fappers around the world give it a go.
Discover Booty Farm on Nutaku's browser games section. Start building your own hentai farm.
Graphics

Gameplay

Story

Music

SFX

Hentai