Written by Mistress Valentine, edited by OtakuApologist
Horny Heroine Ingrid, a hentai visual novel developed and published by Hentai Industries. Download on DLSite.com for $10.00. Released March 27, 2018. For PC Windows. Japanese female voice acting. Censored genitals.
Ingrid and her party defeated the terrible Demon King. They restored peace into the kingdom. One day, reports about survivors reach Ingrid's ears. Her lover, Fritz, goes to investigate the rumors. He never comes back.
Read our guide How to download DLSite games. Also visit our perverted online games store!
STORY
Ingrid and Kurt set off on a journey to rescue Ingrid's lover Fritz who went missing days ago. Ingrid doesn't know that Kurt is secretly plotting to rape her. While Kurt was indeed a survivor of the battle against the Demon King, he only survived thanks to a demon. He swore to his savior to make Ingrid his own personal sex slave.
Kurt tricks Ingrid to venture into a cave. She gets brutally raped by a tentacle monster. The monsters spray their aphrodisiac cum into her sopping wet vagina. She gets madly horny for dick, which Kurt is happy to supply.
You venture deeper and deeper into the Abandoned Castle, the last reported sighting of Fritz. On the journey, Kurt continues to lie, deceive and fuck with Ingrid. He forces her into embarrassing sexual hi-jinks. She gets several nasty tentacle rapes, has an outdoor sex romp, gives a breast milking show, and more. The writing in the sex scenes is incredibly hot. The scenes are long and descriptive, always building towards the next sexual encounter.
The game features more plot than most hentai games I've played. The writing explores the motivations of the characters in depth. It often feels like Kurt is the real main character, and Ingrid is only there to get her holes filled. Kurt's motivations are well-explored. Ingrid on the other hand is given minimum attention. She's basically just an air-headed porn body fuckdoll.
Unlike most hentai protagonists, Ingrid manages to hold on to her sanity for a long time. She fights her base nature to the end, but eventually connects with her femininity and turns into an all-out slut.
GAMEPLAY
Horny Heroine Ingrid is a visual novel. You click the screen to advance the story. The game presents you with multiple choices at certain points in the story, but these choices have no impact on plot development.
The player is only presented with two choices throughout the game, and the choices only influence which sex scene you'll get. In the first scene, you either trick Ingrid into giving a striptease show, or milk her big titties like a cow's. The game has a lot of save slots to save your progress. There's a hands-free mode you can enable with a click.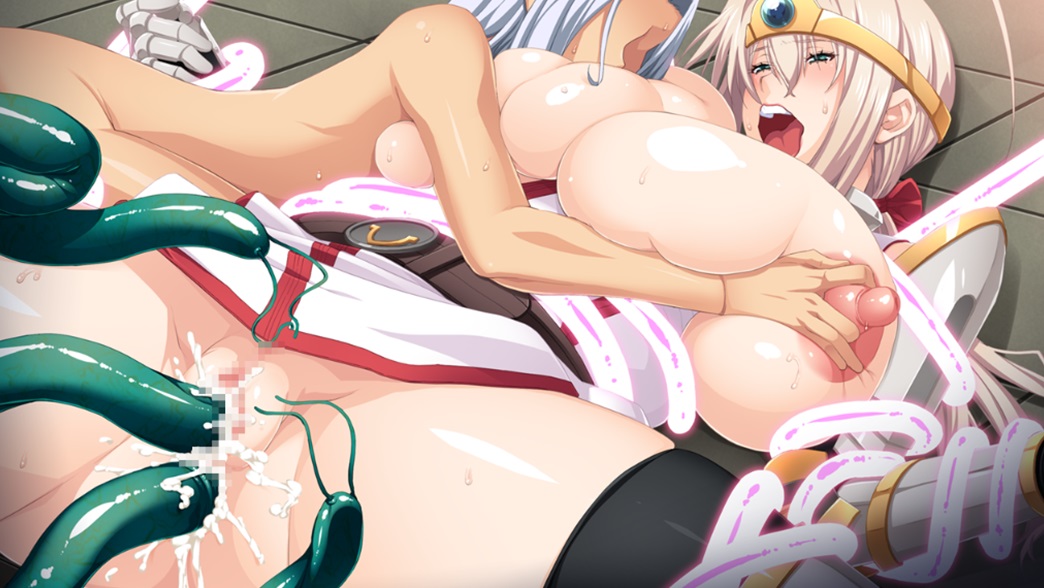 GRAPHICS
Horny Heroine Ingrid is a sword and sorcery game. The world itself looks fine. There's plenty of background art of average quality. The backgrounds include campsites, forests, taverns, sex dungeons etc. The game makes good use of color and time of day, showcasing shadows and lighting during night settings and darkly lit rooms. Night time locations are more eye-catching than day time locations.
There is a lot of close-up shots of Ingrid during sex scenes. This feels like a cheap way to avoid drawing proper backdrops. There are over 90 CGs, most of them dedicated to Ingrid's incredibly slutty body. She has the body of a human cock sleeve with her large saggy breasts, pointy nipples and large breeder hips.
The visual designs for Ingrid and Kurt are very basic. There is nothing in particular about the way they look that stands out. There aren't any visible mistakes or inconsistencies in the characters' bodies, aside from Ingrid's tiny head that's many times smaller than her bosom.
There is enough variety in sex positions to satisfy even the pickiest of cocks. During sex, Ingrid's huge breasts take center stage. Her boobs are inconsistent size between scenes, but this can be forgiven, as Kurt is actively morphing her body. By the end of the game her breasts have tripled in size.
SOUND EFFECTS AND VOICE ACTING (SFX)
Ingrid is the only character in game that has a voice actress doing her lines. The actress playing Ingrid only sounds believable during sex scenes. There's a disconnect whenever she tries to portray Ingrid as a noble knight. She also struggles to convey her character's relationship to Kurt. During sex scenes where Ingrid is being humiliated, the voice acting improves. This actress must be a fucked up closet pervert with problems.
The game's sound effects are immersive. I enjoyed both the sexual sound bites, and the other sounds. These effects include the galloping of horses, larvae crawling into pussies, cum splurges, spell casting, crowds laughing and mocking, camp fires burning, cock thrusting into pussies and assholes, Kurt sucking on Ingrid's boobs, and more. The audio quality is great with no nasty mic cracks or pops ruining the experience.
MUSIC
No song on the soundtrack stands out as particularly interesting. A lot of songs sound like normal j-pop, and only work in certain scenes. Most songs on the soundtrack are reminiscent of slice of life anime, and barely befit a sword and sorcery game. During a number of battle scenes the music changes. You get fast-paced techno and rave themes that uplift the intensity of the events taking place.
The music lacks variety. A lot of songs are reused irregardless of context, despite a complete location change. The choice of track can be distracting at times. The music that plays during the sex scenes does not enhance the sexiness. The tempo does not build towards the eventual climax, which bothered me. 
HENTAI
Kurt's goal is to make Ingrid his personal sex slave. The game features kinky, humiliating sexual encounters between the two of them. Ingrid turns more and more into a full-blown slut because of the aphrodisiac she received early in the story. In one scene, she gets so horny, she begs Kurt for sexual relief while they're camping.
Kurt grabs her breasts. Ingrid protests, but Kurt adamantly explains that he can only get hard by groping her h-cup tits. He starts milking them but fails to get any milk out. He pushes her over and fucks her like a cow.
While in Rainbow Town, I selected to send Ingrid into a "milk show". Ingrid dressed as a slutty cow bitch who was begging audience members to milk her massive titties. The customers gathered around to take turns milking her produce into their drinking glasses. The scenario escalated into a complete fuckfest, with dick forced down her throat and pussy and ass. Half the audience cums inside of her.
CONCLUDING WORDS
Horny Heroine Ingrid doesn't need a good plot when the main girl has tits the size of small children. The game has its flaws, but overall it's got a unique look and feel. The soundtrack and voice acting are passable at worst. If the fantasy of turning virtuous women into depraved sex slaves turns you on, this game will make you cum buckets.
I recommend this game to fans of corruption hentai. Download Horny Heroine Ingrid on DLSite. Remember to also get yourself a Japanese pocket pussy to maximize your masturbation pleasure!
Graphics

Gameplay

Story

Music

SFX

Hentai