Written by Otaku Apologist
Everybody knows Brazzers. One of the world's best porn sites, Brazzers has been around since 2005. A widely known brand among fappers globally, these hustlers run the golden standard of erotic video streaming services. The biggest porn star divas with the biggest egos fuck the hottest studs in the industry in wild ghetto-style scenarios.
Sign up for Brazzers.com and you support our original comics!
CONTENT
Brazzers is filled with the most mindless retarded-ass porn. Most videos on the site begin with a random porn hunk meeting a girl, and suddenly genitals meet. They don't even try to tell a story. The actresses are super hot, and sexually wild like beasts – what more do you need? These women are the kind of meat that dudes pick up in night clubs downtown, get them drunk, and bang them in a sloppy one-night stand at the girl's house. These are mommiless, daddiless, out-of-control party girls with zero brain and huge silicon implants.
The content categories are a little limited. There's no fetish categories for "anal", "footjob", "tittyfuck", etc.
I've been visiting this site for about a month. I log in for a quick fap about once a day, and each time, I've easily found several new fapworthy videos to enjoy. The porn flicks average about 30-40 minutes, and you can easily skip to the good parts, without some weird glitches causing the video to reset. Like most dudes, I like that my porn gets to the point. Fuck all that emo yapping about feelings and shit. Who the fuck cares? Here's the money, suck my dick, thanks bitch, bye.
During my review period, they were running a weekly reality TV series called "Brazzers House". A group of porn stars were doing some semi-competitive challenges (ie. blowjob competition), talking smack about feelings in between the fucking, with every episode ending in a massive orgy. The audience could vote the girls somewhere, and I guess the winner got a money prize. I wasn't really paying attention to the contest format, I just skipped to the orgies.
With soon 13 years of active production, Brazzers has thousands of videos in their archives. To describe the content, I picked just a couple videos to talk about. One VOD, that really epitomizes the artistic philosophy of the site, was a catsuit fuck flick, featuring Kelsi Monroe. The story was, that Kelsi had ordered a catsuit from an online store. The delivery guy brought the suit to her, she invited the dude to oil her. The idea was that she could fit her carved body in the catsuit. After getting the suit on, Kelsi bent over and ripped the suit from the pussy area. And then they fucked. Sure, my dick was oozing the entire time, but why ruin a nice suit?
Many of the porn flicks are filmed seemingly in California, or some other secret tropical location with perpetual sunshine. The houses and swimming pools look beyond expensive. There's a gangsta vibe to their whole business… and that's not just impressions, but everything up to the music they play, oozes of ego pumping jetset showoff; bling, bling, swag, all that jazz. The ghetto humor shows in little details, like a hotel room might have "420" in its door. There's scenes shown in ridiculous slow motion accompanied by R&B music.
The girls are fuckin hot, and they fuck like animals. Massive asses, massive tits, female energy up the ass. A handful of ripped porn hunks with inhumanly large cocks plow through these beauties, like it's nothing to them.
Many of the women are bisexuals. There's lesbian scenes, threesomes with one guy and two girls, one girl and two guys, and straight-up orgies with a dozen men and women fucking like rabbits.
ACTRESSES
The attraction of every porn site, is the women. As much as we men like to think we prefer natural women, we're always wanking to insecure mentally ill cumslut princesses. Plastic surgery is a reality of the porn business, and I highly recommend you don't let your beauty standards be warped by what you see here. A real woman will provide you compansionship, love, and a stable nest for your children. That said, the whores of Brazzers are the juiciest fuckholes, with the most luxurious bodies to oogle at. You look at bitches like Nicolette Shea, there's nothing real about her. Everything from her lips, to her tits, to her body, is carved by some surgeon, to deliver a fantasy. The promiscuous blonde babe with huge jugs hits the spot for millions of men. Even when it's blatantly obvious that she's completely unnatural, I bust a nut to a bitch this hot.
Brazzers is mostly white milfs and babes, like Sybil Stallone. There are a few asians, and blacks in the mix too, ie. Anya Ivy, and Rina Ellis. The youngest actresses on the site are in their early twenties, like Adria Rae (born 1996). I'm throwing random examples, because there's literally hundreds of women listed on the site, who have worked for Brazzers over the years.
VIDEO PLAYER QUALITY
The videoplayer is by far the best I've seen on any website anywhere. The content runs smoothly on any quality setting, and there's not one glitch I've encountered. Compared to Hentaipros, where fiddling too much with the videoplayer would reset the whole page. You can also watch videos in slow motion, if you like a particular part. There's a setting for speed.
SITE FUNCTIONALITY
Brazzers has a great website, that loads assets fast, and plays the videos flawlessly. A great feature is that the videos are time-stamped: click a part, you skip to the sex position you like best. It's easy to get lost plowing through videos, downloading them in your folders. Oh yes, the best part about Brazzers is that you can download videos. Everything is up for grabs, you're limited only by your internet speed. However, you have to be able to download the videos in full. If you lose connection at any point, you can't resume the download. Personally I'm mass downloading VODs in ~480p, as it only takes about 20 minutes per video.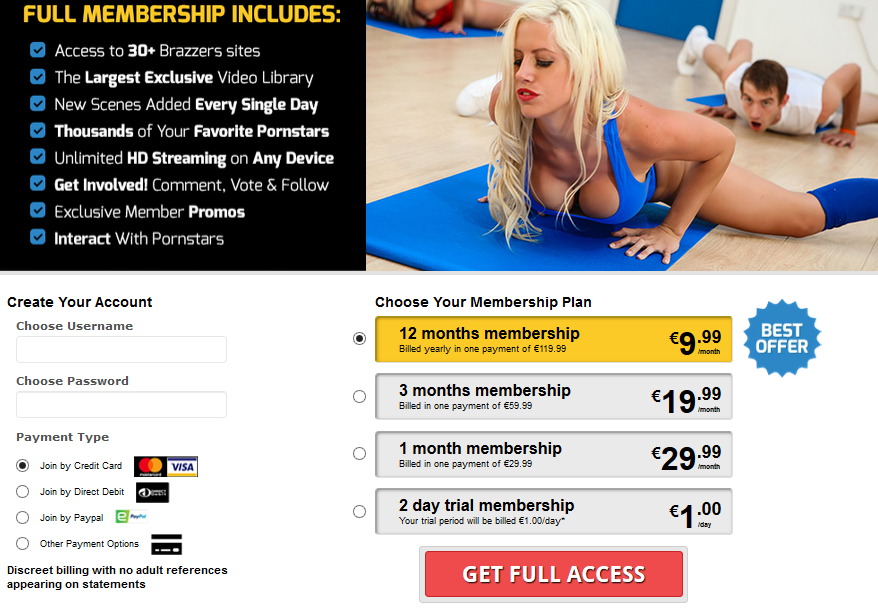 BUSINESS MODEL
Brazzers is pay-to-win. You pay for HD porn, you win at life. By subbing for multiple months in a row, you get a hefty discount. A single year's subscription will fill your hard-drive with so much porn. $120 is nothing for a lifetime of porn.
SITE ISSUES
The few things I don't like about the site, are the ads. There's a banner in the background when you view a video, that you're easily going to accidentally click (this is obviously the point). There's very little surface area that doesn't react to a click, or redirect somewhere. There's also animated banner ads for "trusted partners" below the comment sections of videos. I find those distracting, but it's really a minor hindrance.
CONCLUDING WORDS
Of all the porn sites I've visited for fap material over the years, Brazzers takes the cake. There's so much content, and great functionalities, that if you're an active user of porn, you're gonna waste a life here. Subscribe to Brazzers.
Content

Features

Website

Functionality