Hentai game review: Elisa the Innkeeper
Hentai Reviews

>

Reviews

>

Hentai game review: Elisa the Innkeeper
Written by Soul Tsukino, edited by Otaku Apologist
Elisa the Innkeeper, a hentai visual novel developed and published by Neoclassic Games in June of 2017. Available for download on Nutaku. For PC Windows. No voice acting. Uncensored genitals.
An erotic visual novel, where your goal is to get a lady friend, within four days at an Italian inn. It's a wet dream scenario for anyone with a fetish for anime maids. You have handjobs, panty shots, sex in the bath, and more.
Please enjoy our review of Elisa the Innkeeper, good masters!
STORY
Alfonso is an Italian alpha male aristocrat. Wonderful stories about a popular inn, and its innkeeper, have inspired Alfonso to hunt for a good lay. He's set his sights on the sexy maids of the inn. You spend four days working to bag the innkeeper, who is a hot blonde woman with a great ass. During your four days at the house, you meet all the maids, and some additional characters. You will decide if you want to conquer Elisa, Alice, Catrina, or Rebecca. Your ex Francesca also shows up to make matters more complicated. One wrong move, and Alfonso's whole game goes to hell. As you'll quckly find out, this guy is a walking disaster.
There are no other game objectives you need to worry about than scoring with the women, and doing it before your rich daddy sends the carriage to pick you up. Your four days are spent doing generally mundane things, like waiting for a meal, being served, and talking with the maids.
Alice is super nice to you, she teases you a lot. Catrina and Rebecca treat you like shit, at first, until they realize how loaded you are. Then they try to have sex with you the whole time. If you sexually assault your ex-girlfriend, Elisa will get mad at you. There's also a merchant that shows up, who you treat like shit, to stroke your bloated ego. This game makes you act like an asshole.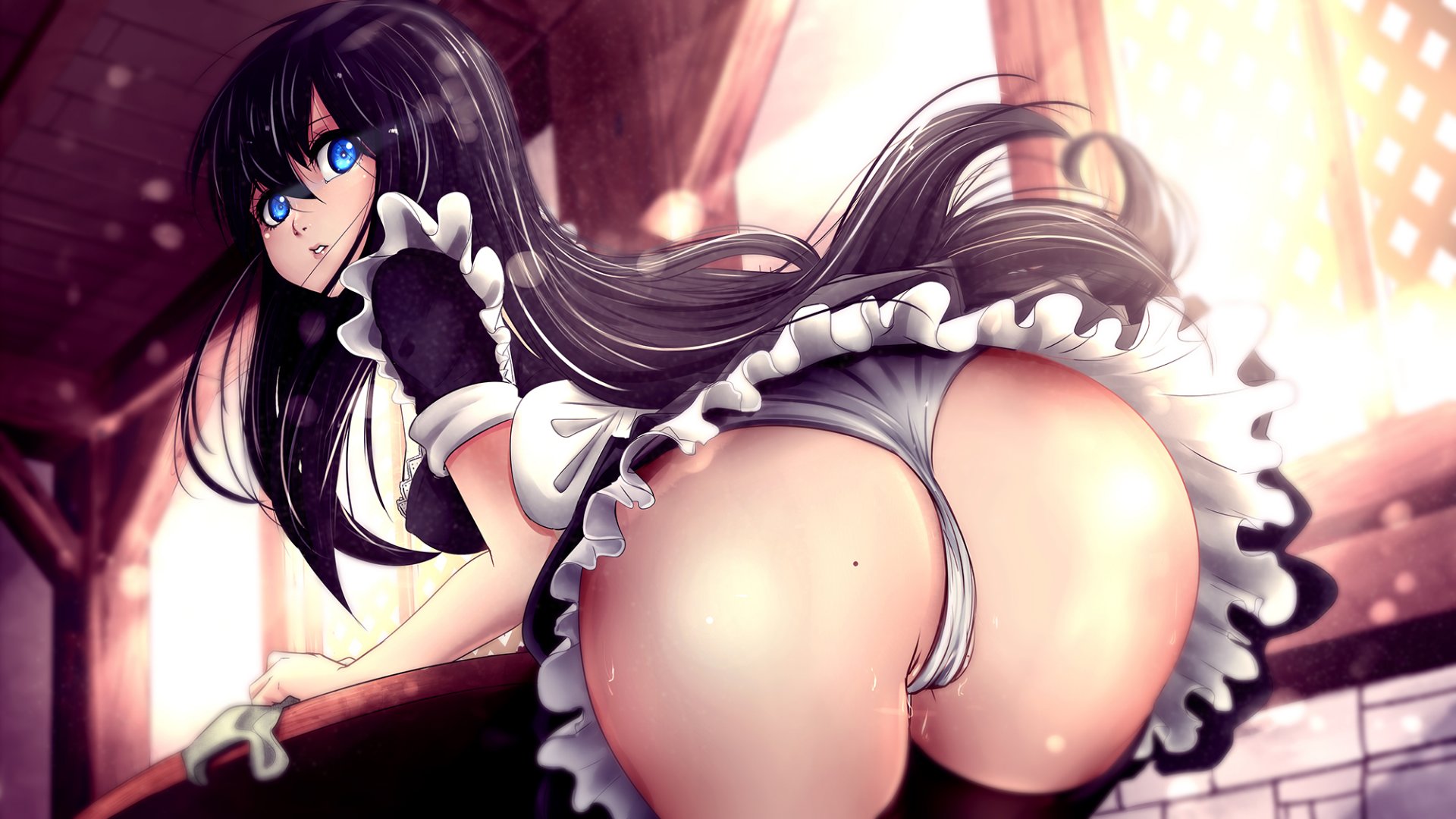 GRAPHICS
The character sprites look hand drawn. Their looks are inspired by anime, especially their expressions. This makes the mundane story sequences with dialog somewhat visually bland. There's nothing wrong in the character designs per se, it's just that the simplistic linework and coloring, contrast with other imagery in the game. This is a commercial game, so that fact alone raises your expectations about the production values. Inconsistent artwork sticks out.
The backgrounds at the inn, your room, and the few other settings, are digitally drawn, and succeed at creating an immersive atmosphere. Everything from the wall tiles, to the wood, to the silver ware, looks real sleek. The environments just draw you into this fictional world where you woo and fuck cute maids.
There are moments when the character art jumps up in quality. Usually this happens during important scenes. It's like the hand drawn art was digitally enhanced for these highlight moments. This shows most prominently when you force yourself on your ex, Francesca. Her eyes are drawn with a felspawn green glow. It was eerie as fuck reading about Alfonso raping her pussy, while she's staring directly at you with those glowing eyes.
GAMEPLAY
Elisa the Innkeeper is a visual novel. There is no fighting, world building, bagging gold and key items to unlock something. You just click through text, and choose what to say to the girls on key moments. The gameplay is limited to making choices that take the story in different directions. The choices are presented few and far between. There isn't a huge amount of choices. As much as I tried, I ended up suffering two "bad" endings.
Most of the choice are, no surprise, sexual. It's either one of the women putting the moves on you, or you slinging your best pickup lines at them. The results of your choices are not always easy to identify. What happens is not always what you'd expect. The dialog options can sound really rude, but they'll still lead to better outcomes, while saying something polite can lead to surprises.
The rest of the mechanics are simple visual novel stuff. Clicking moves the slides forward, the mouse wheel takes the dialog back, the ESC key brings up the menu to save, load, and quit. The save menu is very small; there's only four save files, so be careful as not get stuck in a bad situation. Also, the save files are in a weird numerical letter order with no picture hints.
SOUND EFFECTS AND VOICE ACTING (SFX)
The audio is not a highlight of this game. None of the women have voices. Everything is text. Alfonso has no voice either. The sound effects are very basic as well. You might hear a carriage go across cobblestones, the sound of metal plate clinking, the groan of a wood door creaking, but not much else. Sound effects are few and far between. But most disappointing is that there's no voice acting.
MUSIC
The music has an almost medieval feel, with an Italian twist. There's a harp that plays. Variety is lacking, so you will get overexposed to the digital minstrel midi music very quickly. The music does match the setting, and time period, but more tracks would've been nice to spice things up. It's a bad thing when a game's music blends into the background.
HENTAI
You'd expect more sex scenes, with a main character so sexually relentless. You have a chance to sex up most of the women. The sex scenes are all pretty well drawn. They're a little padded, and drawn out. There is some kinky fun with food, as most of your interactions with the maids are during lunch, and dinner. There's also rape. A lot of hentai fappers love a good rape, while portions of the hentai community feel awkward about them. The sexual content is generally nothing freaky, just usual touching, cupping a feel, hand jobs, and intercourse.
CONCLUDING WORDS
The main character is an alpha male fuckwit. He managed to be so deplorable, I hoped for him to get raped by a horse until he bled to death. None of the endings, even the bad ones, were bad enough for him. Alfonso is white, privileged, offensive, completely disrespectful of women, like he's running for president. If you get off on offensive porn games, Elisa the Innkeeper is for you.
I recommend this to men around the world. Download Elise the Innkeeper.
Graphics

Gameplay

Story

Music

SFX

Hentai