Written by Otaku Apologist
ThePornDude.com is a cut-and-dry porn service. The owner of the site is stated to be some faggot named Geoffrey Celen. This fag has gathered a big-ass list of free porn sites, and paysites. And somehow his website has become one of the most viewed on the internet, rocking an alexa rank of 2000.
Let's oogle at this guy's porn collection, and see what we find.
CONTENT
ThePornDude.com has little original content. It's literally just a list of sites. On my laptop screen, I'm immediately staring at 108 different porn websites simultaneously. A truly horrifying amount of porn. Many of these sites are free, but there are premium paysites too, like Hentaipros, Digital Playground, and Brazzers.
There's a lot of free names I'm familiar with: Pornhub, Redtube, Xhamster, Brazzers, Xvideos. If you're a regular porn watcher, you know these sites. There's also sites for gifs, games, and cams. There's a sextoy shop category, with good old JLIST on place 7! In the sex games category, Nutaku is placed as number 1, with a link to Kamihime Project. Some categories are larger, others smaller. The gay secton is basically vacant – for gay fappers, this guy has another service: MyGaySites.com.
Other content on the ThePornDude.com includes a blog, which you can access by clicking the little link at the top. I gave the blog a glance, and as expected, found some basic product shilling, top ten lists, clickbait crap.
WHO IS THIS SERVICE FOR?
I used to be a heavy user of porn, before becoming a hentai blogger, and content creator. My frustrations with the quality of porn sites years ago led me to becoming a heavy consumer of hentai. Had I found The Porn Dude, my life may have been less of a downward spiral into animefaggotry. People who want to explore the precarious world of online porn, are faced with the issue that many sites are just terrible. You end up spending hours, and hours browsing the web for thousands of crappy sites. ThePornDude helps at finding good content.
A paragraph on the site recommends you to use Adblock (anti-advertising browser app), to be safe from malware (viruses). This is strange, when you consider the listed sites are supposed to be the best on the web. You'd expect a guy to test, and leave out websites that carry malware. I imagine that some very popular porn sites slipping dollars into his pocket have this annoying little issue. The site compensates for this amoral act of capitalism by actually linking you to download Adblock – check the "useful software" category.
VISUALS
ThePornDude.com has a light grey background, and orange highlights; the mascot character "Porn Dude" has orange in his hair, and shirt. This combination of colors is easy on the eyes, and good branding. I've seen this combo on other popular sources of porn, like Sinnercomics.
FUNCTIONALITY
You simply click links, and visit interesting websites. Two tiny buttons at the top lead to a blog, and a twitter account. When you browse down, a cute orange arrow appears. Click that to immediately go up to the top. Also, the mascot character switches his message upon refresh, sometimes encouraging you to bookmark the site, sometimes telling you to share the page. People are susceptible to verbal persuasion. I imagine this little bit of brainwashing plays a part in this guy's success. Take note of the details when stealing ideas, fellow hustlers.
BUSINESS MODEL
I've sometimes seen ads for ThePornDude on Hentai Foundry. I always wondered, what the hell is this guy's business model? Because there are no ads, no popups, no affiliate discount codes. Clicking a couple links, I found the Adultforce affiliate code, so he's making sales commissions on customers he brings to paysites like Brazzers. His other arrangements with some sites are more difficult to discern, but I'm guessing there's names on this list that pay him a monthly commission for traffic. Maybe I could pay him to get my site featured too?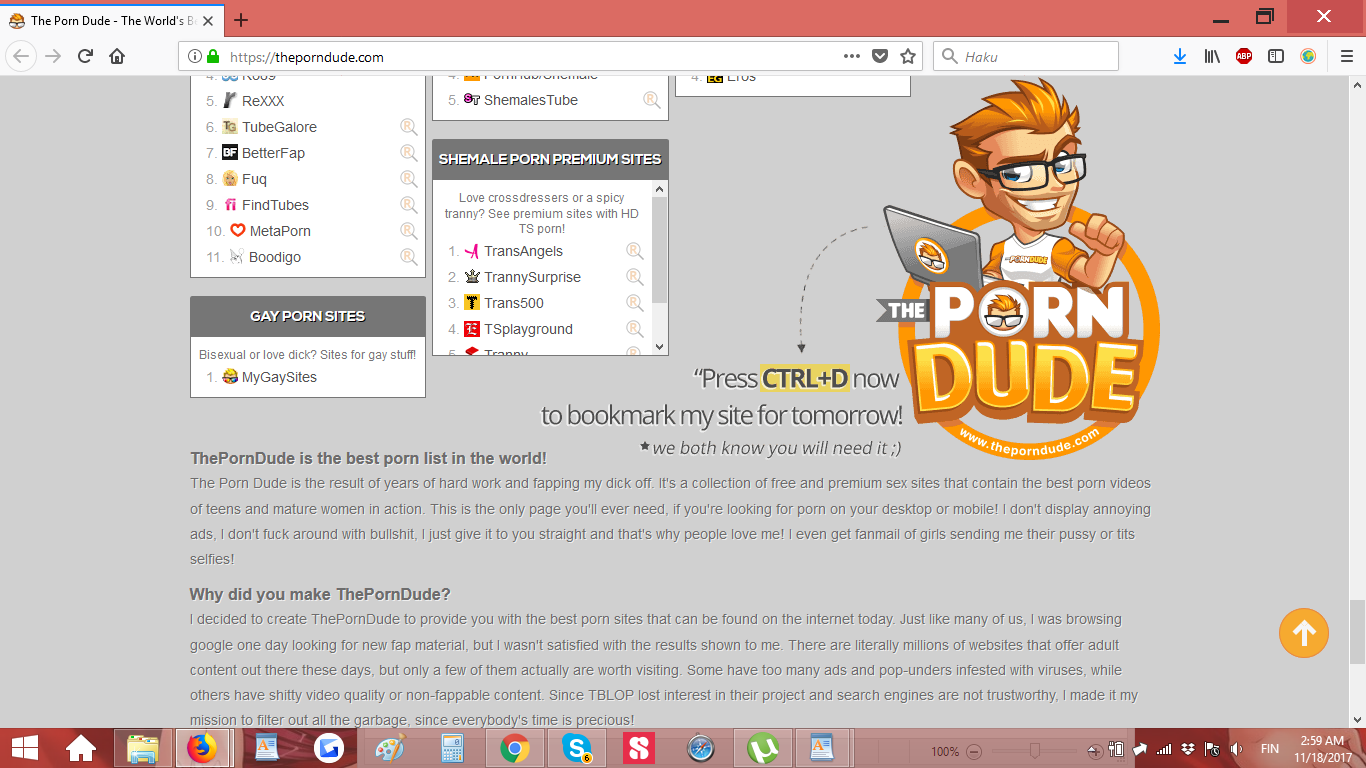 CONCLUDING WORDS
In my short time in the hentai industry, I have seen some incredible hustling. No laws or morality hold back the entrepeneurs here. You can trust that the alpha predators of an environment like this, did something criminal, or borderline criminal to gain success. I'm sure this guy is one of the cleaner service providers around, since he's not even hosting any flashing moving ads. Every link I clicked led to the site it promised to lead. There's so much goddamn porn here, nicely catalogued for rootless fappers without a favorite destination for their fap fodder. Check the site yourself, and make your own conclusions.
Since you read this far, how about you give me money? Buy something, you sad lonely fuck.