Teen Titans Hentai Game: Raven Go!
Hentai Reviews

>

Reviews

>

Teen Titans Hentai Game: Raven Go!
Written by Rastafoo69, edited by OtakuApologist
Raven Go, a teen titans flash game developed by Foxicube. Released on July 7, 2018. Play free on Newgrounds.com. Available for PC internet browsers. No voice acting. Uncensored genitals.
You are Beast Boy. Raven walks in on you while you're jerking off! You better choose your words wisely, or she's going to be very angry! It's time to practice your skills in social manipulation! Are you man enough to talk yourself into Raven's panties?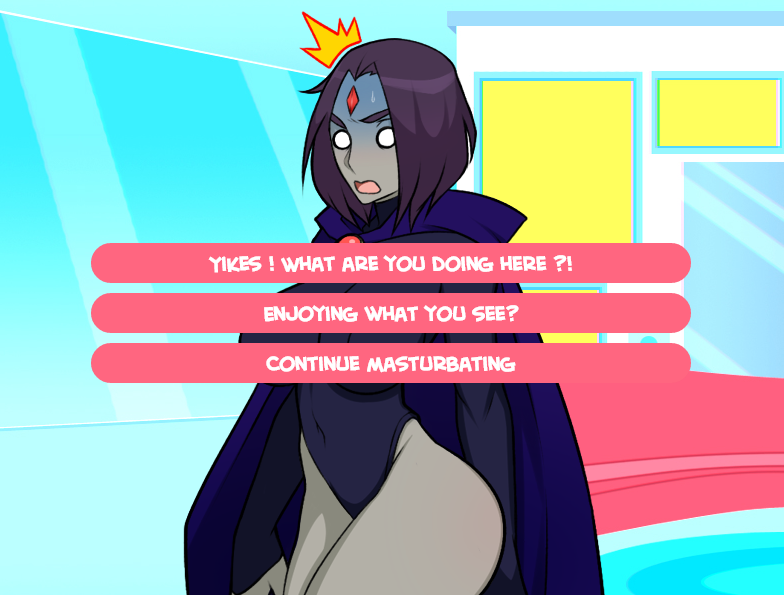 You get a handful of choices after every few lines of dialogue. Try calm down Raven as best you can. If you make the wrong choices, you'll get an instant game-over and be tossed out the window!
Beast Boy was actually jerking off to dirty thoughts and pictures of Raven. He has dirty photos of her on a big screen television! You better think fast and come up with a good excuse, or she'll totally kill you! If you play your cards right, you can convince Raven to help relieve your aching cock. The only question is, do you cum inside of her, or pull out like a gentleman?
The game is very short with only a handful of unique images to see. While the lines and coloring are very simplified, Raven looks totally sexy. Variations to her pose give life to her character. Watch her face change when she gets upset!
The game includes only one song. It's a digital synthetic song that kind of doesn't work with the game's atmosphere. It could easily be some royalty-free stock music, because it's so milquetoast, it can't possibly be original.
If you can convince Raven, she will offer her pussy to fix your raging boner! Her only condition is that you pull out and do not cum inside of her. She'll bend over for you, and you'll be having standing sex right in the living room of Titan's Tower!
No matter what you choose, the game ends after you finally cum. The question is, will you pull out in time? If you pull out, Raven is very happy with you, and it seems like she'll be willing to do it again later. If you don't, you've creampied one of the Teen Titans! She might fake outrage for the sake of appearances, but really, you know she's happy at the thought of being knocked up.
DC Comics fans might want to check this one out. Play the game here. If you can't get enough of Raven's hot ass, check out our review for Seduction – A Night with Raven.