Porn Game Review: Hentai Girl Puzzle Sci-Fi Edition
Hentai Reviews

>

Reviews

>

Porn Game Review: Hentai Girl Puzzle Sci-Fi Edition
Written by Rastafoo69, edited by Otaku Apologist
Hentai Girl Puzzle Sci-Fi Edition, an adult game developed and published by Sanobusiness. Released November 11, 2019. Download on Steam for $1.00. For PC Windows and Mac OS. No voice acting. Censored and uncensored genitals. Available in English and Italian.
It's a quaint little game about solving puzzles to reveal hot anime ladies! Test your intellect and unlock unique artworks for your viewing pleasure. From annoyance to satisfaction, this game has a great progression from puzzles to pussy!
STORY
Hentai Girl Puzzle Sci-Fi Edition has no story.
GAMEPLAY
You have three basic choices. First you should click "options" to customize your game difficulty. Then you should click "levels" to choose which puzzle you want. Lastly, you can use the gallery to review any artworks you've completed.
There are three difficulties from easy to hard. You get more achievements for completing the game on higher difficulties. The thing that changes is the size and number of the tiles you shuffle on the board. There is also a fourth difficulty level called "Strip Mode". In this mode, being over halfway completed with the puzzle will result in the puzzle mixing up again, and the image changing. The first mix removes clothing and leaves underwear. The second mix removes the underwear for complete nudity.
The problem with Strip Mode, is that players never get a full image to refer back to. For example, during one mix, a black tentacle was added to the photo! I was never given an original image, so I had no idea how to solve the puzzle. Eventually I did.
Although hints and auto-complete mechanics are available, the player is encouraged to play the game normally. Using autocomplete will block you from achievements and stars. There are four difficulties, so there are four stars possible for each artwork. A high star-count unlocks the ability to zoom in on artworks and strip the women of their clothing. This is especially valuable because auto-complete does not work on "strip mode". In other words, nudity has to be earned!
This game will take a few hours to complete. I recommend you memorize the location of image captions and where the light source is in the photo. This will help you complete puzzles faster!
GRAPHICS
The art takes inspiration from the Japanese anime style. Each character has a unique appearance. It keeps the puzzles interesting. My favorite girl is the brunette with the motorcycles, because her breasts are petite but still very plump!
There are ten gallery images in total. Each girl has three outfit variations: Fully clothed, underwear, and nude. These variations can only be accessed in strip mode, and are a challenge to unlock.
This game can be difficult. The images have varying opacity and randomly colored body parts, which makes things harder. The girl's skin is rarely a normal color. This makes it very difficult to know what is a background and what is part of the girl's outfit.
Censorship is an unwelcome addition to the game. Not only are big pixels terrible for precise puzzle games, but it also looks ugly. Thankfully, in strip mode the censorship can be stripped away, and you can enjoy the sight of non-pixelated genitals.
VOICE ACTING AND SOUND EFFECTS (SFX)
Hentai Girl Puzzle Sci-Fi Edition has no voice acting.
There is one sound effect in this game. It sounds like a mahjong tile sliding across a table. The sound is easy to ignore, but unique enough that it won't get repetitive. It fits perfectly into context, and gives good feedback on your actions.
MUSIC
There is only one song in this entire game. The same song plays in the menus and the puzzles. It is only about two minutes long, and fades to silence quickly. It would have been better for this track to loop. The game goes completely silent for a minute or two. I understand looping this single track might make things worse, but the random cuts to silence are distracting.
The song is digitally synthesized, and outside of drums to start the beat, there are no real instruments being used.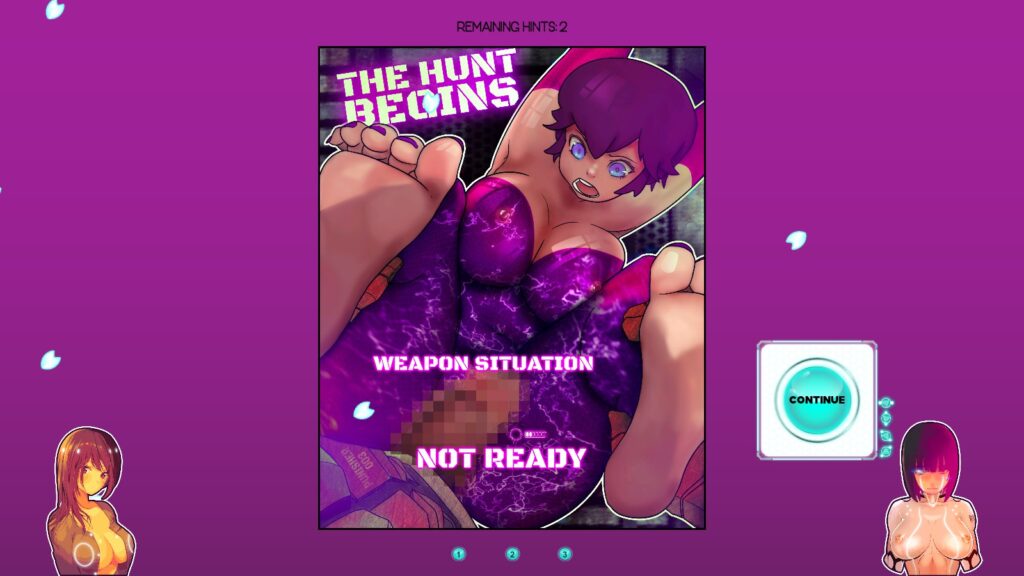 HENTAI
Hentai Girl Puzzle Sci-Fi Edition has 10 artworks, each with three variants: Fully clothed, underwear, and fully nude!
The hentai content in this game is more "ecchi" than full-blown hentai. The girls assume erotic poses, rather than taking actual dick. Nudity is unlocked by completing very difficult puzzles. The art is decent quality, but the scenarios are quite softcore. The game lacks a clear fetish theme. You can view the artworks properly in the gallery mode.
The game alternates between censored and uncensored artworks. This made me very annoyed.
CONCLUDING WORDS
Hentai Girl Puzzle Sci-Fi Edition is an enjoyable little game. The art is beautiful and the girls are hot! A greater emphasis on gameplay and puzzle mechanics make this title a clear improvement on its predecessor. If you love to have your mind challenged and your genitals titillated, this game is perfect for you. It's only a single dollar, which is great value for the hours of entertainment it provides.
Recommend for hentai fans across the web. Download Hentai Girl Puzzle Sci-Fi Edition.
Graphics

Gameplay

Story

Music

SFX

Hentai