Written by TheHentaiGuy, edited by Otaku Apologist
Amber Breaker, a hentai visual novel developed by Hentai Industries. Released on April 24, 2015. Download on DLSite for 9.97. For PC Windows. Full Japanese voice acting. Uncensored genitals.
STORY
The story begins with Amber Breaker being captured by a villain. This evil man, whom we never see, informs the warrior woman that he'll put her through the same punishment as her friends. Amber tries to break free, but her strongest attacks do no damage. The monster abuses her moment of doubt and dominates Amber. The thing fucks her and cums all over her.
After regaining her consciousness, the female warrior is not sure where she is. As she tries to catch her breath, the villain returns and starts punishing her again. A monster comes to face-fuck her, and soon she's getting pumped in the pussy. As the embarrassment continues, her pain begins to turn into pleasure. The monsters cum inside of her.
Throughout the story, Amber keeps vowing to defeat the villain and break free from the monsters' gasps and rescue her teammates. She fights in spirit while her body succumbs to the addictive pleasures of sex. Tentacles latch onto her chest and secrete aphrodisiac into her. As the tentacles violate her horny holes, she experiences multiple explosive orgasms.
This game is the third installment in a series that started with Ruby Striker, continued with Lapis Gunner, and ended with Amber Breaker. You can choose to meet the heroines of past games for a glorious threesome.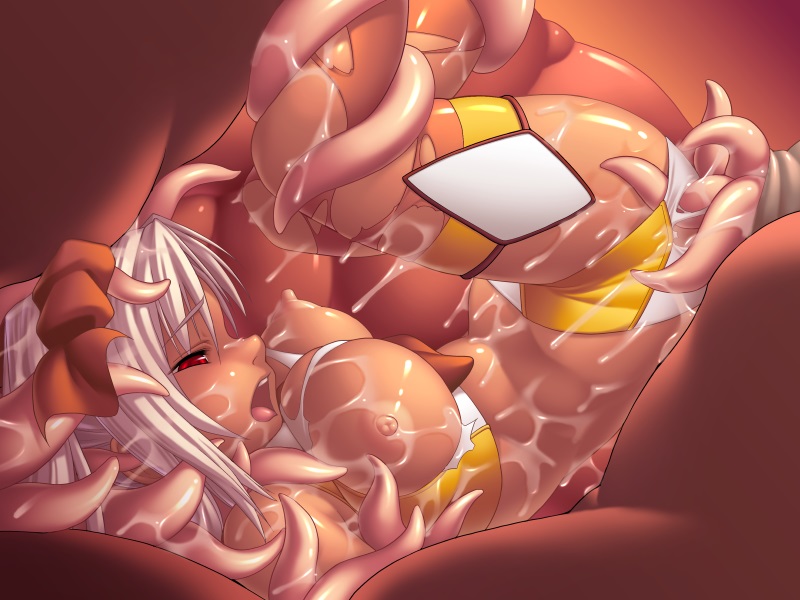 GRAPHICS
Amber Breaker features very high quality graphics. Each female character is beautiful, cute, drawn in high detail. Body proportions are consistent throughout the experience. Background images are nonexistent, because the camera is zoomed in close to the characters. The coloring work is nothing short of brilliant.
Amber, Lapis and Ruby look absolutely stunning. The camera angles show all their soft and juicy lady bits. The women's clothes only make them look sexier. They sport impressive breasts and ass proportions. The eye candy is exquisite. In contrast, the monsters that fuck them are drawn in an unsightly, grotesque manner. It's a beautiful visual contrast that makes the brutality of the sex that much more fappable.
GAMEPLAY
Amber Breaker is a visual novel. You click the screen to "turn the pages". You are presented with branching choices, which affect which scenes you'll see. One such choice is between continuing Amber's predicament, or reuniting her with her friends. The game features ten save slots. You can replay scenes in the gallery.
VOICE ACTING AND SOUND EFFECTS (SFX)
This is another category in which Amber Breaker stands out. After a couple minutes of playing, it is clear that a lot of work was put into the voice acting. High quality sound effect compliment a job well done.
The voice actresses for all major female characters do an incredible job at sounding alluring. Their voices are enticing and you want to listen to them, you want to hear them moan. You want all manner of things to happen to these characters just so you can hear them scream!
The most well executed sound effects are the aphrodisiac, and the tentacles when they move. When the aphrodisiac drips, it makes a grotesque sound that made a chill run down my spine. Similarly, whenever the slimy tentacles move inside the girls, your hear a pleasantly brutal squishy sound.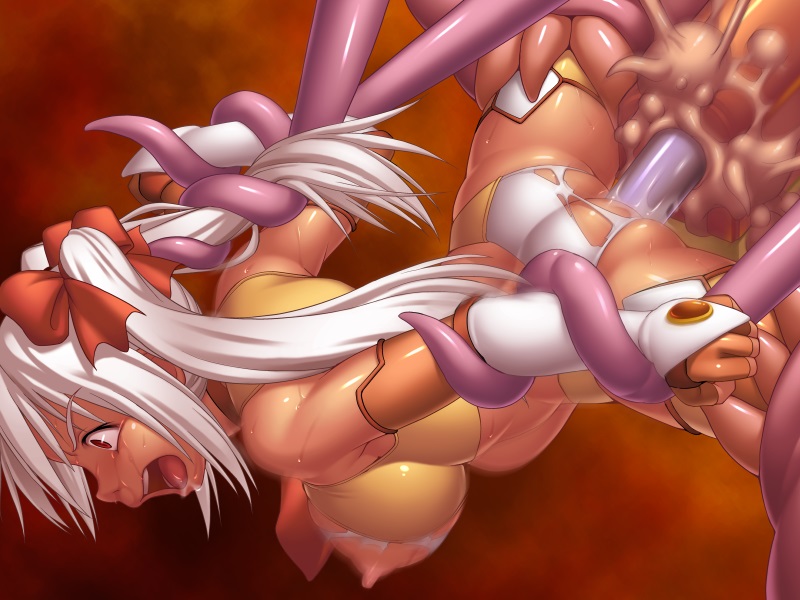 MUSIC
The soundtrack consists of tracks which are of serviceable quality.
Most of the tracks are fast-paced and get your blood pumping. The timing and implementation of the songs is spot on. Whenever a scene is dying down or a track is dragging on too long, a new one pops in, and sets the pace.
Majority of the instrumentals from Amber Breaker include a mixture of piano, drums and a guitar. The guitar often sounds like an electric one, which makes sense given the pace and intensity of the game.
HENTAI
From minute one, the characters start to go at it. The fucking is relentless, and the scenes imaginative and even surprising. Only a few scenes are non-sexual. The villain wants to defile every last inch of these women. The most exciting scene for me was when the three girls are finally reunited. The monsters sit out of the final fuckfest!
The scenes last long enough that you have time to grow an erection and cum a bucket. There's tons of variants of each CG, so you can enjoy the gradual progression.
Another noteworthy hentai scene is Amber's scene with the tentacles. Amber keeps putting on a brave face, but this scene shows her fighting spirit finally break. Her despair turns into pleasure. It was a truly fantastic scene.
CONCLUDING WORDS
Amber Breaker is a great little hentai visual novel game that gets to the point. The very first scene is a sexy one, and the next scene raises the stakes, and the next scene raises them even more. If you enjoy watching cute anime girls going at it with disgusting monsters, play this game.
Recommend for all hentai fans. You can Download Amber Breaker at DLSite.
Graphics

Gameplay

Story

Music

SFX

Hentai