Written by Rastafoo69, edited by OtakuApologist
Night High, a hentai game series developed by Denji Kobo. The first entry was released on May 11, 2015. The latest release was on June 19, 2018. For PC Windows. Partial voice acting. Censored genitals. Free demo available. Available in English and Japanese. Download the games on DLSite.
A cute young lady is sleeping and you're excited to grope her! Excite her with tons of pleasure until she wakes up and opens her legs for you! Each of the four games in the Night High Series is the same, only with a different girl.
Before trying this game, please read our guide how to download DLSite games.
STORY
The Night High Series has no story.
GAMEPLAY
Night High 1-3 were created with Adobe Flash, while the fourth was created in Unity Game engine. Use the mouse to click the lady and interact with her. Scroll with the mouse-wheel to view the legs and feet. There is no dialogue, combat, or other mechanics.
Click the girl to rub a certain location. This earns points used for new actions. From removing her shirt to licking her breasts, you'll need points to push the limits of groping to new heights! Eventually, you'll even be able to have sex with this petite beauty! You need to spend points on increasing her sleepiness and lighting up the room more. After that, you can go wild!
From the first game to the fourth, there have been minor improvements and changes. The ability to use a paint brush and tickle the girl is only available in later games. And originally, the points maxed out at 99, but later versions allow you to save your points for later. Also, the groping required constant mass movement in early games, but was automated in later versions.
After completing Normal mode, the player can access free mode and grope her recklessly without worrying about her waking up. The game is a short but fun experience every time.
GRAPHICS
The art is classic Japanese anime style. Each of the four games has a unique girl with a unique outfit. From a heavy coat to a simple camisole, you can undress a girl to fit your fantasy and fetishes. Whether it's moving her head to the side and slipping your dick into her armpit, every player action is fully animated with vivid realism.
The facial expressions of the character change depending on your actions. If she's waking up, you can see her eyes open up. If she's feeling pleasure, you can see her eyes twitch with a rush of pleasure.
The setting varies depending on which game you play. You have sex in the bedroom, a night train, and more. The art style has also improved with time, making the first game seem like a completely different product from the third or fourth.
Some features got removed over time. In Night High 2, you could customize whether your waifu was awake during sex or not, while other games have her wide awake every time.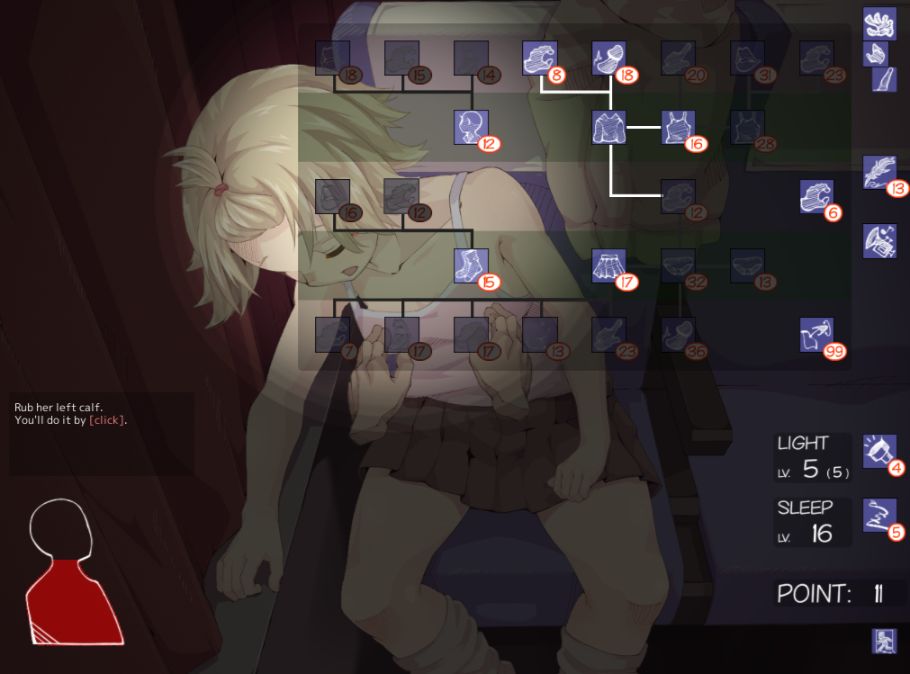 VOICE ACTING AND SOUND EFFECTS (SFX)
Night High features minimal voice acting. Full sentences are never given, instead the focus is on various moans and other vocals which convey the pleasure your partner is feeling.
The sound effects are predictable but damn good! From kissing her breasts to playing with her pussy, every action is matched to a sound. When you earn points, a round of applause conveys your accomplishment. It's cheesy but classic to the Night High series!
MUSIC
There is barely any music in the Night High Series. The second game has a short intro sequence explaining that the girl fell asleep after swimming, but outside of that, there is no music to be heard of.
[xvideos url="https://www.xvideos.com/video68554485/groping_seduction_game"]
HENTAI
The Night High Series has four games with four different groping simulations and sex scenes.
Sleeping sex is a common fetish, but the Night High series does it perfectly! Will you lick her armpit or will you grope her chest? Maybe you want to do both! Focus on giving her pleasure without waking her up. When you reach the ending, her wet pussy is finally opening up to you, and she voluntarily bounces on your fat groper cock! These fully animated sex scenes are orgasmic!
My favorite scene is the most recent with Night High 4. The cowgirl position is incredibly hot for showing off the big fat ass of the girl I was groping! She milks the cock in a heat of lust, and gladly accepts a fat, juicy creampie into her pussy!
I can't wait for Night High 5! As a yearly release, it should be coming out soon with even more positions, actions, and deeper simulation mechanics. So far all games have been identical, but each is an improvement from the last.
CONCLUDING WORDS
The Night High Series is the best sleeping sex collection on the market today. With fully animated night time gropings, this game is a fantasy come true to many. Give the babes a good touchy-feel and fuck them silly! Download now.
If you want a classic bedtime groping, check out Night High 1 and Night High 3. If you loved the pics of the girl in the swimsuit, check out Night High 2. And if you want to grope a girl on the Night Train, check out Night High 4.
Graphics

Gameplay

Story

Music

SFX

Hentai