Written by Mistress Valentine, edited by Otaku Apologist
Elf Breeding Farm, a hentai visual novel game developed by Norn / Miel and published by Cherry Kiss Games. Released February 21, 2020. Download on Steam for $8.99. For PC Windows. Full voice acting. Censored genitals.
Visit our perverted store for more hardcore porn games.
STORY
Stop me if you've heard this one before: You are an overworked, underpaid guy who is killed while crossing the road. You suddenly wake up in another world with sexy elves and cool magic and a rock hard cock that no women can resist? Why come up with your own stories when you can steal the best ideas?
Shortly after his death, Itsuki is captured, tied up and awaiting execution. Why was he getting executed? He pissed off the mother dragon who came down from her nest and barbecued the local village. Thankfully Itsuki is saved by a group of busty elves who subdue the dragon.
Itsuki follows the elves hoping to get into their pants, but then the dark elf Melvie captures him. Melvie makes the mistake of getting a look at Itsuki's monster cock. She is powerless to resist, and gets her brains fucked out. Melvie, tingling from the rough sex of her dreams, brings his new boytoy to her elf sisters Anna, Iris and Lyra. The rest of the game is a series of sexual encounters where Itsuki sticks his pecker into one elf beauty after another.
The writing for Elf Breeding Farm is great. The plot is lackluster but the sex is amazing. The female characters are all fuckable little sluts. who worship his manhood. Most scenes only exist to set up the next sex scene. There is no character development other than proud and independent girls turning into mindless cock suckers.
SOUND EFFECTS AND VOICE ACTING (SFX)
Elf Breeding Farm features top tier voice acting. Each of the elves sound amazingly lewd in all of their scenes. The line delivery is stellar and the vocals sexy. You can tell the actresses enjoyed faking orgasms. Each actress also does an excellent job at making their character sound different from the next one despite corresponding to a specific one-note anime trope.
The game's selection of sound effects is unusual. Abstract magical noises make up 90% of this game. You also hear sparkles, thuds, claps, crashes and rubber contracting. Unfortunately there are no sex sounds apart from the elves moaning. No generic dick in pussy noises, peeing, or squelching. This is strange as most other Cherry kiss Games often feature them.
MUSIC
The music in Elf Breeding Farm is disappointing compared to the rest of the production. The developers preferred synthetic instruments over real ones. The synthetic songs feel completely out of place. There are one or two songs which use both synthetic and real instruments. These songs are much more enjoyable than the purely synthetic ones.
The game does have one or two excellent tracks. One of these is a creepy twinkle song that's both eerie and mysterious. There are also good fast-paced action songs with lively beats, but the problem is that none of these tracks fit the setting. This is very noticeable during hentai scenes which feature futuristic techno songs with repetitive cues and generic overtones.
GAMEPLAY
Elf Breeding Farm is a kinetic novel. You click the screen to advance the story. The story is linear, with only one choice presented to the player throughout the experience. This choice has no impact on the rest of the story and carries no consequences whatsoever. I have to wonder why the developers put it in there in the first place.
You can use 'auto' and 'skip' options for smooth play if you prefer to jerk off with two hands. There are options for viewing CG artwork, and for replaying chapters and hentai scenes in the Gallery. This game has all the basic functionalities of a visual novel game.
GRAPHICS
Elf Breeding Farm has fantastic visuals. I really enjoyed the look of the background in this game. The richness of detail compliments the style of the character artwork. There is also a great balance between indoor and outdoor environments which makes the game world feel bigger. CGs in Elf Breeding Farm make great use of lighting with several scenes being very brightly lit.
The characters in this game have huge fucking tits and excellently lewd facial expressions. The artwork is reminiscent of previous Cherry Kiss Games with thin edge lines, and shiny bodies. Character proportions stay consistent for the most part. The elves all have distinctive attire, facial features and hair that compliments their stereotypical fuckdoll personalities.
The visuals in the hentai scenes are out of this world. Brilliant camera work showcases the elf girls' luscious bodies from the juiciest angles. There is a lot of evolution during a scene with multiple lewd expression transitions, penis placement, blood trails from broken hymens, even cum and pee.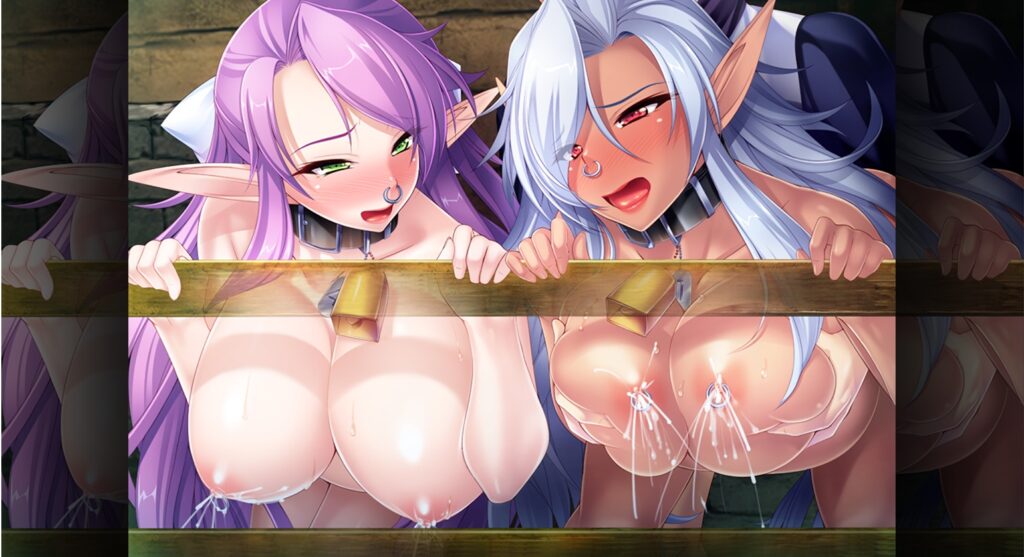 HENTAI
Elf Breeding Farm lives up to the high bar set by previous Cherry Kiss Games titles. There are more than 20 sex scenes that you fap to with a vast collection of different fetishes, guaranteed to empty your nut sack. The story quickly takes a backseat as you fuck your way through the cast. This formulaic approach is present in every Cherry Kiss Game which can be tedious for players looking for a deeper experience.
The first couple of scenes introduce each elf to you. These scenes usually feature the main elf fighting against your advances until you steal their innocence and virginity. Male Domination plays a big role here with each scene designed to make these busty elves submit to your cock. Several scenes include bondage and S&M themes. You get to tie up several girls, rob them of their virginity and listen to them moan and fight against your semen invasion before ultimately accepting their purpose in lie as your personal cock sleeves.
Elf Breeding Farm has an animal fetish. Several girls get animal tail butt plugs inserted into their asses. You use staple guns to brand them like animals and attach cow bells and collars to degrade them further. The best scenes feature you fucking inside the barn.
One of my favorite scenes features you trying up Iris over a horse saddle stand before fucking her pussy. Other fetishes include public humiliation. Lyra and Anna are paraded in front of a large crowd and forced to masturbate. You fuck Melvie on the beach hard in the ass. In some scenes you have sex with multiple girls, but these are not as sexy as the one-on-one scenes.
CONCLUDING WORDS
Elf Breeding Farm is a marvelously sexy Japanese porn game. Its production values are high, except for the lackluster soundtrack full of generic synthetic songs. The Japanese vocal work is lewd and compliments the sexy dialogue beautifully. The artwork is blissfully gorgeous, and the best part about the experience. The game may be simple and linear, but the hentai is smashing.
Very highly recommended porn game. Download Elf Breeding Farm.
Story

Graphics

Gameplay

Hentai

Music

SFX