Written by Mistress Valentine, edited by Otaku Apologist
Bullied Bride, a visual novel game developed by Miel and published by Cherry Kiss Games. Released January 7, 2020. Download on JastUSA for €4.49. For PC Windows. Full voice acting. Censored genitals.
Mei is a shy girl who is always getting picked on. Her luck turns when she gets harassed while you're busy peeping on other girls. You white knight her troubles away with blackmail until Mei consents to become your personal sex slave. It's a heartfelt love story.
Visit our perverted store for more hardcore porn games.
STORY
You are a virgin fuckboy who spends his days watching porn and peeping on girls in the changing rooms. One day, you meet a cute girl called Mei who is being harassed by other girls demanding 'friendship' money. Behaving completely out of character, you film this confrontation and threaten to expose the bullies if they don't stop. Afterwards Mei thanks you, befriends you and eventually fucks you.
Rest of the game is spent building your master-slave relationship with Mei. You take her clothes shopping, eat her cooking, spend time at the beach and fuck like rabbits. The writing takes its time to explore Mei's past as a victim of abuse. From her mother ignoring her to never receiving gifts or making friends, the player can't help but feel sorry for the poor girl. Her problems disappear once she starts getting regular dick from a white knight nice guy like you.
After a certain point, Bullied Bride abandons all semblance of storytelling and devolves into a series of sexual encounters. The hentai scenes are well written and generously set up. There are no grammatical errors that I could find. With 2-10 hours worth of content, Bullied Bride has more than enough sex for the average anime fapper.
SOUND EFFECTS AND VOICE ACTING (SFX)
Mei is the only character with any voice acting. The actress portraying her makes a great performance. She is shy and nervous when she speaks, but a total slut when it's time to please her man. Her slow corruption is wonderful to watch. Mei's cries are cute and make you want to protect her, while her dialogue makes you want to take advantage of her.
Sound effects are limited. You hear doors opening, people running, bushes rustling, pussy walls squelching, thrusting, water pouring and a vibrator buzzing. The audio clips are expertly done and increase immersion.
MUSIC
The music quality in Bullied Bride is great. There is a large library of songs that employ original instruments for the most part. Most frequently heard instruments are the guitar, piano and saxophone. There is at least one song that uses synthetic instruments like the keyboard.
Music is upbeat and lively and will remind you of slice of life anime shows from the early 2000s. The genre shifts between songs to reflect the action taking place. Tracks do not feel repetitive or distracting. Most of the songs have a fun funky vibe.
GAMEPLAY
Bullied Bride is a visual novel game.
Clicking the textbox advances the story. Functionality features are normal to other visual novel games with a 'skip' and 'auto' button for smooth play. You can replay any chapter or sex scene from the Gallery menu. CGs are individually available to view. Every so often the game presents you with choices. These choice have minimal impact on the plot. Choices exist only to unlock new sex scenarios. There are 15 intimate scenes between you and your bullied bride to unlock. There are enough save slots for easy backtracking of choices.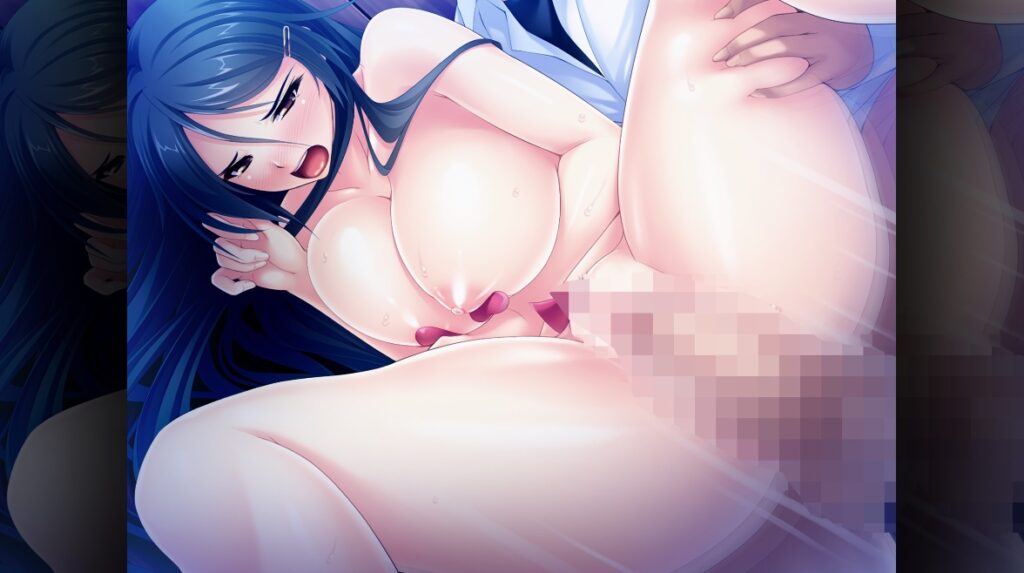 GRAPHICS
Bullied Bride has excellent graphics and artwork. Because Mei is the only girl, she gets all the attention. She sports a pair of massive tits too big for normal humans but the perfect size for slutty anime girls. The character sprite has loads of facial expressions. Bodily proportions change in-between images sometimes, adding more sex appeal. There is also an assortment of costumes for Mei to wear. She wears a schoolgirl uniform, a naked apron, and more, though she spends most of the game naked on her knees.
Mei's sprite is stunning. Bright vibrant colour schemes compliment the light edges. Lines are thin while shadows look realistic. Hentai artwork focuses fully on Mei. The camera shows off her horny body in a variety of deliciously lewd positions. In some pieces, her ass is practically against the screen.
Background images are stylish and feature a wide variety of detail. The outdoor settings are bright and inviting while the interiors feel warm and comforting. Some of the interior settings feel bland due to the cliché Japanese apartment location. There is a good balance between indoor and outdoor settings, as well as night and day times.
HENTAI
Bullied Bride features great sex. The wonderfully excellent artwork, combined with stimulating vocal work and sexy writing make each scene pleasurable.
You start off the series of sexual events by daydreaming about Mei's giant tits before getting the chance to grope them. You demand she pay you back for helping her and she spreads her pussy wide for you. The play-by-play commentary from both characters is peppered with suggestive and lewd dialogue that helps get the blood in your dick racing. After stripping Mei of her pesky virginity she agrees to become your personal cock sleeve until death do you apart.
The emphasis is on wild, rough sex with Mei. She becomes completely subservient to your cock. The dialogue is descriptive with scenes feeling just the right length. The sex scenes are also spaced well throughout the game. Sex scenes do not feel repetitive. After fondling Mei's tits, some time passes before you suggest she use those milk-shakers to give you a proper tittyfuck. Sex takes place everywhere while you and Mei explore all kinds of kinky sex situations. You have sex in your apartment, you get to knock Mei up, dominate her on the beach and dick-drip a gallon's worth of cum down her throat. Mei's gradual evolution from inexperienced virgin to cum starved slave is glorious to behold.
CONCLUDING WORDS
Bullied Bride is a wonderfully sexy game with great artwork. The vocal talent is awesome and the hentai content is steamy and plentiful. All of this makes for a game that is worth the price of admission. Despite the abundant mosaic censorship, the experience is blissful and you'll rub one out time after time with absolute ease.
You can download Bullied Bride for €4.49 at JastUSA.
Graphics

Gameplay

Story

Music

SFX

Hentai