Free Corruption Porn Game Review: News Desk
Hentai Reviews

>

Reviews

>

Free Corruption Porn Game Review: News Desk
Written by Rastafoo69, edited by OtakuApologist
News Desk, a corruption porn game developed by Pyorgara. Released December 13, 2018. Last updated on May 19, 2021. Visit the developer's Patreon. Available for PC Windows, Mac OS, and Linux. No voice acting. Uncensored genitals.
Cassandra Hamilton is your co-anchor on a television news show, until one day, you learn that the network is switching to one anchor! Who will be fired? You or Cassandra? Become the popular office slut and protect your career!
Remember to visit our art commission site! Order your adult artwork at hentaicommissions.com!
STORY
Cassandra is your co-anchor and hopes to get you fired! Right when she's about to succeed, you force your boss into giving you a second chance. Will you play it clean, or make Cassandra a dirty whore? The choice is yours!
The synopsis of the game is the full extent of the plot. Beyond that, you focus on coercing Cassandra and fucking her daughter. Although the narration of the story is well written, the writing is confined by its limited scope. Yes, you have sex with Cassandra and have her publicly embarrass herself, but that was predictable from the synopsis alone.
There are no likable characters in this story. Garrick is the protagonist, but he's extremely vain. Cassandra seems to hate Garrick but we never hear a solid motivation beyond competition. And although there are side characters that can be recruited to your side, they don't have any dialogue and function more as ability cards.
The plot is basically a repeat of Soldier's Life, the previous game from this developer. Rather than innovating, the developer played it safe.
GAMEPLAY
News Desk was created in the Unity game engine. The entire game is played through menus and mouse clicks. There are six basic stats. The first three are central resources while the latter three are progress-related.
Energy is required to do things, and refills daily. Money is spent on new moves. Sex scenes feature a different resource. Influence is like your health points. Work is your progress in battle, which can be redeemed for energy, money, glory. Glory has no purpose beyond reaching 1000 to complete the game. You gain resources at work or events, they do not refill automatically.
These six stats sound complicated but the game is super easy after the first ten minutes. In fact, the developer could have simplified this game greatly, but the appearance of having six stats makes it seem more complex than it is.
The developer literally says in-game, you are going to lose all battles when you start a new file. This is because Cassandra has the best moves and you have nothing. She can wipe out all your influence (HP), drain your energy (you cannot use moves), and can work faster than you (she'll always win the glory).
The game is built around the idea that you'll lose a ton in the beginning, but counteract this later by lowering Cassandra's progress via public humiliation sex scenes. Once you understand that, the game becomes very boring. There isn't room for creativity or individuality. You need to do exactly what the developer wants or Cassandra will progress too fast and you'll get a game over.
The game relies heavily on random encounters. Sometimes you spend energy and stumble across cards, other times you spend energy and get nothing. You're likely to notice some typos that interfere with the experience. Like when an item price is incorrect, so you cannot buy it even if it looks like you have enough.
In simple terms, make money to upgrade your cards. Or, spend energy for random encounters that may reward you with cards. The fatal flaw of this game is that Cassandra gains glory regardless of your skill level. This means, you're destined to lose the first time. This game can only be beaten once you learn all the mechanics and start over from scratch. I absolutely despise games that require two playthroughs.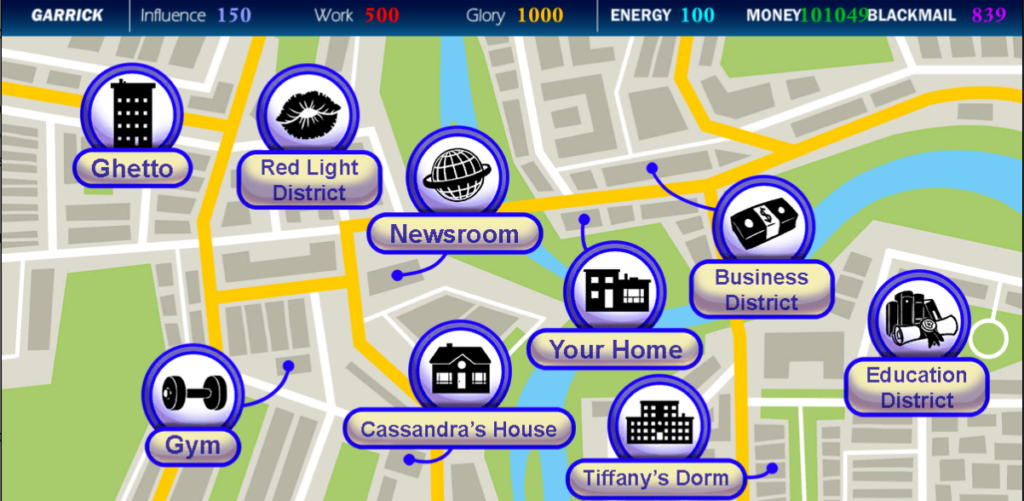 GRAPHICS
The art is drawn in a cartoonish style unique to Pyorgara. Not all scenes have art, instead relying on text-based descriptions of actions. For example, side chicks like Karen have no art at all. Even when art is used, variation images are limited at best. Usually you get one still image per scene.
The screen resolution is always a wide rectangle. Playing in fullscreen makes this tolerable, but the resolution cannot be changed otherwise. Fans on f95zone have released a patch to upscale the resolution, but they could not make significant changes without hampering the user interface.
The game mimics the interface of Soldier's Life. The left-hand side is a photo and dialogue box while the right-hand side has a list of resources and occasional choices. Number keys are used to make the choices.
The world map is very cramped. 9 logos are placed side by side over a city map background. Although the map is functionally good, it lacks any creative or sense of scale. This is a massive step down from the developer's previous title, which had a region conquest system that made the world feel alive.
While the artworks are nice at a glance, they carry inconsistencies. For example, Cassandra's breasts change size and shape at random. Sometimes they're attached to her armpits like implants while other times they're hanging and realistic, pressing together to form cleavage that is realistic and believable.
The length of her hair changes as well. Sometimes it's shoulder length, while other times it's longer. Sometimes the front is shorter than the back, other times her hair is completely uniform. While the art can be hot, it sometimes feels like a different Cassandra for every scene.
VOICE ACTING AND SOUND EFFECTS (SFX)
News Desk has no voice acting or sound effects.
MUSIC
News Desk has no music.
HENTAI
News Desk features 50 scenes for Cassandra. Although there are side chicks, they rarely get artworks. Even Cassandra has a number of scenes with pure dialogue and no actual visuals to match.
The quality of writing is dependent on your mood. If you want scenes where girls beg for more and act crazy for dick, this is not for you. This game refers to breasts as "mammaries" and tries to be as classy as possible.
As a corruption experience. many of the scenes in the game simply focus on cleavage and nudity. There are numerous blowjob scenes, with vaginal sex saved for the endgame. The game features tons of flashing and flirty outfits. One scene's primary focus is on a buttplug. Frankly, it's a mixed bag. Some scenes are hot while others are just okay.
CONCLUDING WORDS
News Desk has an eye-catching premise that doesn't lend itself to a good story or execution. Collecting cards and wandering around for random encounters is tedious, and competing with a co-anchor for a job isn't very enticing. Add in the complete lack of music and you're dealing with a novel concept that never goes anywhere. At least it's free!
Download News Desk for PC Windows, Mac OS, or Linux. If you liked this game and want another free experience, check out our review for Rick and Morty A Way Back Home!
Graphics

Gameplay

Story

Music

SFX

Hentai