Elf Trainer Porn Game: The Elven Educator
Hentai Reviews

>

Featured

>

Elf Trainer Porn Game: The Elven Educator
Written by Rastafoo69, edited by Otaku Apologist
The Elven Educator, a simulation porn game developed by F Shadow. Released December 20, 2019. Download on DLsite for $18.00. For PC Windows. No voice acting. Censored genitals. Available in English, Chinese, and Japanese.
The queen of the elves has betrayed her country! Work alongside her to enslave the elves and turn them into meat toilets! As the elf educator, it is your duty to teach them the ways of sex!
Support our website and commission our artists for your comics projects!
STORY
Your secretary is the old queen of the elves, Queen Alfies. She was believed dead by her people but the truth is, she gave up the throne to save the elves. By the end of the game, she will retake the throne and lead the elves to victory!
The elven race believe the Earth is flat, I'm not joking. They have no technology and they worship trees. Meanwhile, the human race has mastered guns and ships, and is growing stronger by the day. Queen Alfies used her magic to see a possible future, and it was horrifying. Her people will be oppressed and treated like cattle, while imperialism will ruin their homeland.
She cannot change anything in the position of queen. Instead, she forms a resistance group with you. Working alongside a human, she hopes to negotiate treaties and contracts to help her people survive. The entirety of the story is focused on gaining influence and financial resources to save the elves from their own backwards ways.
There are many more geo-political angles to this story, but I think you get the point. This is a battle to halt a genocide. Kidnap elves, make them work for you, educate them, and send them back home to spread what they've learned. Soon, they'll leave the stone age and be equals to humans, rather than servants.
Simply put, this story is an allegory of imperialism, and very well done. It's a very mature topic for a hentai game, and I absolutely loved it. No politics, no pandering, just modernizing a third world nation with your cock.
GAMEPLAY
The Elven Educator is primarily a simulation-style game. The bulk of the game is spent scouring menus to organize and mobilize your resources in the best way possible.
Nothing is explained well in this game. You're expected to learn as you go along. Thankfully, some features are locked behind story progress, so you're given time to learn the mechanics over time. And due to the sim-mechanics, you're actually rewarded for dropping in and out of the game to check on your resources.
There are six basic activities you can engage in. 'Development' creates new books to educate the elves. 'Discipline' allows you to train the skills of your elves, and have sex with them. 'Invasion' allows you to recruit new elves. 'Exploration' sends out your elves to fight monsters and gain level-ups. 'Requests' allow you to exchange highly trained elves for money and influence. 'Tasks' are required to continue the story; for example, you will negotiate an environmental protection bill with the humans.
If all this sounds overwhelming, just remember the game cycle. Recruit an elf, have sex until she's loyal to you, then make her your employee or an ambassador. Repeat the process until you have enough money and influence to reform elven society!
There are many other game features to explore, but I think you get the point. Train elves, unlock new scenes, send them out for combat encounters. It's a well-rounded and enjoyable experience for lovers of the simulation genre.
GRAPHICS
The art is standard anime style. Although there are multiple tribes of elven ladies, they all look identical with the only difference being how they're colored.
There are over 350 CGs in total, mostly because each scene has multiple variations for your elf's color. Each artwork is beautifully drawn with great attention given to shadows and character shading. Backgrounds are limited, as you're always having sex with these girls in your private dungeon.
The girls have sharp ears, braided hair, frill on every outfit. The characters are drawn to be so pure and innocent, it makes it even hotter when they get fucked!
Certain scenes like the orc defeat scene, demonstrate the admirable skills of the artist. The orc is larger and more muscular, able to easily grip the arms of his elven prey. This level of scale and perspective makes the scene even more foreboding, creating anticipation through art that few other games can equal.
The image gallery can be unlocked from the home base. Although most of the game takes place in a gloomy dungeon, the exploration and invasion maps are bright and exciting enough to make for a varied and enjoyable viewing experience.
VOICE ACTING AND SOUND EFFECTS (SFX)
The Elven Educator has no voice acting.
Sound effects are varied and unique to this game. Every attack type makes a unique sound. You have magic, swords, guns, and more! Every level-up prompts a triumphant melody, like it's an arcade game. Although the sex effects aren't realistic, every other sound in the game is just perfect. Even when you whip your naughty slaves on the back, the developer made sure it synced perfectly with the art to create a truly immersive experience.
MUSIC
There are around 10 unique tracks in the game, but without a music room, you can't properly enjoy them all. Each track plays for a different area of the game. The prison, the base, the exploration mode, each area has a unique track. Sadly, these tracks are not particularly noteworthy! More often than not, you hear a simple piano with some digitally made melody playing over it.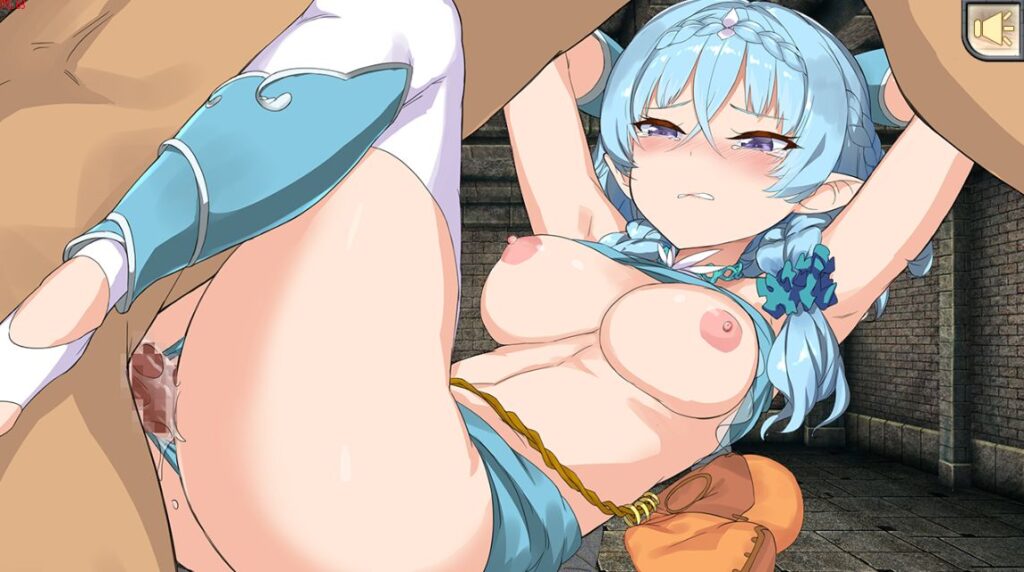 HENTAI
There are 32 scenes in total, spread out over 15 base CGs. Some CGs repeat three times, some CGs only appear once. With over 350 art assets in total, there's plenty of variety to be found.
Before you even think about sex, you need to corrupt your chosen lady! She has a health bar and magic bar. If either falls to zero, she will be unable to have sex. She also has an obedience level which decides if she'll resist certain actions.
Violate your elf waifu in tons of different ways to raise her H-skills. These are lust, masochism, and perversion. The H-skills affect your experience in small ways. For example, a high level of masochism will earn you love points for whipping her.
At first, the best you can get is for her to show her pussy. Once she's properly corrupted, you can ask her to masturbate for you. Eventually, she'll be ready for blowjobs, titfucks, and even anal sex! You should wait before deflowering her. The higher the corruption, the more magic points you get for vaginal sex!
The static images and short dialogue bits drag down the sex scenes, but that's expected, since you're expected to corrupt a ton of women throughout your adventure! This isn't a romance game, it's a trainer title!
My favorite scene was when my favorite virgin waifu elf lost in battle. I didn't even realize this, but losing against orcs and goblins comes with a chance of being deflowered! A giant orc cock filled her pussy and stole the virginity I wanted for myself! I leveled up and killed hundreds of orcs in revenge, but the damage was done. There's a surprise around every corner in this exciting hentai experience!
CONCLUDING WORDS
The Elven Educator is one of the greatest elf trainer games available today. Many hours of content, gorgeous visuals, a deep storyline, and fantastic hentai scenes make this an absolute joy to play. If you're a fan of simulation-style games, this is the perfect fit!
Download Elven Educator. If you want more sexual elf content, check out our review for Elven Conquest.
Graphics

Gameplay

Story

Music

SFX

Hentai