Hentai Trainer Game Review: Familiar Spirit of the Demon Lord
Hentai Reviews

>

Reviews

>

Hentai Trainer Game Review: Familiar Spirit of the Demon Lord
Written by Rastafoo69, edited by Otaku Apologist
Familiar Spirit of the Demon Lord, a trainer game developed by DojinOtome. Released December 9, 2017. Download on DLsite for $13.00. For PC Windows. No voice acting. Censored genitals. Available in English and Japanese.
You are the prince of the demon realm. You try to summon a monster, but accidentally summon a human instead! Train her, fuck her, and fill her with magical cum that will turn her into a demon too!
Note: The story section of this review contains spoilers.
STORY
Saki is a blonde schoolgirl you summoned by accident. Hoping to summon a powerful demon familiar, you ended up with her instead. Make the best of a bad situation, and turn this sexy human into a monstrous cum bucket!
You have 30 days to build a relationship with her. At the end of the 30 days, your father will come home to inspect her. Make her do chores around the castle and cook for you, and hope that will make her love you.
The game surprises you in the last week of the 30 days with the news that a human is coming to invade Hell! Hopefully you've built Saki's stats well, because her help is crucial to defeating the human army!
Actually, that was a lie too! You're doomed to the bad ending unless you walk around the castle at night repeatedly. Even though the game tells you outright to focus on raising her skills, the truth is, you shouldn't!
This was infuriating. You put hours into a game, only to get a bad ending and get told to start over. I felt cheated. I did everything I was supposed to, but got a bad ending because I didn't use a walkthrough.
Basically, there was a traitor helping the humans and the maid tries to warn you. The fate of your father, Satan, depends on you. If you're not smart enough, humanity will wipe out the demon race for good! This clusterfuck game has four endings in total.
GAMEPLAY
Familiar Spirit of the Demon Lord was created with RPG Maker MV, but features a unique user interface that improves the experience. Use the arrow keys or mouse clicks to move. Right click to hide the text. Press Q for the text log.
Gameplay falls into two categories. Sex involves raising the sensitivity of Saki and then giving her an orgasm. This will earn loyalty and currency fast. Chores involve giving Saki tasks on what to do next, raising that skill permanently. Chores will kill her sexual excitement, and a lack of sex will decrease loyalty. Try to balance your actions to keep all her stats high.
You have 30 days to train Saki. Every three levels of her chore skills will unlock new scenes and bonuses. For example, level 6 laundry skill unlocks the maid outfit while level 10 cooking unlocks max energy levels.
In the battle at the end of the game, her skills also affect your troops. Cooking will raise attack power, Laundry will raise defense power, and Cleaning will raise her critical hit power.
Chores and sex earn you currency which is used to buy items. These will restore your energy or raise stats for Saki. You can increase your energy naturally by going out for walks at various times of day; Morning, noon, and night. Each time zone offers no real change except for the end-game where you should spend a lot of time outside.
GRAPHICS
The artwork is in Japanese anime style. The primary sex scenes are fully interactive, meaning there are minor animations to reflect player action. For example, her ass gets red if you spank it. There are 10 base CGs, each with a unique scene to accompany it. With over 200 art assets in total, character sprites and CG variations, this game feels alive.
Normally RPG Maker MV is despised for its mechanical and ugly nature, but this developer used the engine with those flaws in mind. There are no character sprites or free movement. You play the game by clicking the options in various menus. When sprites appear at the final battle, they are forgettable and generic. Honestly, this game could have been done in Renpy and would run much smoother for it.
For example, there is an interface bug partway through the game that makes all menus disappear. This can be fixed by leaving the area and returning, but it was still an annoyance. RPG Maker is not the best choice for menu-based gameplay.
On the bright side, some scenes in this game feature multiple CGs. That means you can see the view from the front and her back! Her beautiful face or her vulnerable pussy, I love when a game lets you get a full view of everything!
This game uses tons of small animations like shaking the image slightly to imply Saki is taking dick. These visual tricks are super hot, and kept my eyes constantly focused on the gorgeous babe in front of me.
VOICE ACTING AND SOUND EFFECTS (SFX)
Familiar Spirit of the Demon Lord has no voice acting.
Although the sound assets are well chosen, they aren't implemented well. For example, a moaning sound effect will keep playing even after the scene ends. Or you'll hear the bed creaking for a solid minute after the sex scene ended. The developer let the tracks play out, rather than automatically end them when you leave the scene. Another flaw is that moaning sounds begin playing even before you put your cock in! This lack of polish is embarrassing. The images are beautiful, but the audio is mixed at best.
MUSIC
The soundtrack comprises purely of stock songs from the RPG Maker library. From the moment the title music plays, the game gives a bad impression. There first track has no creativity whatsoever. Any amateur musician could recreate this stock garbage. During sex scenes and other miscellaneous moments, unusual music plays that's actually enjoyable for having a beat and rhythm behind it. It's too little too late.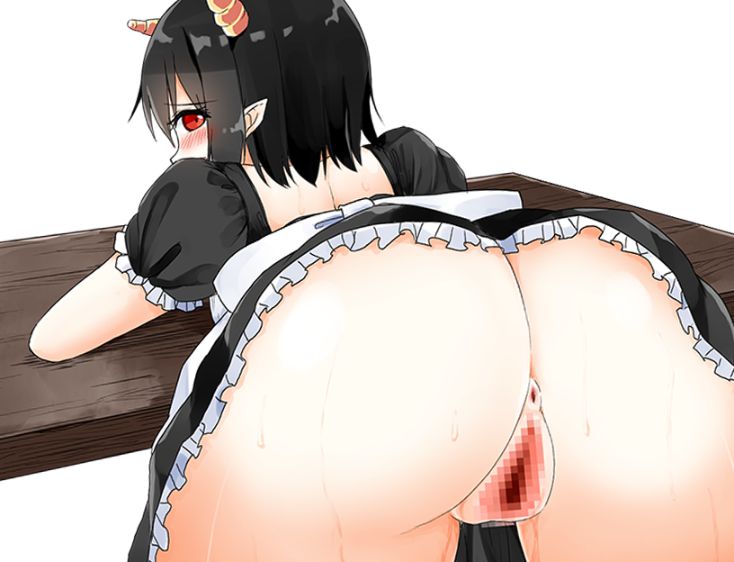 HENTAI
The game has around 10 sex scenes, four of which are available practically from the start. Have lots of anal sex to unlock doggystyle, etc.
Despite the cover art showing a cute maid, she only gets one scene. Meanwhile the milf mentor character got no scenes. Also, the four scenes you start with don't really have dialogue. You brainwash the girl to have sex with you, so she just moans a lot.
The game has sex positions ranging from doggystyle, to missionary, to cowgirl, and more! All scenes have small amounts of animation like cut-in images which indicate you're licking her titties. While watching scenes unfold is nice, the real appeal of this game is the interactive sex scenes.
Click various areas of her body to see how she responds. This will increase her sensitivity but drain your energy. Clicking the same place multiple times will progress the scene. Right click to decide if you'll finish inside or outside. Go for high sensitivity to get a higher bonus. This interactive sex system where you balance endurance with your partner's pleasure is super unique and interesting.
CONCLUDING WORDS
Familiar Spirit of the Demon Lord is a unique trainer title. The animations are small but well placed. The gameplay is simple and easy to understand. The hentai is surprising for stepping outside of norms and creating an interactive system to please your partner. If you love immersive sexual gaming experiences, this title is sure to please.
Highly recommended fantasy hentai game. Download Familiar Spirit of the Demon Lord.
Graphics

Gameplay

Story

Music

SFX

Hentai