Written by Rastafoo69, edited by Otaku Apologist
Ciri Trainer, a Witcher porn parody game developed by "The Worst". Released on October 1, 2018. For PC Windows, Mac OS, and Linux. Partial voice acting. Uncensored genitals.
The first female witcher, Cirilla, needs your training! Shapeshift into the body of Vesemir and serve as her teacher. Play your cards right, and soon her tight bitcher pussy will yours to pump and dump!
Visit the developer's Patreon page. If you like his work, we've reviewed his other game "Girls in the Big City".
STORY
You are posing as Vesemir, a famous witcher. You are training the young female witcher named Cirella. Repair the dusty old castle you call home, and corrupt her into a sex hungry slut who loves cock more than life itself!
The game is very light on story. You meet new characters you help tutor Cirella and grow her strengths. Eventually she gets tossed in a dungeon and treated like a sex object. At the end of the game, she will get pregnant from sex with a big bad guy, and her child will be a powerful and dangerous sorcerer. There are a few other endings, but they're equally mediocre.
The style of the game is very similar to Akabur's Witch Trainer and Exiscoming's Orange Trainer. You're an authority figure who repairs their home base and corrupts a hot lady with sex. However, Ciri Trainer has far less comedy and fourth wall breaks, making for a bland experience over time. Rather than focus on comedy or grand emotional moments, this game was clearly written by a Witcher superfan who is deep into the lore. If you're a fan of the franchise, you will love the abundant fanservice. If you're an outsider, a lot of the dialogue will fly over your head.
The game has multiple plotlines running at once, ranging from manipulating Triss to training Cirella. Sadly, none of these can be skipped, making for a very linear experience. Even worse, there are typos. Though uncommon, even the final release has them! For example, instead of "pretty sure" the dialogue says "perry sure". This is far from game-breaking, but can ruin a good moment.
GAMEPLAY
Ciri Trainer is a visual novel created with the Renpy engine. Press CTRL to skip dialogue. Press ESC to pause and save game. The developer implemented a unique "special save system" or "SSS". If something ever happens to your save file, you can easily and automatically load to the beginning of the chapter you're playing. There are 5 chapters in total, so you can confidently play the game without worry of starting over.
As stated earlier, the game is very similar to Akabur's Witch Trainer and Exiscoming's Orange Trainer. Upgrade your home base over time using money and materials. Eventually your female companion will be able to help you in various ways to make money. Unlock new outfits to expand gameplay possibilities.
There are numerous choices throughout the game that will influence future dialogue as well as your ending. This creates strong replay value.
With five chapters in total, there are between 5-10 hours of content, depending on your difficulty. Easy mode will speed things up, while hard mode drags it out. Either way, you can use cheats to breeze past any delays.
There are tons of activities for the player to engage in. Send Ciri out to fight monsters, to harvest ingredients, or maker her study with one of her tutors. Meanwhile, you can perform witcher contracts or explore the basement. Battle scenes are also available, where you control Ciri's actions and help her win a fight. The gameplay is engaging. It always feels like there's more to do. The downside is, the sexy scenes are spaced out in between grinding, which can feel tedious.
Even with an official walkthrough, plenty of players have reported getting stuck. For example, make Cirella read erotica to become more lewd. Many players have reported that even after she's read every book available, her lewd stat remains the same. This blocks you from progressing further, ruining the experience. Not all players experience this, but a significant portion do.
GRAPHICS
Every visual asset in this game is hand drawn by the Patreon creator himself. Although all of the artwork is animated, the chibi animations are much more fluid and common.
This game has some beautifully animated footjobs and animated doggystyle sex! The visuals are detailed, professional, and always erotic! Although gameplay relies largely on Renpy menus, the actual sex scenes are glorious!
Numerous outfits and characters are unlocked over time. This creates a sense of visual variety, with the downside that some characters get very few scenes. Unlike many other trainer titles, this game does not follow a standard progression from handjobs to blowjobs and more. Some women immediately have sex with you, while Cirella has tons of spanking and other miscellaneous scenes before anything lewd occurs.
There are 45 base scenes, many of which have numerous variations. Depending on the amount of sex partners or the type of monster you seduce, dialogue and visuals change. If you count each scenario separately, there are upwards of 60 or more scenes to explore.
VOICE ACTING AND SOUND EFFECTS (SFX)
Ciri Trainer has partial voice acting. Cirella and the other women are not voiced, but the ending cutscenes are voiced by a male speaker, summarizing what happens to Cirella after you part ways. It caught me off guard, and I wish this narrator was more commonly used throughout the game. His voice was steady and low enough to create a real medieval fantasy vibe that I enjoyed.
Not only are the spells and sword swipes fully animated, but they also come with fantastic sound effects. My favorite sounds played during sex, when the vaginal pounding was actually realistic, and not super watery like other games do. The top notch sound design makes the sex truly immersive.
MUSIC
The soundtrack includes a handful of songs, all of which are meant to match the medieval fantasy setting of The Witcher universe. String instruments like the guitar create simple rhythms and chords. Mix this with background music like rain drops or a crackling fire, and you're in for a treat. These tracks won't be winning any awards, but they fit the game perfectly.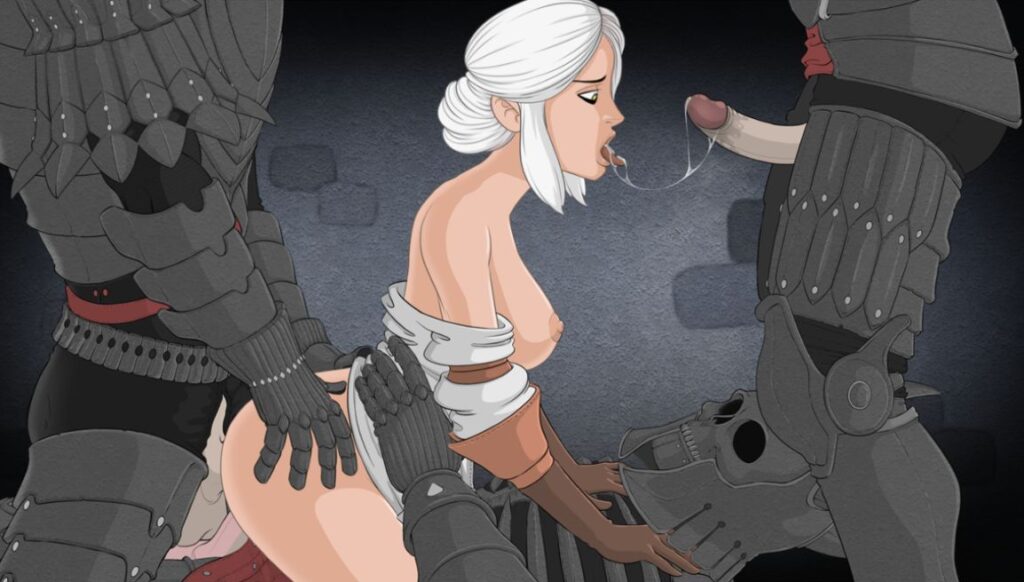 HENTAI
Ciri Trainer is focused on the bisexual Witcher character, Cirella. Naturally, expect plenty of lesbian content, at least at the beginning.
All sex scenes are animated with erotic dialogue about a woman being overwhelmed with lust. The main downside is, scenes are not well spaced out. In the beginning you'll have upwards of five spanking scenes, back to back. This is followed by Cirella peeping on Geralt having sex, who is her adoptive father and pretty weird. She won't have any sex for the first few hours of gameplay.
All of these lesbian scenes don't do much for me. Oral and fingering are nice, but it gets old fast, especially when Ciri always stops there. She'll stick her tongue into any girl that moves, but ask for a footjob and she'll completely refuse. It's more annoying than sexy.
Multiple girls from The Witcher series appear in this game. Triss Merigold is my favorite. Her fuck with Geralt is hot as hell!
CONCLUDING WORDS
Ciri Trainer is a charming Witcher porn game available for three operating systems. If you've enjoyed trainer titles, then you'll definitely enjoy this one. The gameplay is engaging, and highly rewarding. The artwork is fantastic and fully animated. Although the pacing is slow and sex scenes are spread out, many of them are well worth the wait.
Download the game from the following links. Get Ciri Trainer on Windows, Mac OS, or on Linux.
Graphics

Gameplay

Story

Music

SFX

Hentai