Written by jin0uga, edited by Otaku Apologist
Treasure of A Blizzard, a hentai visual novel developed and published by Flaming Firefly. Released November 27, 2016. Download on Nutaku's digital store for $15.00. Download on Erogames for $7.00. Available for Windows PC, Mac OS, and Linux operating systems. No voice acting. Uncensored genitals.
You play as Kang, a dark masculine high-status male in a fantasy world filled with beautiful women. Choose to romance one of three pretty girls of differing personalities and body hair colors.
We have reviewed another game from this developer. Read our review of Forest Fortress.
STORY
The story follows Kang, a political prisoner. He's being transported to the capital. Kang's father was sheltering violent rebel forces who were disguised as innocent refugees fleeing oppression. Kang is ripped out of his cushy lifestyle and must act as a defense witness in his father's trial. Thankfully, the person escorting him to the capital is his childhood friend, Lin. Due to her family's intervention, Kang's life is guaranteed to be smooth despite the fact that he has been stripped of his social status.
During the journey, Lin gets into an accident and falls ill. The weather takes a turn for the worse, and they have no choice but to seek shelter. In the middle of a monstrous snowstorm, the two stumble upon an inn. Upon entering, a beautiful buxom woman named Mei greets them. Lin is instantly suspicious, declaring her a witch. However, without other alternatives, the two weary travellers have no choice but to accept Mei's hospitality. Though Mei looks harmless, she seems to be harboring a secret that may threaten the lives of Kang and Lin.
The plot starts out with high stakes. Kang and Lin are trapped in the middle of nowhere, and end up stuck in a difficult situation where they are in a hostile environment. As the plot progresses, the mystery disappears completely. Characters who could have been good antagonists end up harmless, which makes the earlier events of the story feel useless. The lack of real conflict between characters makes the plot feel flimsy.
I really enjoyed the dialogue. Whether it was humorous banter or a tense exchange of words in a precarious situation, the interaction between characters usually took the spotlight. The quality of the dialog shone especially in a scene where Kang, Mei and Lin were getting drunk off their asses. Mei blacked out midway. Kang started teasing Lin about ghosts, resulting in a clumsy fall as the combo of alcohol and fear became too potent. My description doesn't do justice to the hilarity of the scene.
The plot is decent, but occasional spelling errors and poor scene continuity disturbed my concentration. Some scenes don't make sense. For example, when Kang wakes up from his hangover, he comes across an unconscious Mei. When he leaves for a short period of time and returns, Mei has a plate of freshly baked cookies waiting for him. His inner monologue also states that she was barely awake minutes ago. Logically, it would be impossible to bake anything in such a short time.
CHARACTERS
Kang is the male lead in the story. His characterization is decent. He's straightforward and reasonable. His quick thinking helps him solve problems. He's also a positive thinker that looks on the brighter side of things. Despite a friendly demeanor, Kang isn't naïve and still has his wits about him. He has a hidden playful side.
Lin is the childhood friend, easily identified by her fiery red hair. She puts up a tough front and is extremely stubborn. She's prone to paranoia and thinks the worst of strangers. She comes off as unruly and rude because of it, but it serves her well as her worries usually turn out to be true. She's a source of headaches for Kang.
Mei is mysterious beauty in charge of the inn. Her hair is a gorgeous shade of blue, matching her suave and easy-going personality. She's very coquettish and likes flirting with Kang. Due to her patient temperament, Mei is constantly having to be the mediator in tense situations. However, she seems to be harbouring secret ulterior motives and can't be taken at surface value.
Shan is a werewolf who forces the rest of the characters to help her. Her snowy white hair and fur make her seem petite and non-threatening, but she has a vicious personality she shows to those she doesn't trust. She is the leader of her pack and doesn't have a good impression of humans.
GAMEPLAY
Treasure of a Blizzard is a visual novel with multiple endings. Clicking the text box 'turns' the page and advances the story. There are different choices at certain points of the game that affect which ending you'll get. You can save your game before choosing, I recommend doing so if you're looking to see all ten endings. It will be helpful when you want to backtrack between scenes.
There is also a 'Demon vision' setting where females stay naked during the entire game.
GRAPHICS
The character sprites and CGs are drawn in the same style. Shifting between them is practically seamless. Compared to the developer's other games, I like the character designs for Treasure of a Blizzard a lot more. Though the art is anime style, the characters feel realistic, and the sprites are well proportioned. In addition, the characters are very expressive, with a nice variety of faces for different situations. Combined with the dialogue, it makes interactions lively and fun.
Each character only has one outfit, which matches well with their appearance and skill. Lin for example is an heiress and a warrior, reflected by her shoulder pauldrons and metal arm armour. On the other hand, Shan wears a tribal dress, along with teeth-like accessories on her chest which emphasize her animal roots.
Backgrounds are detailed, but are overshadowed by character sprites. The setting of a snowy mountain range is eye-catching compared to the inside of Mei's inn. The falling snow is also animated, successfully evoking a cold and hostile atmosphere. Shadows are sparse, only noticeable in CGs that closely zoomed in on a character.
The colour palette for hair and nature backgrounds are bright and bombastic. The interior of the inn and character outfits get a darker colour scheme, which helps to balance the overall colour palette. One unique aspect of the character art I liked was the gem-like sparkle of their eyes.
SOUND EFFECTS AND VOICE ACTING (SFX)
There is no voice acting. This is understandable given the price. However, the lack of sound effects really stands out. Simple actions like footsteps should at least have a faint sound effect.
MUSIC
The game opens with an uplifting tune dominated by string instruments, which give it a fairy-tale-like feeling. Violins soon join in, bringing the song to a crescendo. The high-pitched sound of a flute hops in. I could almost imagine the scene of a bird's eye view showing off a mysterious world.
Casual scenes, like two characters talking amid a snowy field, has a folksy sounding track. It starts off with a mix of guitars and blown instruments, before the tune is carried by the distinct sound of an accordion. It's very cheerful, like the characters are about to partake on an epic journey.
Tense moments get an overbearing song. Trumpets are accompanied by violins and drums. The loud, obnoxious audio makes it feel like a war is starting. The song eventually calms down, the clashing cymbals replaced by the solemn wails of a pipe organ. Despite the gentler sounds of the second half, the song still twists the atmosphere into something ominous and heavy.
Peaceful and humorous moments get another folksy track, heavily reminiscent of songs you'd hear in fantasy movies or games. It starts with a faint strum of a guitar or ukulele, along with flutes. A kazoo and other string instruments soon join in as the song's pace picks up. Percussion instruments hop on towards the end of the song, culminating in an abrupt ending.
The overall soundtrack is high-quality, and I really enjoyed that the songs included used real instruments I don't normally hear in the visual novels I play.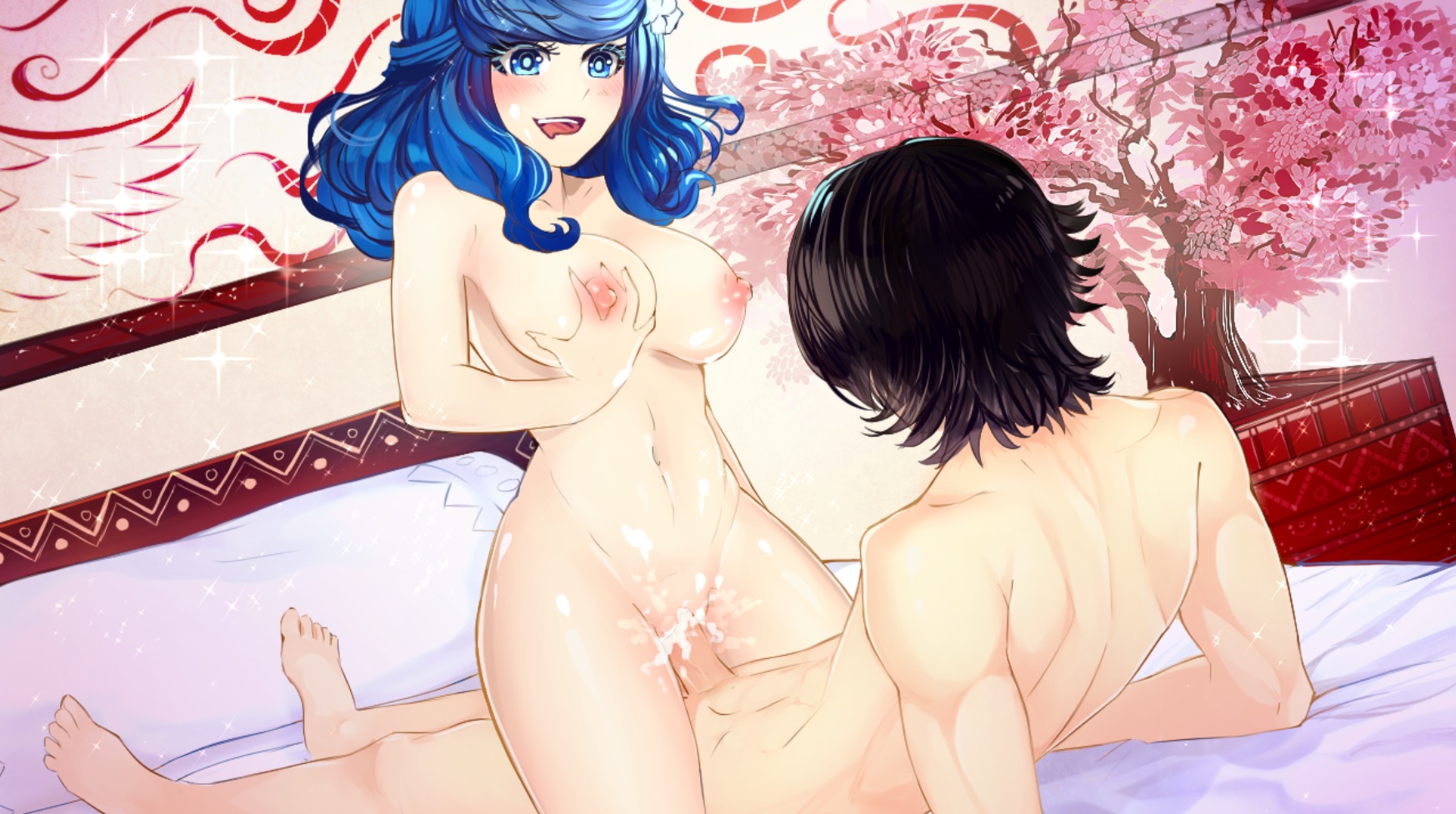 HENTAI
The first hentai scene shows Kang's dick balls deep inside of a woman he just met, but there was no text describing the act. I thought it was a one-time thing to tease the player. But the rest of the hentai scenes were similar, lacking descriptions of the sexual acts. I found it disappointing that the writers forgot to write the sex scenes.
The problem with the lack of storytelling is that some sex scenes are very unclear about what happened. In one scene, Kang carries the passed out Lin back to her room. She's drunk and defenseless. It isn't clear whether he masturbates like a creep on her naked body or fucks her while she's asleep. He blows his load on Lin's face and clothes. Was it rape, or drunken sex? Should I call the police?
CONCLUSION
Although the hentai is underwhelming, the story is decent and the characters likeable. The art is unique and stylistic, albeit very simple. The lack of descriptions and hentai sound effects were detracting factors. Otherwise I found this game an enjoyable experience. If you've been thirsty for a fantasy visual novel with a premise like this, and can forgive its flaws, this game will satisfy you.
I recommend this game for fans of romantic visual novels. Download on Nutaku. Download on Erogames.
Graphics

Gameplay

Story

Music

SFX

Hentai