Written by Rastafoo69, edited by Otaku Apologist
Sex Angel Ariel, a hentai RPG developed by Sugar Star. Released April 11, 2019. Download on DLSite for $8.00. For PC Windows. Full voice acting. Censored genitals. Download the English fan translation patch.
Angel Ariel has come down from Heaven to help protect the human world. But when a demon sets his sights on her, it doesn't take long before she's become a consenting cum bucket for all the townspeople!
Read our guide how to download DLSite games. Also read our article how to apply translation patches.
STORY
The Marmar Kingdom was protected by a guardian angel named Rumiel. It's time for her to step down and let a new angel protect the people. Do quests in town, please the townsfolk, and become the greatest guardian angel ever!
Rumiel is under the control of a demon, so she's going to sabotage the new angel. At the climax of the story, Ariel has sex with the demon to suck out his power, turning him into a mere human.
The post-game content is light on hentai but wraps up a lot of plot points. For example, after defeating the demon you travel the world to strengthen the magic seals that keep him sealed away. You also fight Rumiel to become the sole Guardian angel of humanity once and for all.
The game is a very linear experience. Having sex or staying pure has no effect on the story, and some sexual encounters are scripted to always happen. You will be corrupted one way or another, so enjoy yourself!
The world building in this game is very light. From Vanilla the bar-maid to the knight captain in the castle, most characters seem to do absolutely nothing until their scene pops up. More dialogue and character moments would improve the writing tremendously.
GAMEPLAY
Sex Angel Ariel was created with Wolf RPG Editor, one of the greatest engines around. Move with the arrow keys. Press CTRL to skip text. Press W for message history. Press Q to hide the message window. Press S to change location. Press A for battle prep. Press Shift to activate auto-dialogue. Hold Shift during battle to change your skill loadout.
The game design is a reverse of the typical RPG adventure. Rather than leveling up, you start the game at level 99 and need to corrupt Ariel down. In fact, if you kill the final boss, he revives himself, and the game does not end until you're weak enough to be defeated.
You decide Ariel's behavior. If she kills enemies, she'll earn money and complete quests. If she has sex with them, she'll lose experience points and level down.
At first, it's impossible for her to seduce monsters. Instead, you should give her aphrodisiacs and control the monsters so they'll grope her. Every level down results in angel feathers, which are exchanged for new abilities that help seduce the monsters.
In the post-game content, you start at a low level. Purify magic seals and defeat monsters to gain experience points. You can also face unique bosses and even fight Rumiel. Most of the game you focused on level downs, but in the post-game you focus on level-ups! The experience is flipped.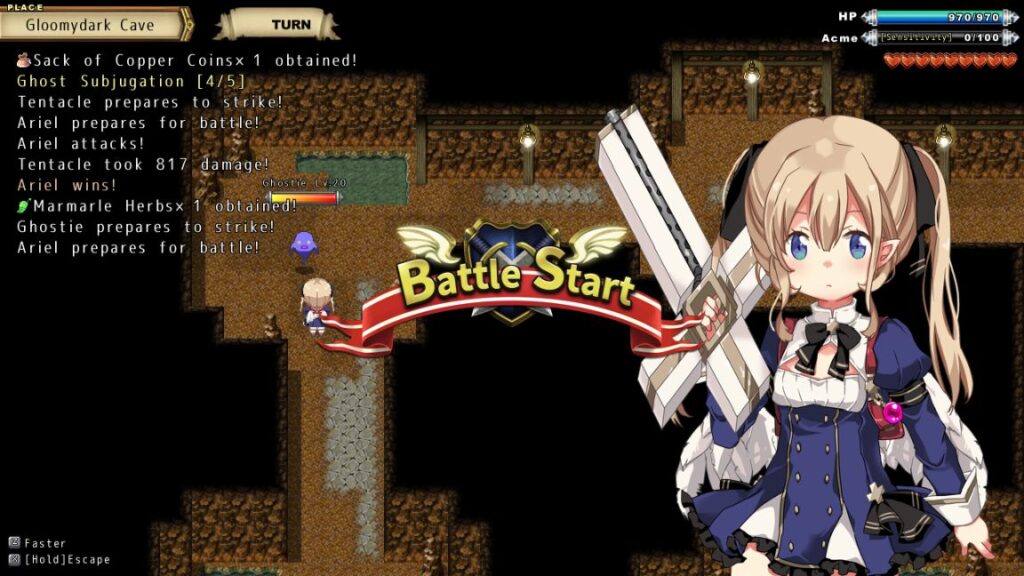 GRAPHICS
The art is drawn in the Japanese anime style. There are 30 base CGs spread across 36 scenes.
The sprite design in this game is gorgeous. Wolf RPG editor allows for fluid motion and great detail in character sprites. From thought bubbles above NPC heads to multi-story buildings across the town, the environmental design is absolutely fantastic. My favorite detail was the ability to customize underwear and make Ariel lift her dress in the menu to show it off!
Cut-in images are used often, alongside of 300 variety images to enhance the base CGs and visual presentation of the experience. Although some CGs are reused, I hardly even noticed! And with over 10 types of groping animations in-battle, there's always something moving and active on the screen. This is a hidden gem of hentai gaming.
VOICE ACTING AND SOUND EFFECTS (SFX)
Sex Angel Ariel features full voice acting during all sex scenes, and partial voice acting throughout the story. Each character has a unique voice!
Vanilla, Rumiel, and the Knight Captain are all mature women with big breasts and tons of lust. Ariel, the Princess, and the Item Shop owner are all petite cuties with less experience in sex. All six of these ladies have unique personalities and goals, often matched together in multiple scenes. To see the Princess get fucked by her knights or see Ariel fuck men in the church, the sheer variety of scenarios and voices is absolutely wonderful!
It should be noted that all voice acting is Japanese and tends towards high-pitch squealing. While full lines and words are often used, the main focus is on the moaning and sucking and other sexy dialogue.
While the voice acting steals the show during sex scenes, the sound design during adventures dominates my memories. From the magical sound of a potion healing you, to the pitter patter of footsteps as your sprite crosses the map, the audio in this game is all around fantastic.
MUSIC
The soundtrack includes under 10 songs, most of which are unique to this developer or stock assets common among Wolf RPG Editor titles. Nevertheless, the song selection made the game a fresh and enjoyable experience.
Harmonica and bass guitar are a pairing that we never hear enough of, but this game's got it. But if that's too wild for ya, the town theme is your standard relaxing guitar track that any entry-level guitarist could learn to play. And if you're feeling dignified, the palace has a violin track that emanates a real royal feeling. Rather than use music for dramatic flare, this developer uses music for atmosphere. This is enjoyable, but not as daring as I would have liked.
HENTAI
The game has 36 scenes in total, illustrated via 30 sexy CGs.
You can have sex the moment you start the game. Just walk up to a monster and refuse to fight back! Eventually he'll get the clue and start pounding your tight angel pussy! Fucking monsters in this game is always easy, but it's the human sex scenes that are much more interesting!
Work at the bar and let men grope you! If you do, rumors will spread and men will drag you into the back room for a ton of fucking! Soon you'll be addicted to cock, and you can even hire a male prostitute to please your throbbing pussy! This is one of the few games we've played where you can actually hire a gigolo to fuck you. I never knew how hot this was!
My favorite scenes were teaching sex at a private school and becoming a pregnant breeding sow for the orcs! The downside is, the only pregnancy scene is with the orcs. I wish Ariel could get pregnant from humans as well.
Doggystyle is the favorite position of this developer, with numerous scenes focusing on big round asses! And with tons of moaning and dirty talk from the girls, the first-person view in these scenes makes for an orgasmic experience!
CONCLUDING WORDS
Sex Angel Ariel is a super erotic RPG about leveling down and becoming weaker over time. While the story sucks and the gameplay is linear, the visuals and voice acting are among the best in all of hentai gaming. This is a developer to watch out for.
If you love corrupting angels and having sex in churches, Download Sex Angel Ariel. If you're here for the unique level-down gameplay, check out our review of You'd Fight For Me.
Graphics

Gameplay

Story

Music

SFX

Hentai