Written by Rastafoo69, edited by Jin0uga and Otaku Apologist
You'd Fight For Me, Lose For Me, Get X'd For Me, a humiliation porn RPG developed by Golden Fever. Released on February 13, 2015. Download on DLsite.com for $11.00. Available for PC Windows. No voice acting. Censored genitals. Free demo available. Download the English fan translation patch. Visit the translator's Patreon.
When his female companion gets fucked by another man, he is changed forever. His emotional trauma develops into a cruel fetish. He now wants to put women in harm's way and watch them get sexually used by bandits.
STORY
You are the son of a successful merchant. You join your father on his business trips. You traverse dangerous trade routes infested with bandits. Luckily your father can afford to pay armed guards to accompany you. After your favorite female bodyguard is defeated and sexually ravished in front of you, you discover you enjoyed watching it.
You make a deal with the devil. You seek out the Bandit Lord and help him to as many women as possible. You hire female bodyguards, whom you distract in battle, so the bandits can take their pussies for a spin!
After ten of your female bodyguards have been humiliated by bandits, the famous senior knight in charge of the town's defense signs up to be your escort. She personally humiliated the bandit lord many years ago. He wants revenge, and will fuck her in front of the entire town, degrading her in the eyes of many!
GAMEPLAY
You'd Fight for Me was created with RPG Maker. Movement is controlled with arrow keys. Press SPACEBAR to interact with people and objects. Press CTRL to skip dialogue. Press SHIFT to run.
The gameplay is the opposite of your average RPG. While your bodyguard works hard to train and level up, you must do everything in your power to keep her fragile. Set traps, interrupt her sleep, use debuff items.
Each of the ten girls have their own strengths and weaknesses. Some girls easily fall for traps while others are weak against poison. If a girl's strength is identifying poisons and traps, avoid using them against her.
Grind money to learn new skills to interfere with the battle. Talk, dance, cry, use whatever means at your disposal to distract your bodyguard. Work hard to sabotage her so she loses and gets gangbanged!
Money is used to reduce your bodyguard's level, and to increase the strength of your bandits. You can only gain money by fighting off bandits and completing trade routes. Don't succeed too much, or the girl will level up again!
The game can be played on three difficulty modes; easy, medium, and hard. Playing on normal or hard is necessary to unlock all bonus scenes. I recommend new players start with easy mode first.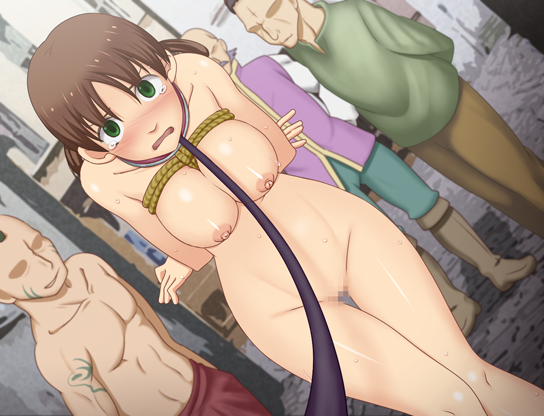 GRAPHICS
The art is a variation of the typical Japanese anime style, unique to this developer. Circle Golden Fever are well known for releasing their art before releasing their games.
Since the primary fetishes involve humiliation, every CG is an illustration of a female bodyguard being used by bandits. Naturally, the girls cry a lot as the dicks line up to pump their pussies full of fucksauce.
Each girl has a unique appearance and personality. Vanessa is a proud senior knight rocking a braided blonde hair. Sophie has blue hair, which fits her calm-mannered character. The characters are intuitive and their designs cohesive.
During gameplay sections where your character moves in the game world, you see a mixture of RPG Maker stock assets and unique pixel sprites original to this title. The sprites have the same hairs and gear as their full-body counterparts.
SOUND EFFECTS AND VOICE ACTING (SFX)
You'd Fight For Me has no voice acting.
The sound effects are unique to the title. Using potions prompts a unique sound effect, rather than a generic magical noise. During sex scenes, you hear typical sounds associated with sex that fit the scenario. They aren't exaggerated either. The audio design shows care for details: When the man stops thrusting, so does the sound of the pussy getting fucked.
MUSIC
The soundtrack consists of 27 unique songs. A couple may be licensed pieces from professional Japanese musicians, but none that I recognize with a listen. The music relies heavily on string instruments. Harps and violins keep the beat. There's even a track that makes heavy use of bass. Rather than over-relying on drums, the compositions use other instruments in their place. Even cymbals are used more often in this game than the drums.
Many of the songs are soft and inoffensive, no edgy electric guitar around. The choice of instruments fits the tone of the game. When your character never truly engages in battle, there's no reason to include energetic battle music!
HENTAI
You'd Fight For Me has 24 sex scenes with 22 unique images, and multiple variants. This game has the greatest variety of sex positions I've seen in any hentai game I've reviewed. The girls are fucked while suspended in midair by tentacles, tied to a pole with legs open, the classic cowgirl position, to name a few. There's something in this game for everyone.
There are ten girls to fuck. Each girl has two sex scenes. Bonus sex scenes can only be unlocked after completing a set of special conditions. These conditions include using a particular skill in battle, hiring girls in a specific order, and so on. The bonus scenes target niche fetishists. Whether it's tentacle fucking, or a slime shoving itself into a woman's vagina, you won't miss mouthwatering porn, unless you're a total deviant.
My favorite scene is when the final girl, senior knight Vanessa, gets impregnated after getting gangbanged! She's a world-famous knight, beloved by all, and the reward for her service is getting pregnant with the degenerate offspring of lowlifes! She will carry her shame to her grave, never forgetting the feel of the dicks that destroyed her little pussy.
You'd Fight For Me includes tons of bondage and verbal abuse of women. Men dominate women in this game. If you like alpha males converting women into sluts for dick, this experience will hit your spot. If you want a game with dominant woman humiliating her beloved, check out Marina's Cuckolding Report.
CONCLUDING WORDS
You'd Fight for Me is one of the greatest humiliation games on the market today. The gameplay is engaging and the graphics absolutely fantastic. This uniquely twisted porn RPG is a unique experience with interesting mechanics, hot sex to reward the grind, and original music that immerses you in the depraved scenario.
I highly recommend this title to sadistic hentai fans. Download You'd Fight for Me. If you want another fantastic humiliation game, check out Kamikaze Kommittee! Read our guide how to download DLsite games.
Graphics -

70%

Gameplay -

100%

Story -

70%

Music -

80%

SFX -

70%

Hentai -

80%