Horror Hentai Game Review: Nightmare School Lost Girls
Hentai Reviews

>

Reviews

>

Horror Hentai Game Review: Nightmare School Lost Girls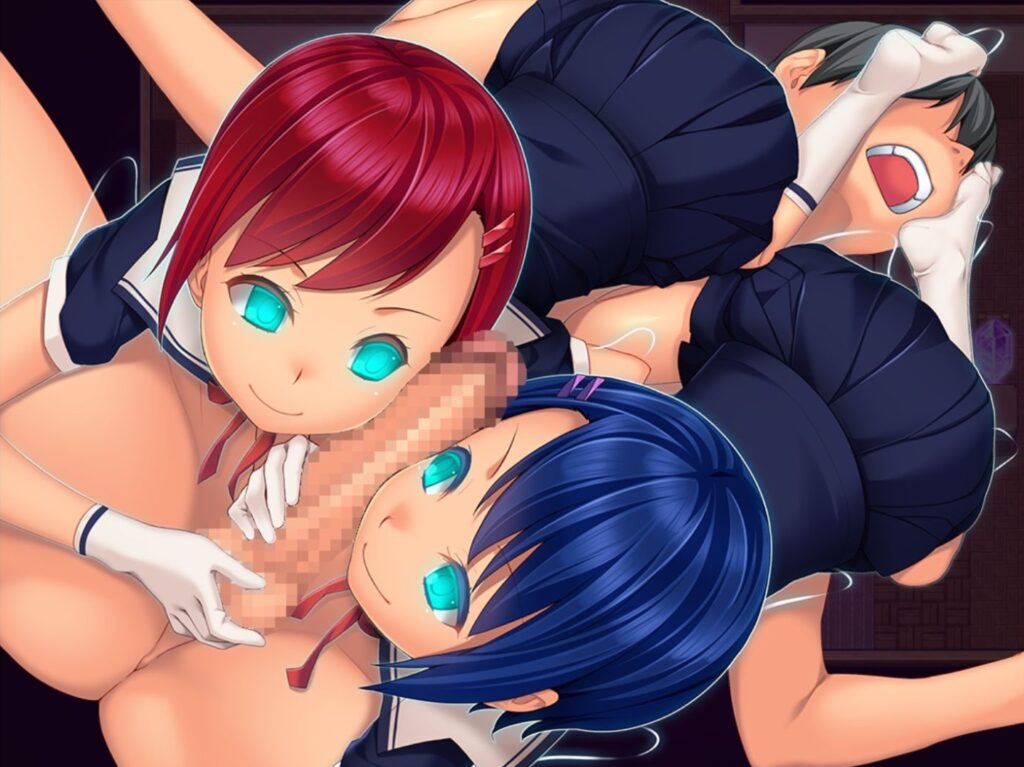 Written by Rastafoo69, edited by Otaku Apologist
Nightmare School Lost Girls, a horror porn game developed by Dieselmine. Released October 13, 2020. Download on DLSite for $19.00. For PC Windows. Full Japanese voice acting.
You're the new teacher at a mysterious school in the mountains. But when you arrive there, you realize something weird is amiss! And even worse, all these sexy schoolgirls want to fuck you!
New to Japanese eroge? Read our guide how to download DLSite games.
STORY
You're locked in a school full of crazy girls! Find the keys, get outside, and escape these mysterious ghost-like ladies before your balls are drained along with your life! The story is told in nine parts: Arrival, First Period, Library, Gym, Swimming Class, Home Economics, Recess, Art Class, and the ending.
Each class has the same goal, find the keys! You do this via stealth or enduring a sexual punishment. You never find out the source of the magic at the school, the game ends when you escape.
Although there are multiple girls to interact with, none of them have deep or interesting personalities. It's a haunted school, don't come in expecting an intricate romance plot that will rock your socks off. And while this game is best described as a horror experience, it's not all that scary. If you're caught, the monsters have sex with you. The best kind of horror!
GAMEPLAY
Nightmare School Lost Girls was created in RPG Maker MV. Use the arrow keys to move. Press CTRL to skip text. Press Q for the text log. Press C to dash. Rapidly tap the Z button to escape traps. Left click certain objects to hide behind them. Right click to hide the text box.
The vast majority of the game is focused on sneaking. Each girl has a line of sight to avoid and a pattern of movement you have to memorize. Time your movements carefully, and smash that dash button to avoid being seen. If you are seen, hide in a bathroom or leave the area. Even if you fail to escape, it simply sends you back to the classroom to try again, don't worry.
Assuming you're good at stealth games and avoid getting molested, this game can be completed in about an hour. If you're hoping to find all the scenes and act like a man-whore, this game is between 2-4 hours long.
GRAPHICS
The game is a mixture of fullscreen CGs and pixel animations. There are 21 CGs and 14 pixel animations. As a reward for beating the game, you can also view 4 bonus animations that were cut during production.
These artworks are absolutely gorgeous! Each girl wears a school uniform but looks distinct from the other with their hairstyles and accessories. I love how the girls in home economics have huge tits because of all the sweets they eat, it made me laugh out loud! From their cute little feet to their lovely slim legs, these girls are total supermodels!
The pixel animations are gorgeous as well. Rather than a short and simple loop, these animations change and move naturally, offering different movements if you let them play. One moment she'll bounce on your cock, the next she'll sway her hips side to side! The developer's attention to detail and quality of animations made each scene better than the last!
The attention to detail is phenomenal and applied to both sprites and CGs. In sprites, every aspect of a character looks distinct depending on which direction they're facing. At one point you have an obstructed view and need to guess if a girl is facing your direction or not, based on her shoes alone. Its because of this great sprite-work, that I could easily predict she was facing away, and escape the area!
Whether it's sweat or cum, any changes to the body during a sex scene are carried over into variation images. If you cum on someone's elbow for example, whenever their arm moves you can see the cum remain on the elbow, even when the angle changes! This felt more like a Hollywood movie than a still image, and I adored every moment!
Outside of the sprites and CGs, the world design was phenomenal. You're given a map of the school, which you use to locate the keys. Not only was this realistically designed, but each room has unique quirks that separate it from the rest. Rather than take the easy road with stock assets, this developer put everything into the visuals, and it shows!
VOICE ACTING AND SOUND EFFECTS (SFX)
There are 10 voice actresses in total. Each girl has a unique manner of speaking that's showcased during their dialogue and sex scenes. These girls love to dominate their teacher, they're not the ones moaning! The dialogue is heavy on teasing. For including voice actors and using them to their fullest extent, this developer deserves all the praise he can get!
The sound effects in this game are unique. Rather than generic stock assets, the sound clips are carefully planned and well implemented. The ejaculation sound effect, for example, has a fantastic sense of flow, rather than being a generic explosion. This fits the tone of the game perfectly! Whether you like it or not, your cock can't resist! And the quiet rumble of your body's release of fluids perfectly matches the horror of these ghost girls dominating your cock!
MUSIC
There are 20 tracks in total, emphasizing ominous piano and low rumbling noises. While the tracks are digitally synthesized, they're done without seeming too mechanic. When the guitar started playing at the ending, it felt like the beginning of a Justin Timberlake song. Seriously, some of these tracks are good!
HENTAI
Nightmare School Lost Girls features 21 CG images and 14 pixel animations, adding up to 35 sex scenes in total. Naturally the CGs have dialogue while the animations are sexy one-night stands.
The primary fetishes of this game is femdom. The character enjoys the act all the way through. If you get off on women initiating sex, you'll love this. You have cowgirl sex in the classroom, an amazonian press on the floor, a handjob in the swimming pool! These girls have a ton of creativity as they fuck your cock for all its worth! They don't care about you, they're only here to squeeze out your hot loads!
Condoms are never used, and titfucks never occur. Rather, the vast majority of scenes are handjobs and blowjobs. One girl even calls you a cow and demands you give up your milk! There's nothing like horny schoolgirls eager for their teacher's cock!
CONCLUDING WORDS
Nightmare School Lost Girls is one of the most visually impressive Japanese adult games we've ever reviewed. From the animations to the large amount of CG images, this game gives you exactly what you came for! If you love Japanese voice actresses moaning and the act of creaming hot schoolgirls, this is the ultimate hentai gaming experience.
I highly recommend this to everyone. Download Nightmare School Lost Girls. If you love schoolgirls but want to explore the timestop fetish, then check out our review of TimeStop App.
Graphics

Gameplay

Story

Music

SFX

Hentai