Hentai Game Review: Fantasy Tavern Sextet – Vol.1 New World Days
Hentai Reviews

>

Reviews

>

Hentai Game Review: Fantasy Tavern Sextet – Vol.1 New World Days
Written by Mistress Valentine, edited by Otaku Apologist
Fantasy Tavern Sextet – Vol.1 New World Days, a visual novel game developed by Gureate and published by Medibang Inc. Released January 11, 2021. Download on Nutaku for $12.99. For PC Windows. No voice acting. Uncensored genitals.
You were a regular restaurant worker, until one day, you were sucked into a strange world and found immediate employment at a tavern. Full of cute girls, you're surrounded by pussy of all shapes and sizes, waiting for your big dick.
STORY
In Fantasy Tavern Sextet you assume the role of a young man who works in a restaurant in the real world. After a spat with Anzu, one of the waitresses, you are transported to another land where you meet Lupine.
Lupine saves your ass from a slime monster before inviting you back to her tavern to recover. You learn that this world fits the typical isekai adventure world. Until further notice, you are stuck there. After tasting some of your Earth food, she asks for your help while you look for someone to send you home. The tavern has fallen on hard times but with your cooking skills, the place will soon be back on the map.
The rest of the story plays out like a typical isekai slice of life adventure. You peep on changing girls, find lost sisters in the street, go on 'dates' with Lupine and her adopted catgirl sister Daisy and do your best to make their dreams come true.
Subplots in the game include trying to draw in more customers, preparing for the Autumn Festival and fetch quests for ingredients. There are several other characters that are introduced but do not play a prominent part. There include Veronica, the busty witch, the hard-thinking horn dog named Dahlia, the firm and proper knight who requests that you make her a 'true' woman and Plumeria, the incorruptible monk girl. The game explores themes of racism and discrimination and all kinds of shenanigans.
GRAPHICS
Sprites have a wide variety of animated poses. Lips move when they're talking and each girl has a good number of expressions to show off their cuteness.
Character sprites are in 2D and 3D art. Their features move whilst onscreen, making them appear more life-like. Subtle things like the hair swishing or the neck tiling enhance the illusion that the girl is really there.
The camera work is stellar. Sometimes the camera will rotate on a background and make it seem like the artwork has been drawn a full 180 degrees. The camera will zoom in on a character's face to trick you into thinking there is more artwork than there actually is. The game has a few glitches. For instance in one scene near the start if the game a slime appears in front of my character, only the screen doesn't load the sprite for the slime monster.
The background art is breathtaking. You can tell lots of love and money went into crafting the game world. The level of detail in some backdrops is extraordinary. It adds a layer of depth to the experience. Certain artworks have day and night versions. The night-time artworks pop due to how well the shadows and lighting are used. Locations include isekai cafés, fantasy meadows, townships, tavern locales, and bedrooms.
GAMEPLAY
Fantasy Tavern Sextet is a visual novel game. You advance the story by clicking the screen to "turn the page". The game is full of choices that help you charm either Daisy or Lupine. There are several endings you can get but a lot of these feel fake. Not much changes except which girl you fall for. Multiple installments also means that choices that involve the protagonist finding a way home are moot.
The game has enough save slots for you to get all the endings. 'Skip' and 'Auto' buttons will help you speed through parts you have already played. There is a Gallery where you can view unlocked CGs.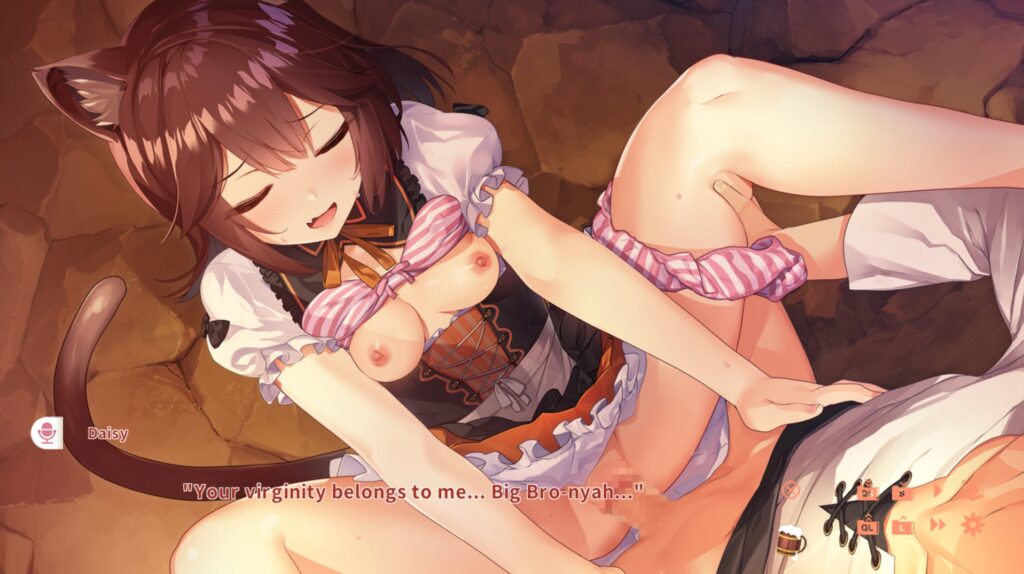 HENTAI
It takes time before you get to fuck the cute girls. By then you've gotten to know them, making the experience feel earned. The game features two sex scenes in total. The atmosphere is romantic and intimate. You end up stuck in a cave with Daisy, and bang each other senseless. The scene right before the sex is especially emotional as you get to witness Daisy's insecurities.
In another scene, a jealous Lupine confronts you about fucking Daisy and demands the same treatment. The scene is funny but it's the fact that you've gotten to know these ladies that makes the sex feel wholesome. Sex scenes are long enough with play-by-play commentary from the girls while you teach them how to fuck. Some lines are tropey and cliché like 'you are so big' and 'we can't do that' but the intimacy of the encounter excuses those statements.
MUSIC
I enjoyed listening to the OST very much. The songs are catchy and silly and funny. The beat is infectious when it is fast-paced and makes you want to move your body.
The soundtrack contains a large library of songs that cater to every mood. The music features original instruments for the most part like the piano, guitar, keyboard, flute and drums, but sometimes you hear synthetic ones that compliment the tracks nicely.
The more intimate songs have a slow, almost relaxing vibe to them that you can easily fall asleep to. Music matches the mood and atmosphere of the events taking place.
SOUND EFFECTS AND VOICE ACTING (SFX)
The game is fully voiced. Rin Mitaka (Lupine) and Mochi Morisawa (Daisy) sound so cute in-character. Their delivery is on point and they know just how to show off their adorable charms. Mochi as the tsundere catgirl Daisy is my favorite. The voice just belongs with the character design.
Rin has the better sex scenes while Mochi has better dialogue. The secondary characters give great performances as well, but don't do very much in this installment.
Sound effects include magical sparkles, locker doors opening and closing, wind and grass swishing and various abstract anime noises.
CONCLUDING WORDS
Fantasy Tavern Sextet is a fluffy, feel-good vanilla isekai-themed story about cute anime bitches working in a restaurant. The plot isn't too thick or the porn too intense. The visuals are beautiful and the attention to detail cannot be praised enough. The title is worth your time and I hope we get the next installment soon.
Recommended romantic eroge. Download Fantasy Tavern, Vol 1!

Graphics

Gameplay

Story

SFX

Music

Hentai