Written by Flamecaster, heavily edited by the one and only Otaku Apologist
First appearing on Kickstarter in March 2018, Nad0eda's erotic visual novel featuring magical yuri overtones "Love Witches" is now available on Nutaku. Released on the 15th of March, 2018, the game operates on Linux and Windows operating systems. Mac users got shafted again. Isn't it time to stop being a hipster, and upgrade to Windows corporation's products?
Let's take a look at Love Witches. I don't know about your penis, but to me, the art looks spanking dank.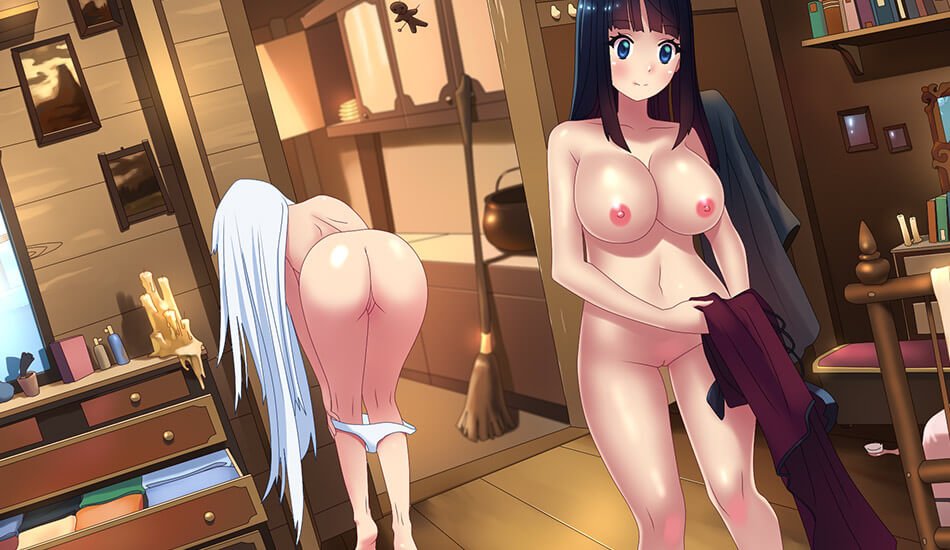 The protagonist of "Love Witches" is a tentacle monster named Dean who meets two beautiful and voluptuous witches Lily and Christy. The attractive female spellcasters rescue from hostile forces who want to use his mana-filled body for nefarious experiments. An unlikely romance forms between the three as they go about their unusual daily lives.
Characters
The game features two female characters, and a tentacle monster that fucks them, if that wasn't already clear from the title.
Dean
A purple one-eyed tentacle monster with attitude. His chance encounter with the two witches teaches him that his tentacles have specific qualities that help magic users in their experiments. Dean decides to stay with his newly found witch companions to stave off his loneliness and get some action while at it. Pussy gets pounded, a horrendous monster gets his rocks off.
Lily
A beautiful silver-haired witch with piercing scarlet eyes with the appearance of a 20-year-old woman, although her real age is unknown. Lily possesses a tsundere personality and at first, she's really not thrilled with the appearance of Dean in her household. All that changes as soon as her vagina starts feeling really damn good about being filled.
Christie
A cute, childish black-haired witch with deep blue eyes and the appearance of an 18-year-old female. While she's cautious of Dean at first, vaginal penetration quickly makes her change her mind. Dean is apparently a natural at pleasing pent up little witches sexually. The prospect of more erotic pleasure makes her welcoming of the idea of living with the unusual creature.
"Love Witches" features three different endings unlocked by player choices, 15 uncensored CG scenes, two magical girls to romance, all without any DRM in sight.
"Love Witches" is now available on Nutaku's storefront for $5 or 500 Nutaku Gold.