Written by Flamecaster, edited by Otaku Apologist
An occult yuri game created by members of 2ch, "Seven days with the Ghost" takes place at the girls-only Keisei Academy, in the modern era where magic exists alongside science.
Scratch up another victory for the free market. Straight and LGBT customers alike, are getting the yuri goods.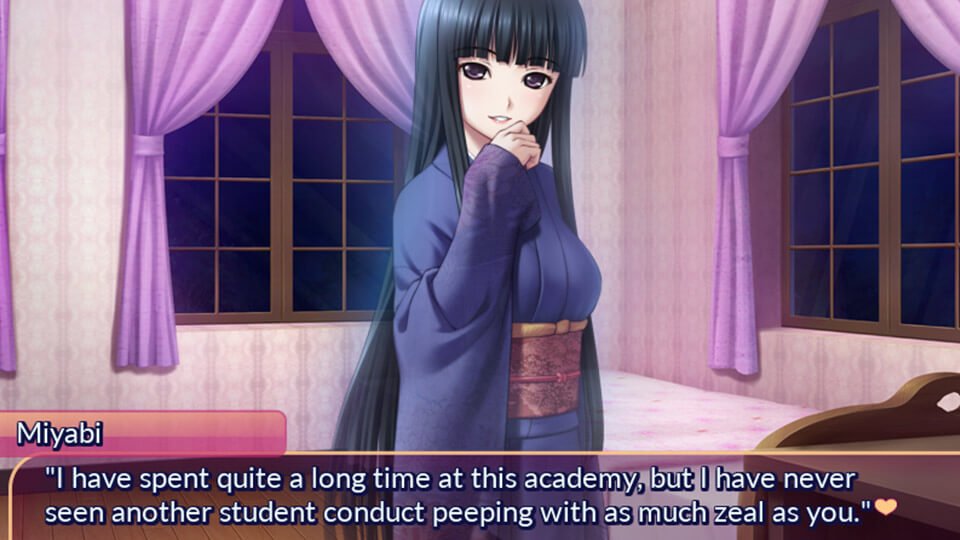 Western erotic game publisher and storefront Nutaku has released a new yuri visual novel titled "Seven days with the Ghost". "Seven days with the Ghost" is an occult yuri story created as a joint project by the members of the Japanese 2ch (now 5ch) textboard, dubbing themselves Lilies Project, and released in 2011 under the name "Kanojo to Kanojo to Watashi no Nanoka -Seven days with the Ghost-."
With only seven days left for her investigation of the Seventh Wonder, Ayako happens upon her friend Anna and another girl, Komaki, making love in Anna's room. Ayako seemingly had no intention to peep but in the process of doing so she comes across the ghost. Ayako screams in surprise and is subdued by Anna who discovers her peeping. Unable to explain herself, Komaki is convinced that Ayako is some sort of pervert and Anna dismisses the idea that a ghost appeared only because they were having sex.

Dejected, Ayako returns to her room where Miyabi, the ghost, appears before her again. She finds out that Miyabi in fact is a fan of peeping on girls making love. With no way of writing a report on a ghost that is not only, not haunted by the past or a grudge, and instead simply has a unique past time, Ayako tries to find a way to convince Anna and Komaki that the ghost is real.

The plan is basically to convince Anna and Komaki to get it on in order to lure the ghost out. What Ayako doesn't realize is that seeing Anna making love to another girl is also causing her to question her own emotions and desires as well. These are the odd, fun, and precious seven days of Ayako and her friends.
The visual novel features full Japanese voice acting including the main character, uncensored sex scenes full of moist anime pussy, music composed by wata of game developer LizArts, a captivating single route story accentuated by beautiful artwork in sprite and CG formats.
"Seven Days With A Ghost" is now available for purchase on Nutaku's storefront for $9.99 or 999 Nutaku Gold.