Written by Rastafoo69, edited by Otaku Apologist
Tamani's Hentai Adventure, a netotare / cuckolding hentai RPG visual novel developed by BirdCage. Released April 6, 2014. Available for download on DLsite.com for $10.00. Available for PC Windows. No voice acting. Censored genitals. English Translation patch available here.
You play as a loving newlywed wife who's moved into an apartment with her new husband. Tamani is a shapely red-haired beauty that gets corrupted by sex. While at first she'd do anything for her husband, she soon finds there are plenty of horny men that will do anything to have sex with her.
Discover more cuckolding hentai media we have reviewed!
STORY
Struggling to pay the rent, Nori and his wife Tamani decide that she needs to get a job. Tamani sets out to make enough money to cover their weekly rent payments. Can Tamani endure the sexual desires of her coworkers, or will she submit to her lust and betray her wedding vows?
There are five places to work in the game. The coffee shop is the first one you'll go to. There, Tamani gets her butt slapped and people peep on her while she's changing. There's also your husband's workplace, a restaurant, a convenience store – and if you corrupt her enough – a sleazy nightclub! You have to work at all the locations for the story to advance further.
The game features a character switching mechanic, which allows you to play as the clueless husband and visit your wife at work! The game has no ending after Tamani is fully corrupted; You can keep fucking and getting pregnant and have as many kids as you want.
GAMEPLAY
Even though the game is an RPG Maker title, there are no combat elements or puzzles to solve. Use the arrow keys to move around, and the spacebar to interact with people and objects. Because this is a visual novel game, you mostly read and watch as the wife's corruption plays out.
Take Tamani to work and watch a corruption scene play out. Repeat until she becomes more sexually liberated. You can choose the order in which the game's events play out, but for the sake of clarity it must be said: Corruption is unavoidable. There is no "pure wife route".
There is a recollection room that can be accessed in the player home. The room allows you to re-watch all the corruption scenes you've unlocked so far. From getting groped on a train to getting knocked up at the 7/11, you can see all the sexy scenes all over again. Just understand, you won't get the full corruption experience unless you play through the entire game.
GRAPHICS
This game came out in 2014. Its graphics are dated compared to most titles out today, and the artworks may be off-putting. The breasts are strange, the eyes are enormous, the body proportions are unrealistic.
Because there are so few artworks with so many scenes (30 artworks, 60 scenes) – the same poses and positions are re-used many times over. It can get tedious. If not for the story and variety of fetishes explored, the game would not be worth any anime fapper's time.
SOUND EFFECTS AND VOICE ACTING (SFX)
Tamani's Hentai Adventure has no voice acting.
The sound effects are dated and repetitive. Its as though they downloaded generic RPG maker sounds and inserted them into the game to fill the silence. They're all acceptable and play their role adequately.
MUSIC
The game has four musical tracks, all of them unique compositions. The little variety of music gets grating deeper into the game. You might even mute the game if you play long enough. The music is painfully average.
While there is one track that is exclusively violin, the overall music of the game is based primarily on brass instruments like trombone sounds; not of a low tone, but of a varied higher pitch. The music is not a recording of a live performance, rather it was created on a computer with a music program. There is absolutely no singing in the game, and each song tends to loop after around 3 minutes. The best song of the game is the title theme which plays when you start the game. It is playful and upbeat, and makes you feel excited with anticipation.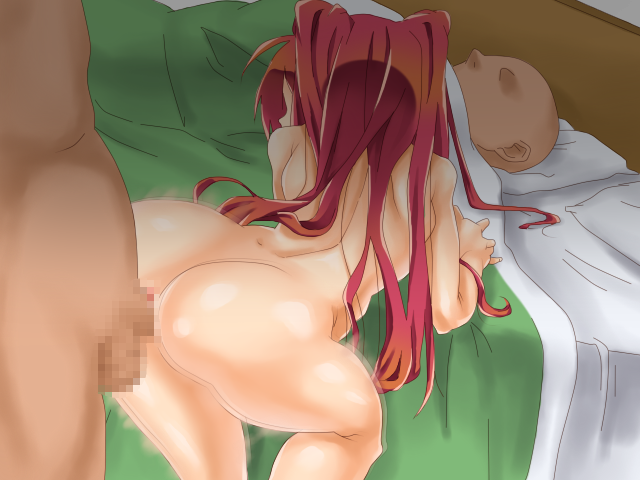 HENTAI
With 30 Artworks and 60 scenes in game, you're right to be concerned. Half of the artworks are special occasions like pregnancy or chikan scenes! In truth, there are only 15 unique artworks stretched across 60 sex scenes.
There's over six hours of gameplay filled with heavy amounts of netotare and corruption. In one scene Tamani goes to a doctor for a checkup. The doctor fingers her right in front of the husband. In another scene she has sex with another man while her husband sleeps right next to her!
Best of all is the dinner time of every in-game day. Tamani talks to her husband and he's completely unaware! Sometimes she'll talk in lewd innuendos, and he won't get it. The only downside is, multiple scenes are cut off if you get pregnant. You have to deliver the baby for things to go back to normal. Many other elements of this game are lacking, but the hentai is worth it.
CONCLUDING WORDS
Tamani's Hentai Adventure is a great game if you are a fan of hardcore netorare. There are corruption elements and impregnation. The art is a little plain, gameplay is boring, but the dialog and build-up are fantastic. The ability to switch characters is a welcome addition to the story.
I recommend Tamani's Hentai Adventure only for hardcore NTR fans. Download Tamani's Hentai Adventure!
Graphics

Gameplay

Story

Music

SFX

Hentai