Written by Rastafoo69, edited by Otaku Apologist
Orc of Vengeance, a hentai RPG developed by circle Studio Neko Kick. Released October 31, 2017. Available for download on DLsite.com for $11.00. For PC Windows. No voice acting. Censored genitals. Free demo available.
Deelo the Orc just came home to the orc village. With him, he brought a freshly kidnapped human female he plans to rape later that night. But while Deelo was gone, human knights attacked the orc village and stole back his non-consenting stockpile of women! Infuriated by this injustice, Deelo vows to exact his vengeance on the humans, and impregnate every woman he can find!
New to Japanese eroge? Read our guide how to download DLSite games.
STORY
Deelo the Orc enters a local town to rape dick-deprived human women. He must solve the challenging puzzles of the town, kill all the men, and pry open the locked doors to the women's hideouts.
Deelo starts off barehanded, but soon finds new equipment that make it easier to enact his vengeance. He dons armor, shields, and weapons of all sorts on his journey to the castle, where a whole harem of sluts are getting moist from the anticipation of their eventual rape.
The castle is guarded by magic barriers. The barriers can be overcome by finding the town's many treasures. First you'll find the wooden key, then silver, then the legendary golden key. Each key unlocks more tools for violence vital to a successful raid!
Once you enter the castle, you discover that it is staffed entirely by female soldiers! Where have all the good men gone? You killed them! All the male soldiers were sent out to rescue different women earlier in the game. Without male protectors, a barbarian like yourself can bully and rape the remaining girls indiscriminately.
The final prize lies at the top of the castle. The holy princess of the city attacks you with God's light!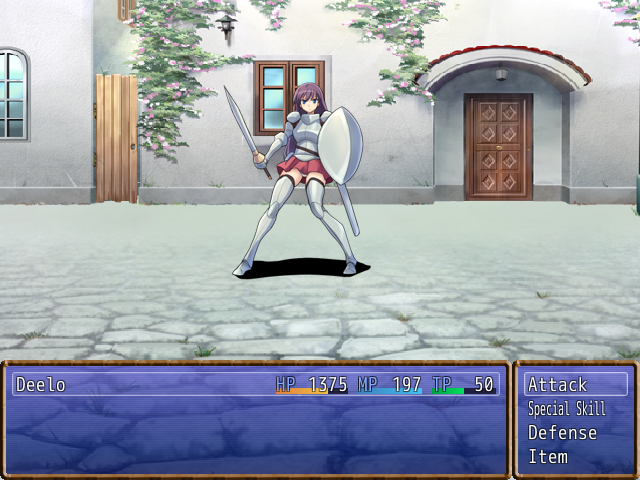 GAMEPLAY
Orc of Vengeance was created with RPG Maker, and is very simple to play. You move with the arrow keys and press spacebar to interact with objects and people. Hold 'A' to speed up the game.
Although you can use the SHIFT key to dash, it's vital that you use the 'A' key throughout the game. The puzzle gameplay requires lots of backtracking and you'll fall asleep while playing unless you use the 'A' key.
There's no leveling up or resource management. You simply press "attack" 5 times in a row to win the battle. When you take damage, you can quickly heal it back with one of four basic techniques.
This game takes two hours to complete with a walkthrough, and up to five hours without help. The puzzles can be infuriating at worst. At one point, you are expected to walk through an invisible wall to reach another room. There is no indication you're supposed to do this, so first-time players will likely get stuck ten minutes into the game.
Because battles do not award experience or gold, there is no purpose to fighting in this game. Simply go into buildings you haven't been in before, and interact with objects that seem out of place.
Remember to save your progress! If you die, the game is immediately over.
GRAPHICS
The art is anime style. Each unique female NPC gets her own gorgeous CG. The girls have lots of variety. You have a sexy dancer, a stoic knight, a sneaky thief, and much more.
The entire game takes place in a small town. The buildings all look the same. All textures are standard RPG Maker assets that feature pixel graphics. Outside of a few mystery doors, you may have seen these things before.
In the map view, what you see is what you get. You have a sunny day in a village dominated by stone houses and grass. Some buildings have unique interiors, but nothing impressive or memorable.
The most interesting setting is the castle, but it's infested with random battles to the point that you'll never be able to stop and enjoy the view. Keep running or get stuck in tedious combat segments for no reward.
The transition between CGs and the pixel graphics is uncomfortable. Everything looks so generic and bland in the map view and combat sequences, while the CGs showcase tremendous personality and art talent. You can see the women's delicious expressions change as you plow into their wet slits, their humongous milk bags looking ready to burst in tandem with your cock.
SOUND EFFECTS AND VOICE ACTING (SFX)
Orc of Vengeance has no voice acting.
There is a sound for a penis being inserted into a vagina, a door opening, all the predictable stuff. The only truly unique sound-effect I encountered was the licking noise. At one point, your orc licks the armpit of a sweaty girl, and it sounds very realistic, like somebody gave a blowjob to their microphone.
MUSIC
There are 42 songs on the soundtrack, all of them stock music that come with the RPG Maker program. In fact, each audio file even has its default name which you see when downloading the program from RPG Maker website.
Although each track plays in the right place and works well enough with the tone of the dialogue, there's nothing extraordinary to look forward to. During sex scenes you get an upbeat track, a sunny day in the village gets a bouncy track. Not a single note comes from a real instrument played by human hands, it's all composed with a music program. A computer is definitely not the best at imitating a guitar.
HENTAI
Orc of Vengeance has 11 sex scenes in total, each featuring a unique girl. The sex scenes follow a strict formula. First she is upset and begs you not to rape her. You force your dick into her despite protests, talk down on her while fucking her, and cum inside her.
The formula is so repetitive that you could blindfold yourself and still correctly predict lines in the dialogue. For example, the girl says in every scene "Oh no, wait, outside! Please cum outside!" I understand the developer wanted to appeal to forced impregnation fetishists, but couldn't the writers add some variety to the content?
If not for the unique CG, every single sex scene would be pretty much exactly the same. There's scenes of standing sex with a scared female begging you to stop. Female soldiers are subjected to missionary sex. There are no exotic positions or fetishes, just cookie-cutter orc sex.
On the plus side, the waifus are virgins. You even get to deflower and impregnate a hot nun! The women are practically speechless and drooling like retards after a good pounding, wearing a juicy ahegao face.
At the end of the game, you can choose the ending. You can let the holy princess of the castle escape, or you can rape her. And because other orcs have arrived to help you, things escalate into a gangbang! She takes so much cock, her mind is completely broken. She submits to being a living cock sleeve till the end of time.
CONCLUDING WORDS
Orc of Vengeance is a decent hentai game filled with puzzles and gorgeous CGs. The premise is cathartic with the whole vengeance theme. The developer's overuse of default RPG Maker assets is obviously bad, but everyone that hasn't played titles made with the software, won't even think about it. If you decide to play the game fair and square without a walkthrough, the puzzles will keep you blue-balled for days in a row.
I recommend this game to fans of rape-themed porn games. Download Orc of Vengeance. You can download more high-quality hentai games we've reviewed at our webstore hentai-onahole.moe.

Graphics

Gameplay

Story

Music

SFX

Hentai