Corruption Porn Game Review: Soldier's Life
Hentai Reviews

>

Reviews

>

Corruption Porn Game Review: Soldier's Life
Written by Rastafoo69, edited by Otaku Apologist
Soldier's Life, a hentai simulation game developed by Pyagora. Released October 9, 2017. Download on Hentai Foundry. Available for PC Windows. No Voice Acting. Uncensored genitals.
After years of service under a total nightmare of a woman, Payton finally has the opportunity to take her place and get his revenge! Slowly corrupting and training her, he's planning to one day turn Vanora into his helpless little sex slave! The question is, can you really break the will of this famed military general?
STORY
When an evil lich attacks your troop encampment, you survive by a complete fluke! As you are now the legendary lich slayer, you're given command of the army in place of the disgraced Vanora. With a higher rank and authority, you can finally boss her around. You want to secure your position as general full time.
Unfortunately for you, Vanora's father is a high-ranking noble. If you don't keep on his good side, he'll put Vanora back into power. You need to grow your reputation and skills if you want to stay as general.
You must train with the blade, practice the art of speech-craft, and wage destructive war! If you play your cards right, you can use the profits from your military expeditions to secure better weapons and armor, and defeat Vanora in a duel! Putting the bitch in her place will demonstrate you're out of her league.
As you rise in popularity, people will forget their previous general's name. Being forgotten makes Vanora's self-esteem crumble, she becomes susceptible to your manipulations. Grab the opportunity by the balls and convince her into dirty, demeaning lesbian sex with you.
There are three endings to the game. The ending is dependent on Vanora's reputation and level of self worth. The ending you're most likely to receive is called "Trainwreck", where Vanora exposes herself to the whole world as a complete whore, disgraced in the face of the entire society!


GAMEPLAY
Soldier's Life was created with Unity, and is much more complex than meets the eye. As a simulation game, you lead the army of your nation. You have a wide variety of options to choose from. You start out in the hub world and choose what action you wish to take. In dialogue scenes, press "1" to advance.
Your city is in the center of a grassland area, and the further you venture out, the stronger your enemies become. The forest has ogres while the barren wasteland has undead creatures. Stay in the grassland area for easy battles in the beginning. Venture farther when you're more powerful.
In battle, you have four types of troops. Infantry are your basic ground troops and have the highest defense. The scouts are basically your "Luck", and will increase your likelihood of healing troops and launching successful assaults. The cavalry have low defense but can deal double damage for one turn. Meanwhile archers have the ability to "pin down" enemies so they cannot attack you. Balance all troop classes in order to succeed.
As you win battles you earn gold and fame. Gold is exchanged for stat increases. Fame is exchanged for equipment upgrades. As you increase your stats and gain better equipment for your army, you'll be able to fight stronger foes and increase the amount of gold and fame you bring back home!
There are three skills in the game. Your knowledge of war will lead to higher success in battles. Your knowledge of fighting will increase your chance of success in duels. And with a higher persuasion skill, you'll be able to gain new equipment with lower penalties.
Vanora, the girl you are sexually corrupting, also has these skills. If you block her from training, you can ensure she slowly loses these skills and becomes a total weakling! Then you can watch her get man-handled by various perverted forest creatures, which will quickly lower her self worth.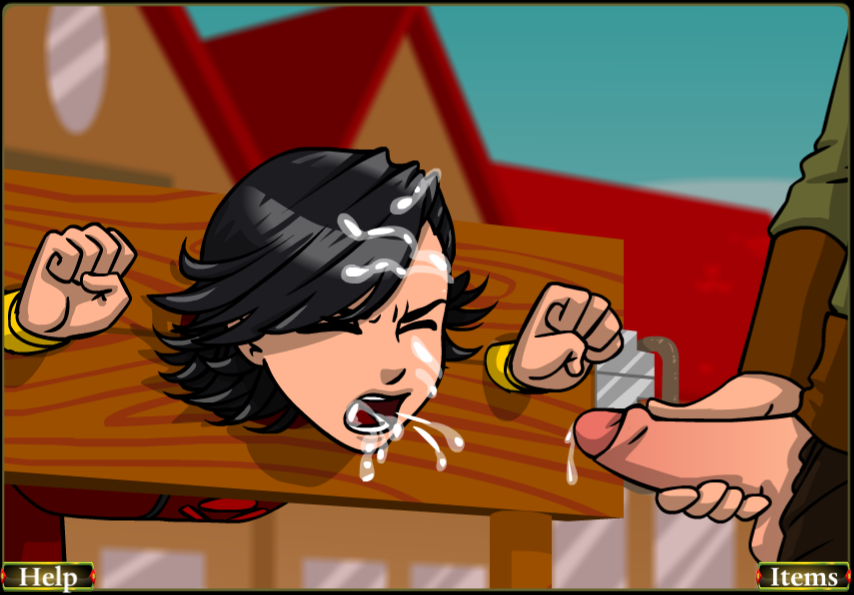 GRAPHICS
The art is all original. The visuals are decent for an indie title, but it seems the creator over-estimated his abilities in project management. Many sex scenes and dialogue sequences lack unique imagery.
Your are unable to walk around and explore the world. You can enter battles and shops – that's it. It's a shame there's no exploration gameplay, because the world looks gorgeous based on the artwork.
The town center has a well, vendors of fruits and vegetables lined up in the streets. There's a fully furnished military office. The assets have tons of details, and make the game feel like a very fleshed out concept.
The character art is cute and personable, if somewhat simplistic. The body proportions of the characters are realistic. Vanora looks consistently slim and sexy throughout the experience.
While early game has unique artworks for every sex act, with plenty of variation, late game content is completely barren. You can read dialogue about whipping her back, but there's no animation to go along with it. It's a big disappointment, because the graphics in the beginning were better than most western games on the market.
SOUND EFFECTS AND VOICE ACTING (SFX)
There are no sound effects or voice acting in Soldier's Life.
MUSIC
The game has no soundtrack as of time of writing.
HENTAI
Soldier's Life has over 50 sex scenes in total, but most of them lack unique artwork. In scenes without CGs, you can still read erotic storytelling at the bottom of the screen. The porn is well written of course, but that doesn't compensate for the lack of visuals. There are no animations throughout the game.
On the plus side, the fully completed sex scenes are absolutely incredible. Vanora starts off cold-hearted and rude, but slowly, you are able to lower her self worth until eventually, she submits to your big fat cock.
Eventually you'll have her undressing and dancing for you. If you play your cards right, you can fuck her. Work to turn sex with her into a normalized routine, and push her to accept her place as your dick polisher.
You can publicly humiliate her to break her willpower. Send her to the stocks! Take her with you to a bar! One day when she's been fully corrupted and sexually trained, you can unlock all the sex scenes you missed!
Soon you'll find that fighting wars no longer interests you. You're a rich, accomplished general. The only thing you care about in the world is keeping your sweet little sextoy pumped full of semen.
CONCLUDING WORDS
Soldier's Life is a great adult game for fans of corruption, and sexual training story arcs. The game is about six hours long, and the dialogue is the most erotic I've read in a long while. There's no soundtrack, or voice acting however. I recommend you pop up your favorite music and lose yourself into a world of legend and lust.
I highly recommend this title to fans of corruption porn. Download Soldier's Life. You can find more hot hentai games we've reviewed over the years at our webstore. Buy games, support the site.
Graphics

Gameplay

Story

Music

SFX

Hentai