Hentai Visual Novel Review: Kirakira Stars Idol Project Ai
Hentai Reviews

>

Reviews

>

Hentai Visual Novel Review: Kirakira Stars Idol Project Ai
Written by Miss Valentine, edited by Otaku Apologist
Kirakira Stars Idol Project Ai, a visual novel game developed and published by Sushi_Soft. Released August 28, 2020. Download on Nutaku.net for $12.99. For PC Windows. Full voice acting. Uncensored genitals.
Ai Amane has always wanted to be a pop idol. She ropes you, her childhood friend to make that dream a reality. Unfortunately neither of you dumb-asses have any idea how to make Ai famous.
Visit our perverted store for more porn games. Also read our review of Kirakira Stars Idol Project Nagisa.
STORY
Kirakira Stars Idol Project chronicles Ai Amane's journey to become a famous pop idol. She has no idea how to accomplish this but a chance run-in with her childhood friend Nobu changes everything. Nobu is a deadbeat who's been kicked out of his dorm. He conveniently works for ODA Productions, a small company that works with aspiring idols.
Ai asks Nobu to help her with her dream even though he isn't much more experienced than she is. The vanilla pair move in together so the audience can see Ai in her bra and panties on a regular basis. Ai also joins Nobu at ODA Productions. Together they vow to turn Ai into an idol.
The rest of the game involves going to photo shoots, doing administrative duties and practicing for gigs. The plot is paper thin and strikes all the same beats as the previous installment in the series. None of the characters develop during the course of the game. The story is padded with a lot of unnecessary scenes. Normally this is par for the course with visual novels but all sex scenes in Kirakira are separate from the main game. The game does a great job of highlighting the hard work necessary to become a Japanese pop idol.
SOUND EFFECTS AND VOICE ACTING (SFX)
The game features voice acting for female characters. Mako Mishiro (playing Miwako Sakurai) gives a welcomed performance as Ai's co-worker and confidant. Her delivery is great and her vocal range excellent. Yoshino Mizuse (playing Ai Amane) is believable with a cheerful, gung-ho attitude that makes her sound like she was made with sugar and spice and everything nice. Ai's sex scenes are delightful. The actress plays up Ai's innocence and embarrassment but allows the player to get hard with her soft moans.
The game has very limited sound effects. The only sounds you're likely to hear are beeps when you select or move over something with the mouse.
MUSIC
The soundtrack contains five songs, all of them use original instruments. Instruments you're likely to hear include the guitar, piano, drums, xylophone. The anime opening theme is carried over from previous the game.
Kirakira features a strong variety of slow, intimate sounds mixed in with cheerful and upbeat tunes that cater to every occasion. Songs mimic typical of slice of life anime. Every song in the game feels unique and catchy.
GAMEPLAY
Kirakira Stars Idol Project Ai is a visual novel game with basic VN functionality. You turn the page to advance the story. Now and again the game will present you with choices. Your decisions barely affect the rest of the story.
You use the 'auto' and 'skip' buttons to play the game more easily. You can save your progress in one of the many save slots available. You can also view CGs in the gallery menu or go to the sound room to listen to the OST.
The game has a glitch where none of the character sprites appear on the screen. This makes for jarring gameplay as character reaction images such as anger, question marks, and light bulbs do appear, but look like they are hanging in the air. Reinstalling the game doesn't help to resolve the glitch.
GRAPHICS
The game's sprite glitch makes it impossible to comment on the degree of poses and facial expressions the characters have.
Kirakira Stars features a wide range of locations. Some of these include an amusement park, company office, a practice studio, a photo studio and Ai's bedroom. Backgrounds have deep detail and make the game feel more realistic. Certain backgrounds are reused from the previous title in the series. Different times of day are showcased in the background artwork.
There are nine unique CGs to unlock. Artwork uses light shading with thin edge lines. Certain artwork features evolution in the form of different expressions, fewer clothing on the girls etc. CGs strike a good balance between sexy and dramatic. Camera angles are well selected.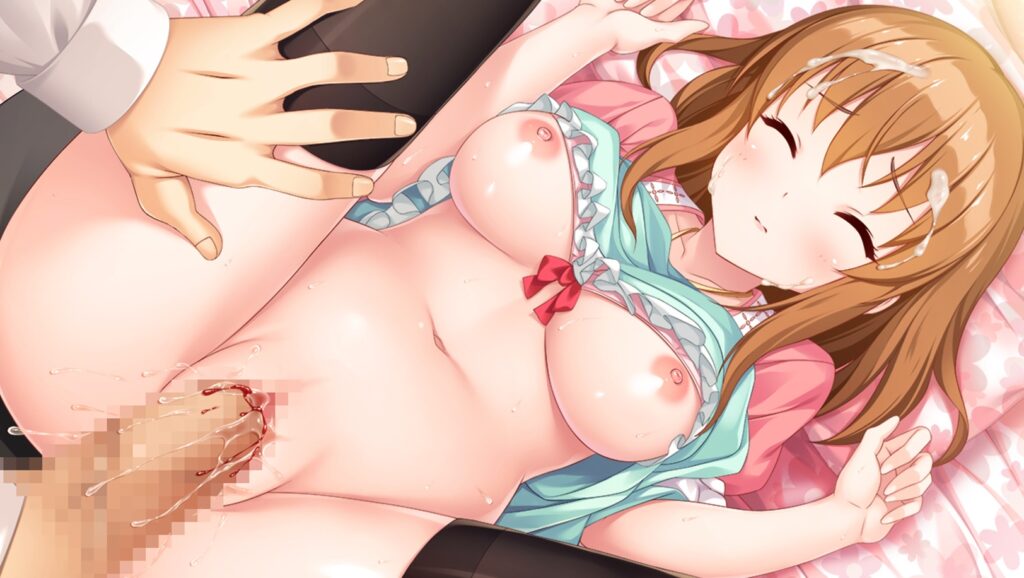 HENTAI
The game's hentai content is completely separate from the main game. There are three scenarios to choose from. These are all hypothetical scenarios that explore what you and Ai would do, if you had a sexual relationship. The scenarios feel like mirror images of the scenes featured in Kirakira Stars idol Nagisa. Sex in this game feels tacked on.
You sleep with Ai and receive permission to deflower her much to her initial discomfort before banging her brains out. Feeding your dick to Ai's pussy isn't enough though. She has to learn how to give head. You teach her how to give an awesome blowjob. The game doesn't have as many good sex scenes as Project Nagisa. There are one or two ecchi scenarios like finding Ai all sweaty. You also admire her while she poses in a bikini for the camera.
CONCLUDING WORDS
Kirakira Stars Idol Project: Ai is a colourful entry into the Kirakira franchise with a few hiccups and a bare-bones story. Good music and quality art elevates the production values. Much like in its sister title, sex is an add-on, center stage is taken by the romance. Download Kirakira Stars Idol Project Ai.

Graphics

Gameplay

Story

Music

SFX

Hentai