Corruption Hentai Game Review: Kotoko is a Little Different
Hentai Reviews

>

Reviews

>

Corruption Hentai Game Review: Kotoko is a Little Different
Written by Rastafoo69, edited by Otaku Apologist
Kotoko is a Little Different, a hentai visual novel developed by Shinachiku-Castella. Released on November 30, 2018. Download on DLsite for $12.00. For PC Windows. No voice acting. Censored genitals. Free demo available.
Kotoko Haruyama is a shy conservative girl that's constantly stressed about schoolwork. She wants to do something out of the ordinary to break the monotony, try new things! Perverted men are watching her with lustful eyes, waiting for a chance to take her virginity.
STORY
Kotoko is a young girl burdened by stress. Her conservative parents are overbearing and controlling. She's feeling rebellious, and horny. Kotoko has started flirting with strange men. Whenever someone looks at lustfully, she gives them a little show! She gets bolder and bolder. Will she stop before things escalate too far?
The writing in this game is fantastic. It builds suspense and keeps the player wondering what will happen next! The scenes are mostly short and sweet. The writer strikes a good balance between length and quality of content. The dialogue is great quality and characters feel real.
There are six ending in total, each following its own unique path. Do you want to be a total slut? The choice is up to you! The story is heavily driven by player choice to encourage replaying the game.
Kotoko is an intelligent young lady. Rather than some dumb fuckdoll who trips on dicks, Kotoko doesn't get manipulated into sex. She makes her own stupid adult choices that lead to long-term life problems. A truly inspiring hentai female character! She even reflects back on her stupid choices during this suicidal adventure.
Kotoko is scientific with her approach to flirting. She knows that men lust after her. She's curious to study how they behave. For example, she pretends to fall asleep in public to see if a guy might touch her.
If you make silly decisions, Kotoko will comment on them! She might say things like "Am I retarded? What am I doing?". This and many moments like it, made me laugh out loud while fapping.
GAMEPLAY
Kotoko is a Little Different was made with RPG Maker. Press CTRL to skip dialogue. Right click to hide the dialogue box. The game can be saved in the pause menu. Make different choices and backtrack when shit hits the fan!
The gameplay is limited to choosing what Kotoko does with her free time. Will she get exercise? Will she go to the library? Maybe she'll sit in the park for a while? Explore environments and find new events.
Depending on your corruption level, which has no visible counter, you will skip old events and open up new events.
Certain areas and plot-lines are blocked until you complete a side-plot that advances the plot-line. For example, you cannot seduce your schoolmate until he catches you having sex with someone else. The sex with the peeping tom isn't entirely consensual. He blackmails you into sex.
Accepting or refusing sex will lead to different endings. If you choose to have lots of sex with the janitor, you'll receive the ending where you're caught by one of the teachers!
GRAPHICS
The art is Japanese anime style with stylistic twists. While Kotoko is your typical anime schoolgirl with black short hair, every male in the story looks grotesque. Their bodies are old and wrinkled with liver spots everywhere, like cancerous rotting tumors. The men truly look disgusting, which for reasons unknown gets people masturbating furiously at a young girl being molested. Maybe it's the degradation that makes the juices flow?
Kotoko has huge breasts, but the rest of her body is average looking. She's shorter than most men, and physically fit from playing volleyball. The linework is so wild, the images don't always convey the girl's face or body proportions consistently. Areas are shaded in rather dark tones, with deep shadows darkening indoors locations especially. Also, some of the sexual content hides the goods. There's a scene where Kotoko reaches for a book on a shelf, but her school uniform blocks the view.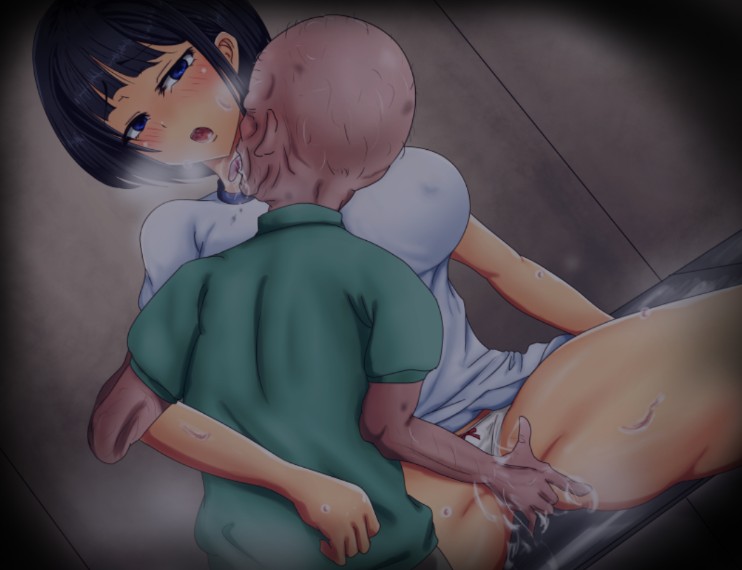 VOICE ACTING AND SOUND EFFECTS (SFX)
Kotoko is a Little 'Different' has no voice acting.
The game's unhappy atmosphere is conveyed by the sound effects. Kotoko is deathly bored of her tedious everyday life. The game is mostly very quiet, the silence only broken by the occasional atmospheric noises, like the sound of a train, or footsteps. There is a lack of variety in the audio. You hear the same sound of moaning and ejaculation countless times.
MUSIC
The soundtrack includes 15 tracks. Most of them rely on chimes and notes that don't sound like anything coming from real instruments. The music is mostly average-quality atmospheric fodder, and nothing special. Each track lasts less than a minute. By the time the music starts kicking in, it's already over.
During more intense situations, there's an ominous buzzing that starts building up. It's a little upsetting, but definitely a highlight of this very limited soundtrack.
HENTAI
The game has 36 hentai scenes, each with multiple CGs and many variants.
Kotoko takes dick in sex positions like the cowgirl, doggystyle, and missionary. She also gives blowjobs, and tittyfucks. The scenes are fine but nothing special if you just skip to them. The foreplay and build-up are what make you bust a nut. At least half of the erotic scenes are not actual sex, but involve of dialogue and lots of teasing, like giving handjobs to homeless men.
This game is all about choices. For example, when you have sex with the janitor. He uses condoms all the time, but one day Kotoko begins to wonder how it would feel to have sex without a condom. Will you hide the janitor's box of condoms and go bareback?
If your fetish is watching old and gross men taking advantage of a young pure girl, there's lots of scenes catering to your perversion. You can choose which of the disgusting fuckers groping your panties in public places gets to pop your cherry! You can't have sex with your classmates in this game, but everyone else is up for a fuck.
My favorite path in this game was to pursue sex with a homeless guy at the local park. This guy never uses condoms! He sticks it in and takes whatever he wants! You can even get pregnant with his child. The star student of her school, knocked up by a homeless guy – it's the ultimate humiliation. Kotoko vows to keep her pregnancy a secret until her belly starts growing.
CONCLUDING WORDS
Kotoko is a Little Different is a fantastic corruption visual novel. The artwork is quirky, the world design is fantastic, and the little audio there is, is on point. With a fantastic story and a good variety of well-written boner-busting sex scenes to explore, this title is worth checking out.
I highly recommend this to fans of virgin school girls. Download Kotoko is a Little Different. If you want another corruption-themed hentai game, check out our review of Salvation.
Graphics

Gameplay

Story

Music

SFX

Hentai