Yuri Hentai Game Review: Sakura MMO 3
Hentai Reviews

>

Reviews

>

Yuri Hentai Game Review: Sakura MMO 3
Written by Mistress Valentine, edited by Otaku Apologist
Sakura MMO 3, a yuri hentai visual novel developed and published by Winged Cloud. Released July 2019. Download at Nutaku's digital store for $9.99. For PC Windows. No voice acting. Censored genitals.
Kotone was a gamer girl who was sucked into her favourite MMORPG game, Asaph Online. She assumed a new identity as the dark witch Viola. She has assembled a harem of cute girls. But trouble is on the horizon. The witch Gardenia informs her that Iona, a powerful sorcerer, is about to unleash destruction upon the world and only Viola can stop her.
Discover more quality hentai games we've reviewed at our perverted store!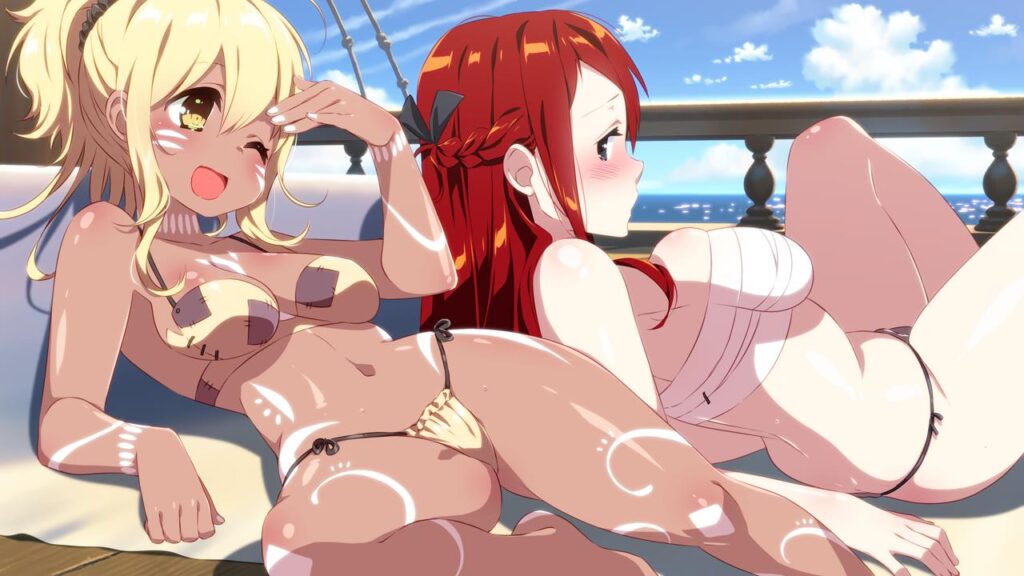 STORY
Sakura MMO 3 has some decent writing. The character interactions are fun, and the script allows each girl to express how much they've grown since the first game, ie. Fiola and Emeri hanging out, despite their awkward history, showcases the passage of time.
The game suffers from an inconsistent tone. There's long-winded conversations about loyalty and other frivolous topics while more important plot elements are glanced over. Scenes outstay their welcome. The mood is more balanced, but is prone to swinging towards ecchi encounters without a proper setup.
The story takes its time before Viola and her party start battling monsters. Sadly, by the time the fighting starts, you never feel any real tension, or stakes at play. The battles are over rather quickly.
The dialog is good, and shows the bond Viola shares with her team mates. There's a good mixture of ecchi moments, and heart-warming scenes, particularly between Viola, Neve, and Eneri.
Sakura MMO 3 is easily the strongest installment in the series. The pacing is slow, but as the game progresses, and certain information is revealed, it becomes clear that this game wants to go out with a bang.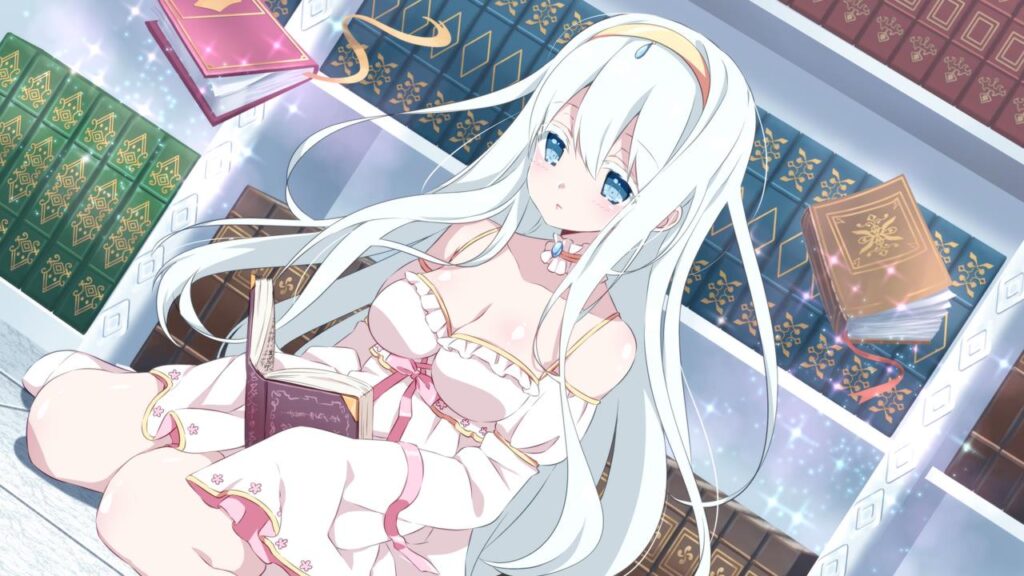 GRAPHICS
The graphics in Sakura MMO 3 are splendid to look at. The CG imagery is fantastically beautiful. The sword and sorcery inspired art evokes your imagination, and makes you want to immerse yourself in the world.
The game recycles several backgrounds from previous installments in the series, but also adds several new backgrounds, such as Lona's lair and Viola's pirate ship. The new art increases the scale of the world, but the artwork itself is plain and uninteresting. Most backgrounds have a basic drawing style with no particular detail popping out.
All the character sprites are copy-pasted from previous games. The variety in facial features, hairstyles, and clothing make each character feel like their own person, despite suffering from same-face syndrome. Characters have sexy bodies. When they lose their clothing, you see their perky breasts that just beg to be groped. The bodies also shine like someone coated them in juicy sun-tan lotion!
There's more CGs in this game than in previous installments into the series. Unfortunately, there aren't a lot of sexual CGs. The hentai content is very vanilla. Most artwork just shows off the characters' boobs, or their butts, but no genitals.
GAMEPLAY
Sakura MMO 3 is a visual novel. You click the screen to "turn the pages". Every so often, the player is presented with choices during dialog. These choices only impact which ecchi scenes you unlock but don't affect the story that much.
The game has basic visual novel functionality with an identical menu to the other games. You can use the 'skip' and auto' options to speed through parts of the dialogue you already read. You have enough save slots to back track your choices.
VOICE ACTING AND SOUND EFFECTS (SFX)
The game has no voice acting.
Sakura MMO 3 contains a lot of sound effects. Locations have their own ambient tracks. There's the bath house, a city marketplace, training grounds, and the pool. Most sound effects are royalty-free stock assets. This includes armour clanking, monster roars, bubbles, barking, people falling over, water running and footsteps. There are no mic cracks or pops, the recordings are professional quality.
MUSIC
The game features 10 original songs.
The music is reminiscent of your average slice of life anime. The music complements the emotions conveyed in the scenes, and doesn't distract you while you're rubbing one out. There are unfortunate abrupt musical transitions which feel out of place.
The soundtrack features real instruments, including piano, flute and string plucking that mimics traditional medieval fantasy music. There is a good balance between soft and soothing songs for intimate scenes and fast-paced tracks for wackier parts of the story.
Sakura MMO 3's highlight track blends Celtic rock 'n roll with beautiful string plucking, wind instruments, and a magnificent violin score. It's used during battle scenes and stands out for its sheer coolness. Another great track is called 'dark theme' and lives up to its foreboding name. Sporting dramatic war drum beating and intense violin, it's a shame this track isn't played more often.
HENTAI
There is very little sex in this game. The girls are mostly put into typical ecchi situations. Viola is still obsessed with other girls' boobs and grabs them whenever she can.
Once again characters get covered in milky goo that reminds you of cum. Scenes with goo showcase the girls in the lewdest positions, making them look sexy as hell. There are also plenty of flashbacks to scenes from previous games where the girls were molested by magical creatures, or covered in slime.
A standout scene features Neve being put under a magical spell and becoming a sex slave for the dark witch. The two press their soft boobs into each other. Neve is also captured and molested by an octopus in a scene that is as erotic and sensual as it is funny.
My favourite scene involved one of the new characters sexually used by a slimy tentacle creature. The scene itself isn't written to be particularly sexy, but the CG artwork and musical score made it very enjoyable.
CONCLUDING WORDS
Sakura MMO 3 is a great send-off for Viola and her party. The conclusion to their adventure will make fans of the series happy. The plot is better than before and the lesbian make-outs hotter than ever. It's a pity there's no voice acting, or more hardcore sex scenes. It's still a great vanilla hentai experience with great art to help you bust a nut.
I recommend this game to fans of thick and plushy anime lesbians. Download Sakura MMO 3.
Story

Graphics

SFX

Gameplay

Hentai

Music