Hentai Game Review: My Childhood Friend
Hentai Reviews

>

Reviews

>

Hentai Game Review: My Childhood Friend
Written by Rastafoo69, edited by Otaku Apologist
When I saw my Childhood Friend After a Long Separation, a hentai kinetic novel developed by House of Mallows. Released on September 10, 2018. Download on DLsite for $5.00. For PC Windows. No voice acting. Censored.
You're at the beach with your childhood friend. Last time you saw her, she was a boring basic bitch. Today, she's a gorgeous buxom babe with a fat rack! It's time to make your move and pump and dump her pussy!
STORY
Your childhood friend Kanami has grown up! You're alone with her on the beach. It's time to seduce her, and get some good old classic in-and-out. She thought it was going to be a regular day by the ocean!
Before you know it, her bra is off and her boobs are right in your face! Things escalate quickly, and you'll soon find your finger deep in her vaginal cavity, scooping her to orgasm! Then you fuck her in every imaginable position. Your dick was so good, she becomes your girlfriend and you live happily ever after.
The writing in this game is feels like the work of a fluent native English speaker. The message comes across without problem. The game has a simple story and the bare minimum of exposition. You get to know the girl and effortlessly swim into her panties. Simple and fun!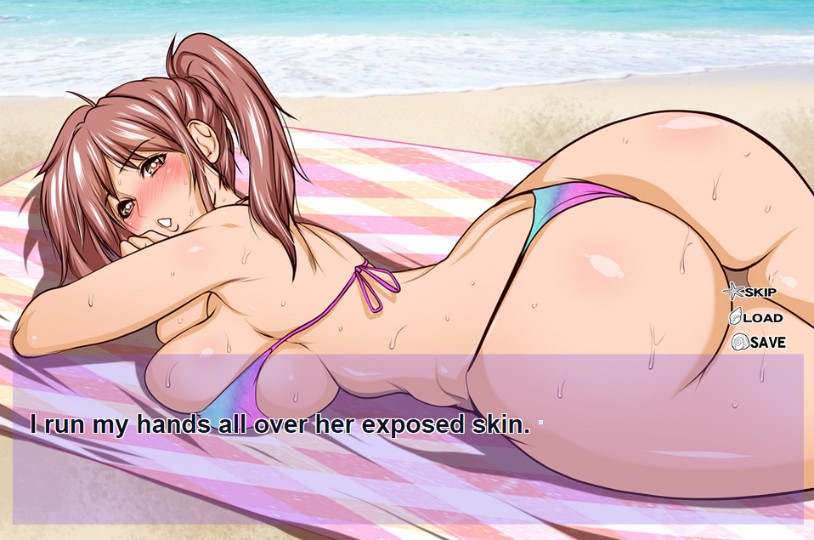 GAMEPLAY
When I saw my Childhood Friend After a Long Separation is a kinetic novel. You click the screen to advance the story. There are no branching choices. You cannot skip dialogue. Right click to remove the text box.
The art is a unique version of the Japanese anime style. The sand and green-blue waves in the background create a relaxing, romantic atmosphere. The girl is young, fertile, and horny for some penis. The cute bikini worn by Kanami reveals every plump lady lump, barely staying on her luscious feminine body. Every artistic choice and detail had significant care put into it.
The game is almost a slide show. Each piece of art only stays on screen for 2-3 lines of dialogue. The characters feel constantly in motion as the CGs switch. Each scene features multiple distinct images. For example, the blowjob scene has over four unique images. Some art only lasts a single line of dialogue.
The game makes notable use of the color white. Sunlight on the skin is white, beads of sweat are white, the censored genitals are white. There's almost too much sweat and water droplets on the images. The amount of liquid on the characters is distracting and looks unrealistic! There's also mistakes, like in one image Tanami has only seven fingers on her left hand.
VOICE ACTING AND SOUND EFFECTS (SFX)
This game has no voice acting.
Numerous sound effects create a sense of movement and action. There's a large variety of sucking sounds. When the guy sucks on a breast, or the girl suckles his dick, a different audio clip plays. There's also a unique sound for fingering a pussy. I've never heard this clip in other hentai games I've played. Overall, the audio is professional quality. Nothing repeats, nothing is tedious.


MUSIC
The soundtrack includes three tracks for players to enjoy. The first song is a generic menu theme that's not very special, but fills the silence. It's a very basic digitally synthesized composition, and totally forgettable.
The second track is atmospheric with the sound of waves in the background. You hear this song while chatting with Kanami before you put your dick in her pussy. It's a very short simple song.
A piano plays over the atmospheric music as the sole instrument. Eventually the atmospheric noises cut out and you're left with a piano melody that repeats indefinitely. It's nothing special.
HENTAI
There are 30 Base CGs in this game with numerous variations and cut-in images. "Cut-ins" are when a character image is placed over the primary CG to give detail on what's happening. Like a blowjob CG may have a cut-in image of a tongue moving around the cock. When you combine base CGs with cut-in images, you can count 64 unique images total.
The featured sex positions include the missionary with leg-lock, standing sex with the girl lifted in the air, the classic cowgirl, the mating press, and more.
The erotic text works beautifully the visuals. When you first slip your finger inside of Kanami's pussy, you discover she is soaking wet! The finger slides right in! The dialogue describes a well-lubricated vagina, and you see the image of her vaginal fluids overflowing. Together, the imagery and the text drive through a singular thematic point: You're fucking one horny-ass bitch in the pussy.
CONCLUDING WORDS
When I saw my Childhood Friend After a Long Separation is a great kinetic novel. The art is plentiful and gorgeous, while the sound effects keep you immersed in the scenario. The game may not have voice acting, but the visuals go over every sex position known to man with a happy creamy ending to boot. It's one spectacular fap game!
I highly recommend this game. Download My Childhood Friend. Remember to visit our webstore for more sex games we've reviewed. Every game sale motivates us to keep on writing!
Graphics

Gameplay

Story

Music

SFX

Hentai