Hentai Game Review: Fureraba, Friend to Lover
Hentai Reviews

>

Reviews

>

Hentai Game Review: Fureraba, Friend to Lover
Written by D.R.Manor, edited by Otaku Apologist
Fureraba: Friend to Lover, a hentai visual novel developed by Smee. Released on June 28, 2013. Published by NekoNyan. Available on Nutaku for $29.99. Full Japanese voice acting. Uncensored genitals.
Get ready for generic slice of life shenanigans! Cute girls make this romp an enjoyable ride. Don't come into Fureraba expecting the juicy highs and lows of a good drama, it's too cute for that!
STORY
Fureraba: Friend to Lover is about Kyousuke, the average guy who wants a girlfriend. He attends Jousai High, which is a little different from most Japanese schools: The students are allowed to fill out their own schedules. You never see the students in any other class aside from their homeroom. Because of this arrangement, the school serves as the central hub for the protagonist to interact with the heroines, and nothing more.
The everyday scenarios are exaggerated to ridiculous proportions. For example, the mothers of one of the girls and the male main character are both so supportive of their relationship that the girl's mom actually encourages you to make her daughter pregnant. What a shameless porn mom!
You follow Kyousuke try his hardest to get a girlfriend before summer. Each time you reach a higher affection level with a heroine, you get an exclusive event for that girl. You'll learn new things about the girl and see the romance blossom. One particularly hilarious event was a cooking scene with Himari on her second affection level. She and Kyousuke miserably fail at every cooking task they're given in the most amusing ways. That event led to Himari revealing that she used to have feelings for Kyousuke. She makes it clear that those feelings have long since died inside of her. It was interesting to read such a blunt confession.
I also liked the event where you're trying to break the ice with Misaki. Everyone and everything get in your way. You fail so miserably that you don't get to talk to her the entire day. It was comedy gold with how random it was.
CHARACTERS
The male main character's default name is Aoba Kyosuke. You can change his name to whatever you want. This guy is your standard self-insert character. There's not much to say about him.
Himari is Kyousuke's childhood friend. She has a motherly vibe to her. She nags like a wife, and acts very immature at times. She's so childish and neurotic, she hates carrots and refuses to eat them. She goes so far as to physically remove all the carrots in the house, just because she hates them.
Rina is Kyousuke's classmate. Her relationship to him is complicated. Both characters constantly talk about how they don't care about each other, even though it's evident that they're friends.
Yuzuyu is your standard tsundere girl. She is very blunt with her emotional expression. She's always angry at everyone and everything in the world. When you first meet her, she's trying to change her shitty personality, though she gives up very quickly. At least she's self-aware that she's a pain in the ass.
Aside from the heroines, Kyousuke has two wacky male friends, Genki and Momo. Genki is even more desperate than Kyousuke to find a girlfriend. Momo meanwhile is a pretty boy who has long since lost interest in girls and now only cares about his fetish for humanoid lizards. Their personalities and over the top interactions with Kyousuke and the girls are great entertainment.
Throughout the run of the visual novel, the character develop very little. The fun is just watching everyone banter and bang each other's genitals.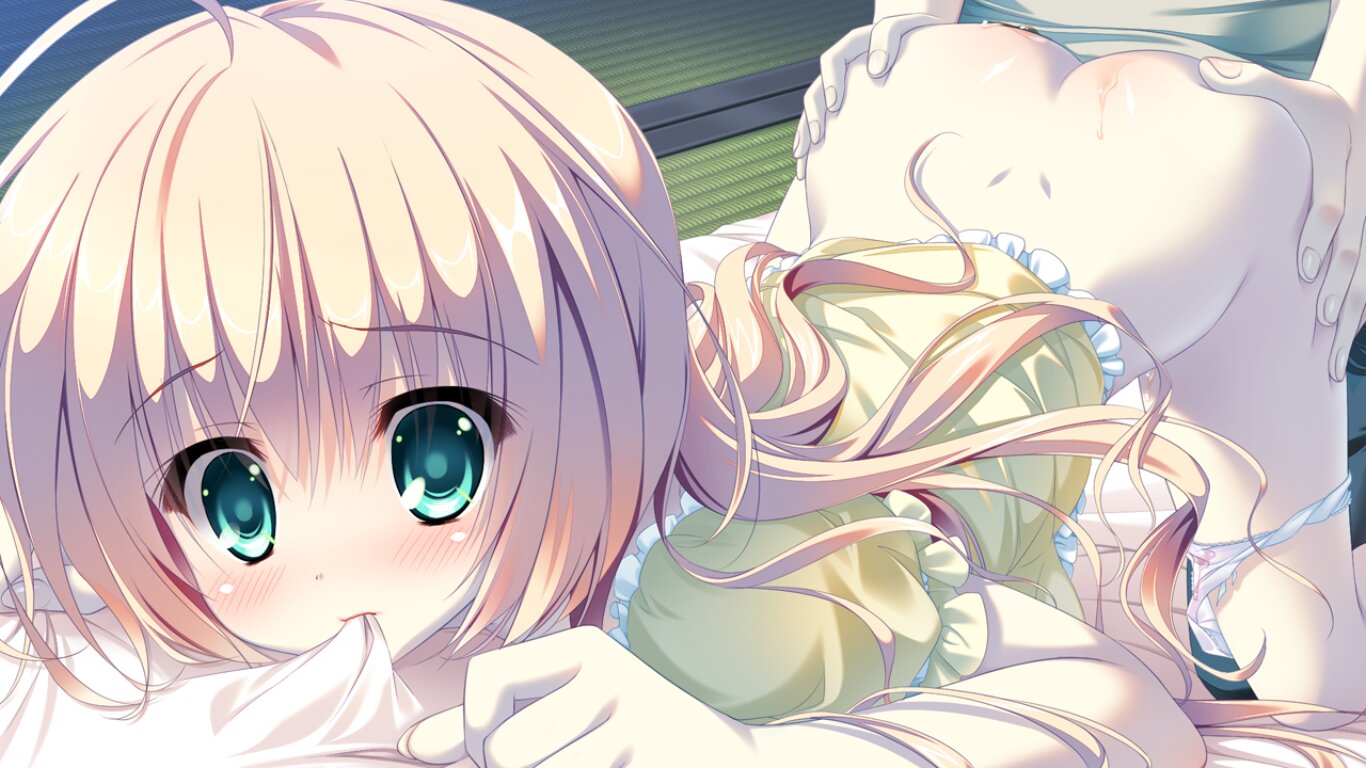 GRAPHICS
The art of Fureraba is in anime style. Most of the characters look plain, but others stand out. The best looking girl was Misaki, hands down. Her dark hair and purple eyes complement each other, and make for a memorable design. In general, I enjoyed the eyes of every character. Everyone has this deep shading that makes them pop. Each heroine has two poses and multiple expressions. The side characters only have one pose. Each heroine has a naked sprite which you can view by pressing F12. Shadows aren't used often.
Most of the background art is simplistic. The art only ever includes the bare minimum of detail. Some 3D objects in certain backgrounds blatantly clash with the rest of it. For example, in Kyousuke's room there is an odd game controller sitting upright on one leg. Every other controller is sitting flat on a ledge. Weird!
GAMEPLAY
Fureraba: Friend to Lover is a visual novel. Gameplay is limited to clicking the textbox to advance the story. You also make choices during key moments in dialog. There are a lot of choices in this game, as you make tons of conversation with the ladies. If you talk about things the girls don't care about, you won't get enough confession points, and end up with a bad ending. Also, if you gain an abundance of confession points with more than one heroine, you'll trigger a "jealousy event".
The game includes a minor feature: You can change the girls' hair and clothes. The feature is very limited. For example, I was never given an option to change Himari's clothes.
SOUND EFFECTS AND VOICE ACTING (SFX)
The actors shine during the hentai scenes. Himari's voice actress does a great job of mimicking how she blows her weekend hookups. Her moans are orgasmic. She moaned for so long and so loud, my dick was impressed. Another great performance was Yuzuyu's. The actress behind her sounded legitimately enraged. She bellowed such believable screams that I turned her voice down.
Only a couple of sound effects made it into the game. Most of them are standard stuff, such as a doorbell, an alarm clock, etc. There's a nice drum-based jingle that plays when characters shoot witty one-liners.
MUSIC
Most of the music uses synthetic instruments. Each heroine has a theme and a "lover version" of that theme. Many songs sound very similar to each other. I didn't even realize there were several versions of the songs until I saw their names in the extras. Misaki's themes stand out from the crowd, as those songs use a highly audible guitar. Her theme songs create a relaxing atmosphere that contrasts with the majority of the other songs that are more upbeat and energetic.
The other track that stands out is "Saigo Ni Nagai Kiss Wo". It plays in the hentai scenes. The melody and tempo mesh well together, creating the perfect mood for good old in-and-out.
The song that plays during comedic moments "Dou Iu Koto" is just a bunch of notes randomly stringed together. I understood what they were trying to do with it, but it was frankly annoying. Other than that, the music is fairly catchy despite the sameness of a lot of tracks.
HENTAI

I was surprised at how quickly the hentai scenes started. This wouldn't be a big deal otherwise, but it doesn't make sense in context of the story and the characters. The first fuck happened right after the protagonist made his confession. Even though he's supposed to be inexperienced, he sure knows his stuff. There's also the issue of some characters' body proportions looking off. There was one disturbing instance where Himari's boobs looked like two muffins lazily slapped onto her chest. If you can get past those mistakes, the hentai content is quite tasty. The voice acting is the highlight of the porn, and I highly recommend you use headphones.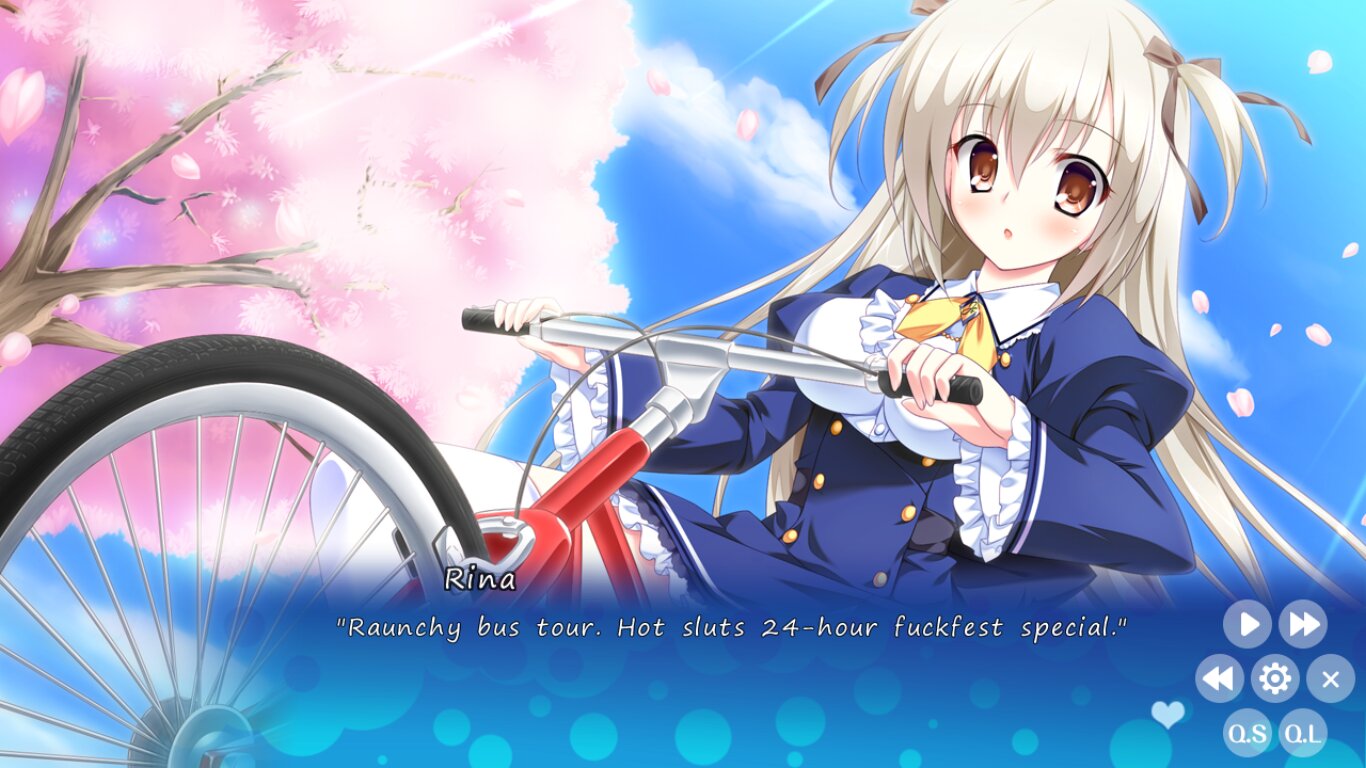 CONCLUDING WORDS
Fureraba: Friend to Lover is your cookie-cutter slice of life visual novel. It's a cute little game with cute girls and wet panties. The comedic content is genuinely funny, and the voice acting will suck the jizz from your balls. The soundtrack and other audiovisual assets in the game are painfully average, but you're here for the porn anyway and won't give a shit because your ghetto ass has no standards.
You can download Fureraba at Nutaku.net. All game sales support our writing work.
GRAPHICS -

70%

GAMEPLAY -

50%

STORY -

60%

MUSIC -

80%

SFX -

80%

Hentai -

70%