Written by Jin0uga, edited by Otaku Apologist
The Bell Chimes for Gold, developed by OTSUN Club, published by Denpasoft. Released on December 10th, 2018. Available on Nutaku's digital store for $14.99. Available for PC Windows, Mac OS, and Linux operating systems. Partial Japanese voice acting. Uncensored genitals.
In this romantic otome game, you roleplay a socially awkward conservative girl who romances penniless older men in a desperate bid for a hint of romance. She's jilted, cynical, and a little bit desperate, she gathers flowers to buy herself a loyal husband. She's lowered her standards, she has made her reality check, she's got her bottom-feeding strategy all figured out. Can money buy love? Let's find out.
STORY
Maria is a herbalist with a knack for synthesizing high quality potions. When she was still a student, her master tricked her into making potions for him on the promise that they'd get married. When her master knocked up another female disciple instead, Maria was redpilled. The master was using her as a cash cow. Maria cynically decides to make enough money with her potions to buy herself a husband.
After the short opening sequence, the game begins. Your main goal is to help Maria get a handsome man. You spend your game time mostly earning money from gathering ingredients, making potions and slaying monsters. Find guys by exploring the town. Use your money to ease their debts and get your pussy plugged.
The story focuses on the arcs of Maria's men. She desperately tries to get closer to these sad, old men by fixing their money issues. The writing and dialogue are typical to your average dating sim. The writer spends a lot of time justifying the girl's exorbitant spending on these broke-ass men.
Maria's cynicism and low self-esteem are a consequence of her experience of being exploited for cash with the promise of love. It makes sense that she tries to use money to further her relationships. As the game progresses, Maria learns that money isn't everything. She learns more about her love interests and what unfortunate experiences drove them to their current sorry state.
The game is played from the female perspective. If you were able to tolerate the pandering bullshit that was Twilight, or the Vampire Diaries, you can enjoy this. It's a meaty character-driven dating game that manages to be light-hearted and serious depending on scene.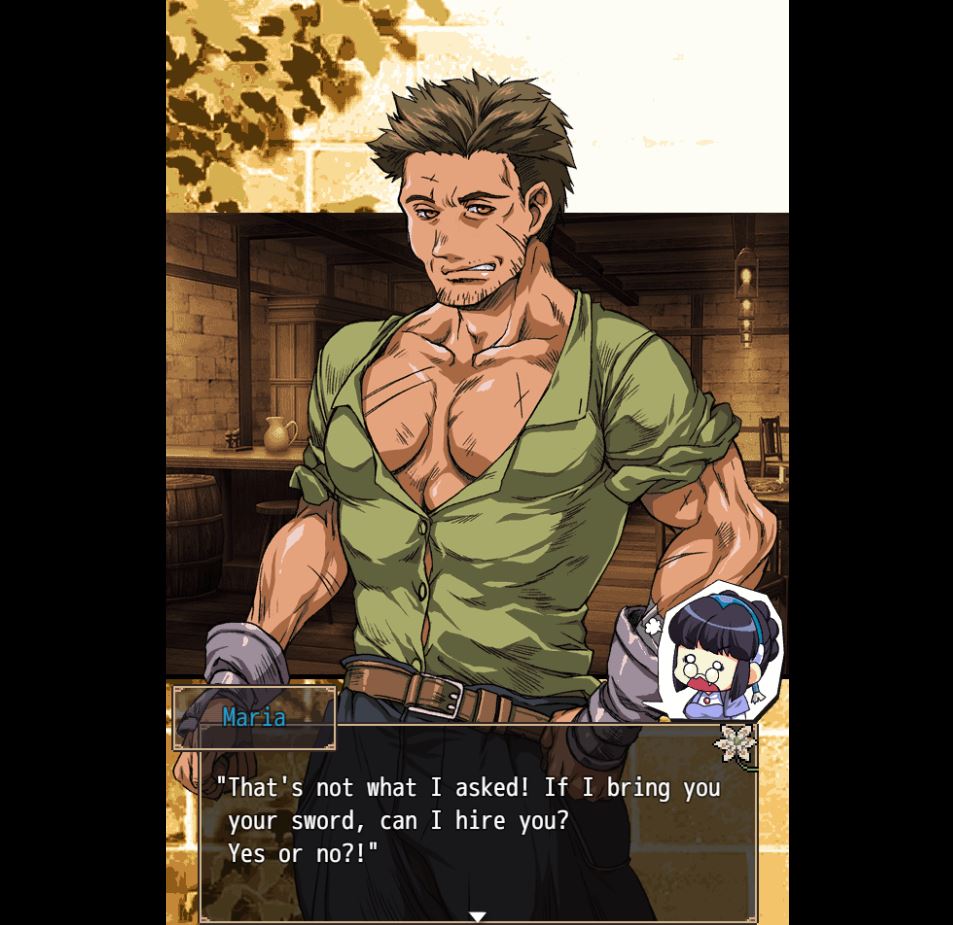 CHARACTERS
Maria Scissorland is the main character. She's a skilled herbalist. Despite coming off as a naïve fool in the beginning, she can be surprisingly sharp and blunt. She doesn't hesitate to take action and sets her mind to whatever she does. I liked that she was capable of taking situations into her own hands.
William Bloom is a kind-hearted elf in deep debt. He's highly skilled with a bow but is constantly taken advantage of. He keeps giving away his money to random people in need, which is the reason for his terrible finances. He's a comforting person to be around, soft spoken and gentle at all times.
Samuel Double was once a talented mercenary. When Maria first encounters him, he's been reduced to a drunk dullard. He's sunken so low that he pawned off his sword for more alcohol. He prizes drink over anything else and continues to waste away even when he gets money.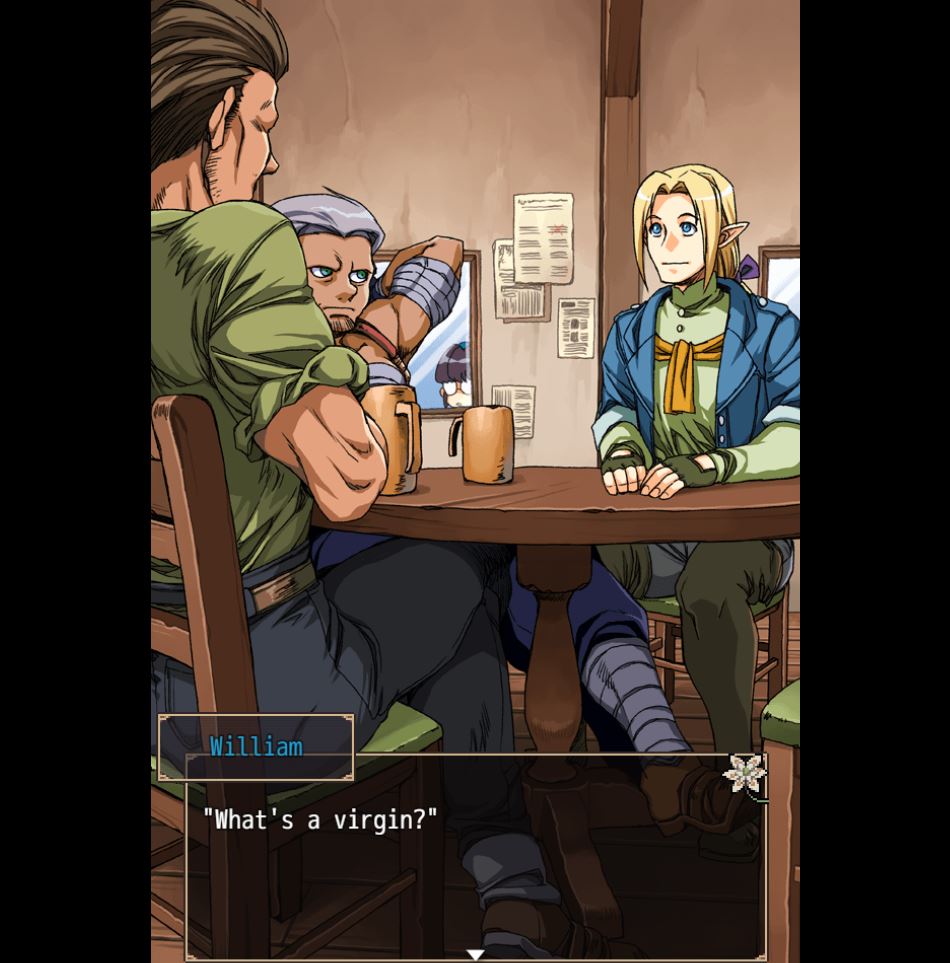 Brian Starly is a sly priest who's always wearing a devious smirk. He's from a fallen noble house. Starly's goal is to earn enough to make a glorious comeback to high society. Easily swayed by money, this priest-warrior slowly scrimps and saves to revive the House of Starly.
Ben Koo is a thief and a compulsive gambler, well known for his terrible luck at gambling. So deep in debt even casinos have banned him, he wastes his life drinking and pickpocketing folks in seedy bars.
Walter Pleasant is a necromancer. He's in dire straits after being kicked from the academy he worked at. Once a highly respected mage, he's all but forgotten now. With people gunning after his research, he's in constant danger and in desperate need of money.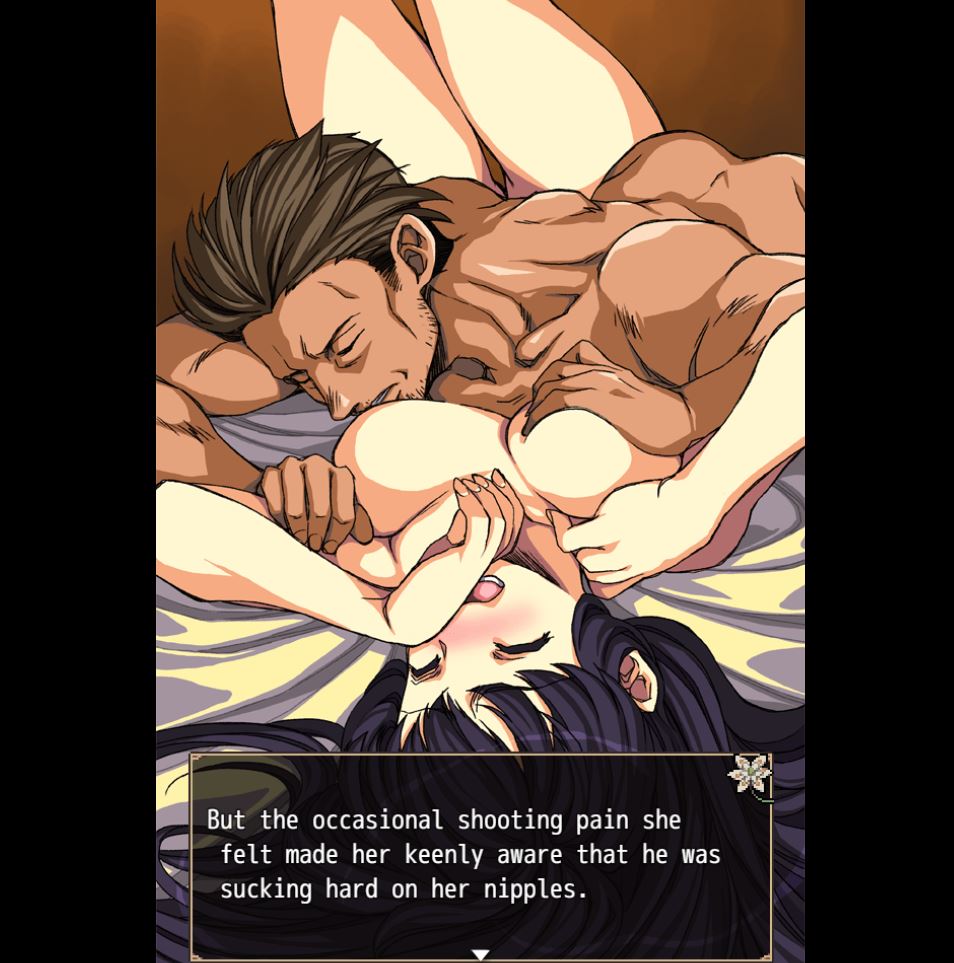 ART
The game uses an old school shoujo art style. The distinct round anime eyes contrast against the detailed, extremely realistic bodies. The Bell Chimes for Gold is an otome game, and the male love interests are hot, older men. I liked most of the character designs except Ben's. His proportions look ridiculously overdone, I almost thought he had boobs instead of pecs. Fortunately, the rest of the men look handsome and rugged.
Maria is dressed conservatively in a long sleeved dress, eyes rimmed by scholarly spectacles. She is dressed in the same outfit throughout, but I never got bored of looking at her. Her outfit is full of gorgeous details, like the gold stitching of her skirt, the creases in her top, and the tasteful headband she wears.
The game is a mobile port, so the screen is fixed at a 640×960 resolution. Despite my initial misgivings, I got used to it. CGs and backgrounds still look beautiful despite the small screen size. Like the character art, backgrounds are detailed and immersive. You're treated to beautiful cobblestone streets, alleyways filled with crates and barrels, lush forests, all done justice with a vibrant color palette.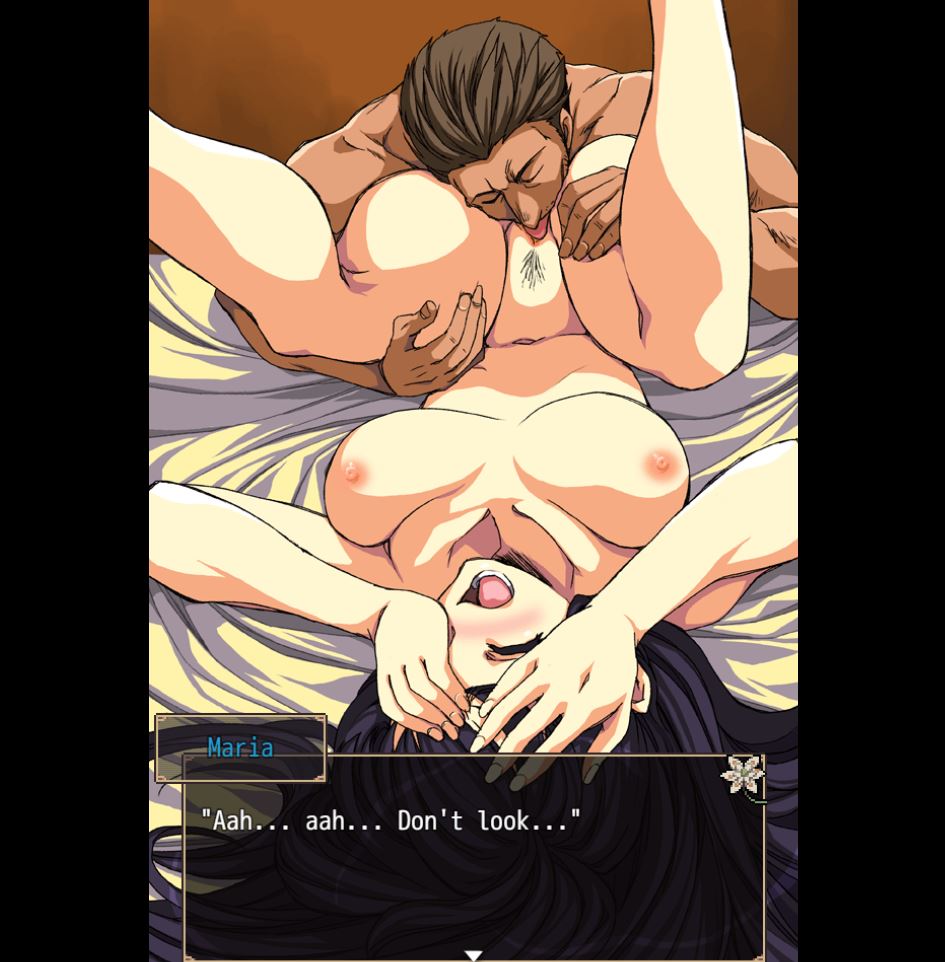 SOUND EFFECTS AND VOICE ACTING (SFX)
The game has partial Japanese voice acting. Only the male love interests are voiced. The acting is well done and suits their respective characters. I wish the female protagonist was voiced.
I recognized many of the sound effects in the game as royalty-free stock RPG sounds that appear in other titles. They still managed to fit their purpose and made the game more immersive. For example, choosing an option in the menu prompts a simple beep effect. Clicking the menu tabs prompts the sound of a page being flipped. Entering a place sets off a small bell, like you've just entered a store.
MUSIC
The soundtrack rocks a healthy variety of songs. Their style leans towards Victorian era music. The songs are acoustic, which fits the medieval fantasy setting of the game. Songs utilize instruments like flutes, pianos, and string instruments. The game gets points for not running every composition through a music program.
My favorite song played during Maria's first meeting with Walter, the necromancer. The whine of violins and faint tinkling of bells introduces him a man who deals with the dead. The atmosphere is heavy and dark. It was my favorite track because of how powerful and different it was compared to the numerous happy jingles.
GAMEPLAY
Despite being a mobile port, the gameplay translates nicely to the PC. It's more interactive than run of the mill visual novels. Standard controls apply. Click the text box to progress the story. Interact with the menu to enact different actions and enter different areas. It feels cumbersome at first, but you get used to it. It's a point-and-click game with visual novel elements.
Maria has to pay off the debts of her love interests to get laid. Click the 'Pay Debts' button and choose whose debts you want to pay. As you progress in relationship status, the payment for each debt rises.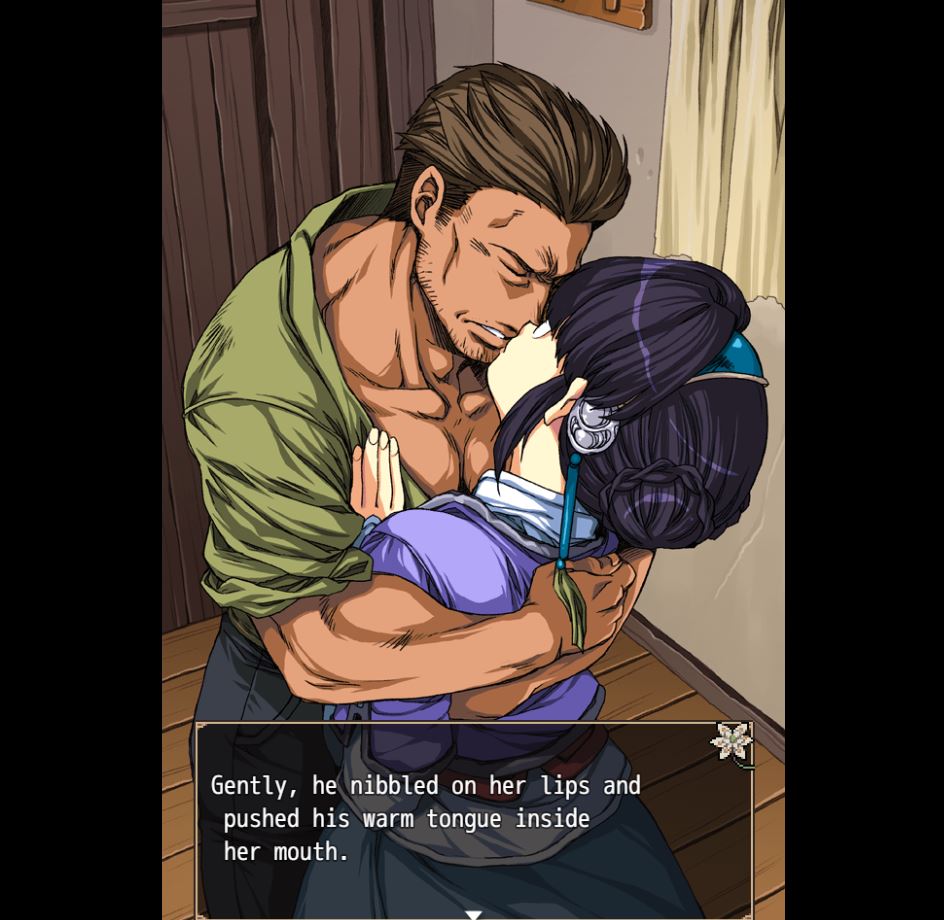 Maria can earn money by exploring various areas outside of town, such as the forest, prairie or catacombs. Hire her love interests as bodyguards at the guild, then choose an area to explore. The battle system consists of clicking the 'attack' button. You can also use a character's special skill. Walter for example can paralyze monsters.
When exploring an area, click the button that says 'Go forward' to move. Potions can be used during exploration and battles. You gather ingredients during exploration, you collect them by touching them with the mouse cursor. Maria can synthesize potions if she has gathered enough ingredients. She can only synthesize them at her home, so stocking up is recommended.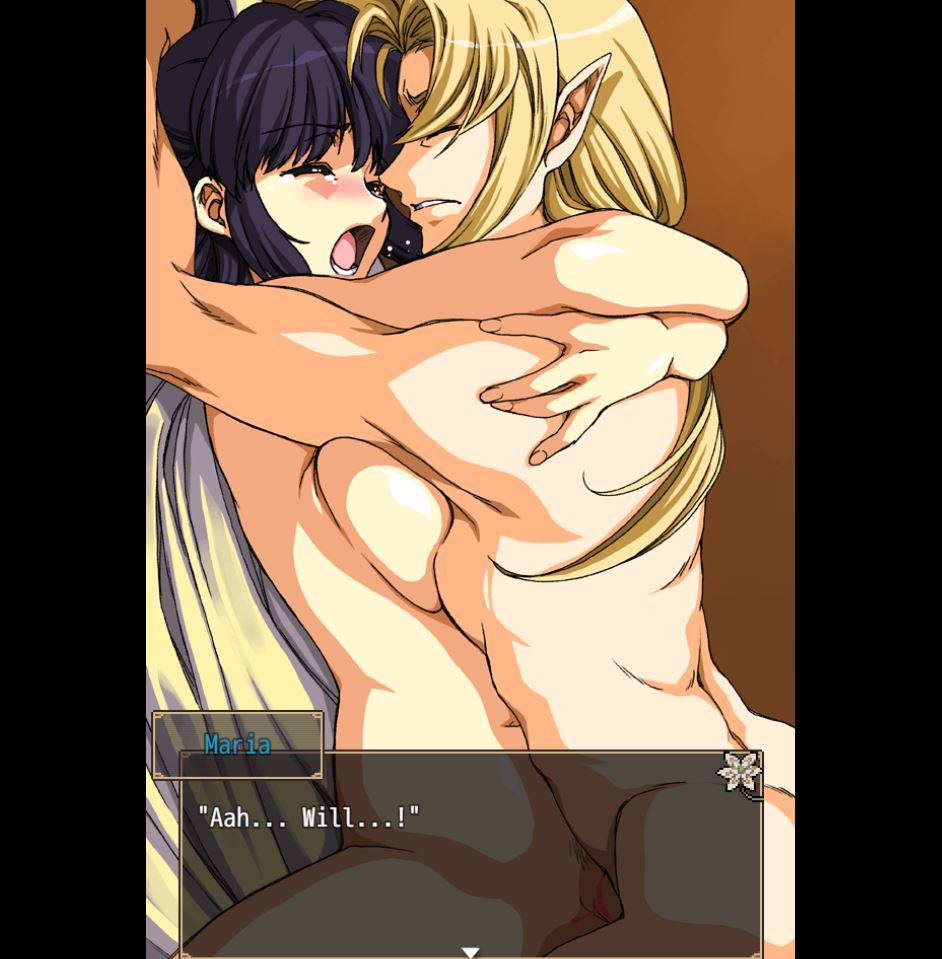 HENTAI
The hentai is descriptive and written wonderfully. The writing was obscenely flowery, but still enjoyable even if you have a dick instead of a vagina. The CGs are beautifully illustrated, with the men taking the dominant role. The men's personalities play into how aggressively they fuck.
The hentai content is narrated from the third person. The sex is very straightforward; The storyteller describes how the guys stick their hands under Maria's dress to rub her pussy. She's completely under their mercy. Some guys are more romantic and gentlemanly, with no idea what they're doing. The guy might fumbles with Maria's clothes, tentatively thrusting his fingers inside her. I guess sexual inexperience is hot for some girls.
The scenes are of decent length. There's no kinky fetishes explored, only vanilla sex. The hentai scenes aren't hard to unlock, but there's a fair bit of gameplay to get through before you reach them. It's worth the effort and plenty pleasurable if you're into sappy, romantic sex.
CONCLUSION
This game was a good change of pace for me from the typical hentai visual novels. It errs to the side of romance instead of unbridled fucking, but has good payoff in character development. Fans of romance and otome games will be extremely satisfied with The Bell Chimes for Gold. If you're a hentai fan looking for something sweet and mushy to cleanse your palette, check out this girly porn game.
You can download The Bell Chimes for Gold at Nutaku.net.