Written by Rastafoo69, edited by Otaku Apologist
From the creator of Niplheim's Hunter comes a prequel spin-off entitled, Lady of the Night – Branded Azel, which is currently being translated into English by Nutaku. If you missed our review of this incredible 9/10 hentai RPG, read it today.
This faptastic sequel to Niplheim's Hunter was developed by circle Black Train and released in Japan on September 1, 2017. It's available for PC Windows exclusively. Partial voice acting. Censored genitals. Free demo available at DLsite.com.
Before trying the demo, please read how to download DLsite games.
STORY
Azel is a traveling beast hunter who is hoping to find and kill the demon that branded her with a mark of lust. This mark makes her incredibly horny, all the time. She experiences earth-shaking orgasms at every thrust!
Azel encounters a beast that defeats her. She's kidnapped while unconscious and sold into slavery. She becomes a prostitute in the red light district! Can Azel use her body to earn her freedom? Or is she doomed to be a perverted fuck doll for life?
GAMEPLAY
While Niplheim's Hunter offered a free form RPG experience with the usual grinding for equipment and level-ups, Lady of the Night is more focused on simulation. Free roaming mechanics are replaced with a popularity system. Working in the brothel, Azel has to use "temptation commands" to get men into bed with her. Lick your lips, spread your legs, and maybe give a cute wink – players will have to learn the interests of the men and behave accordingly to get fucked!
Successfully banging men will earn you gold, which you can use to buy books. You learn new temptation techniques from books. Gold can also be used to advertise your services, and get more clients!
Every time you use a Temptation Command, you gain EP (Eros Points). When those points reach their maximum, an erotic scene will begin! Enjoy the view as Azel loses herself forces into an uncontrollable frenzy of lust.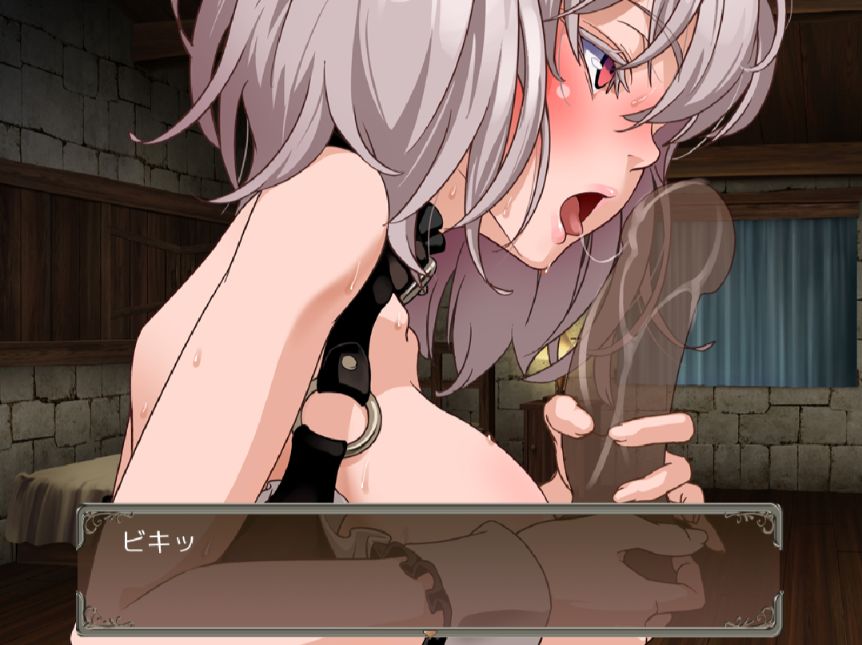 GRAPHICS
While Niplheim's Hunter placed heavy emphasis on fully animated cutscenes, Lady of the Night offers far more variety through pixel animation and image cut-ins. If you use a temptation technique that's perfect for the guy in front of you, an image cut-in will appear.
Each temptation command has its own unique pixel animation. From the wink to the leg spread, your choices directly affect the world around you, and its a truly satisfying erotic experience.
Of course, players can also hunt down the 12 unique sex scenes in this game, assuming pixel art doesn't do it for them. These 12 scenes have numerous image variations and small amounts of animation to keep players excited.
HENTAI
The pornographic content includes everything from handjobs to hardcore anal sex. The anal and vaginal sex has to be earned, but the game progresses quick enough that you won't be waiting too long.
A scene and art gallery is available from the in-game menu. The menu offers hints on how to unlock new scenes and grow Azel's popularity.
The primary fetish is seduction. Azel knows what to do, and what to say, to get a man to empty his balls and his pockets. She's got a fantastic body and she knows it, she flaunts it, because she's only interested in money and dick!
CONCLUDING WORDS
Currently, Lady of the Night is exclusively available in Japanese. As a prequel spinoff, many gamers have waited eagerly for its arrival, after playing the original Branded Azel. It's got gorgeous graphics, incredibly hot sex scenes, and the cutest protagonist in hentai gaming history.
Want to play the Japanese Demo? Click here. Remember to check out Niplheim's Hunter ~ Branded Azel.