Hardcore Hentai RPG Review: Tower of Aldia
Hentai Reviews

>

Featured

>

Hardcore Hentai RPG Review: Tower of Aldia
Written by Rastafoo69, edited by Otaku Apologist
Tower of Aldia, a hentai RPG developed by circle "o_m". Released September 4, 2020. Download on DLSite for $20.00. For Windows PC. Partial voice acting. Censored genitals.
Your little sister is painfully sick. Desperate for anything to save her, you head into the dangerous Tower of Aldia. Nobody has ever conquered this tower, and few come back alive. But this is your only chance to save your sister, you can't give up!
Read our guide how to download DLSite games.
STORY
Your default name is Layla, and your sister is Ruty, but you can change them at the start of the game. The setup is simple. The Tower of Aldia is said to have the power to grant any wish. However, nobody has ever gotten past the fourth floor! On the fifth floor is the power you are seeking.
Although the ending of the game is fantastic, the road there is bumpy. Like how "the air is intoxicating" and your protagonist passes out for a mandatory story scene. Or how NPC dialogue never changes throughout the game. Or how the dying sister trope kind of ruins the sexy hentai vibe.
The biggest flaw is that players can be fucked and creampied in battle, but if they kill the bad guy, it's never added to their sex stats. So the sex stats are inaccurate and the battle sex is constant, it gets really annoying. While the game says I won as a virgin, in actuality, I was penetrated every few seconds.
There are two primary endings and three erotic endings, for a total of five. The two primary endings are good or bad, depending on if you found all the flowers that Luti asked for. While the good ending is beautiful and heartwarming, the bad ending was surprisingly dark and seriously disturbing. Not everyone will make it out of this adventure alive, folks.
Discover more medieval fantasy hentai games we have reviewed over the years!
GAMEPLAY
Tower of Aldia was created in RPG Maker MV. There is an easy mode, if you can't handle normal. Press Shift to skip text. Right click to hide text boxes. Hold 'Z' to speed up battles. Press 'A' for auto-dialogue. There is no text log.
The game is 2-3 hours long. There are 5 floors to the tower, and your player level will probably be around 20 when you face the final boss. Finding all scenes in the game will extend playtime to 4 hours.
The slums are only accessible after clearing the first floor. Find agility boots in town to double your movement speed. Avoid the white circles on the map or you'll be creampied by monsters. Don't avoid the slums! There's an item shop there with a charm that will protect you from sexual harassment!
The core gameplay loop is the standard RPG experience. Kill enemies to level up and earn money which is spent on special equipment that will make you stronger. I recommend saving money for the Ruby Accessory that maxes out your magic power.
In the larger hentai market, this game is a typical release. Without any unique gameplay features to build addiction, the primary reason to play this game is the sex scenes.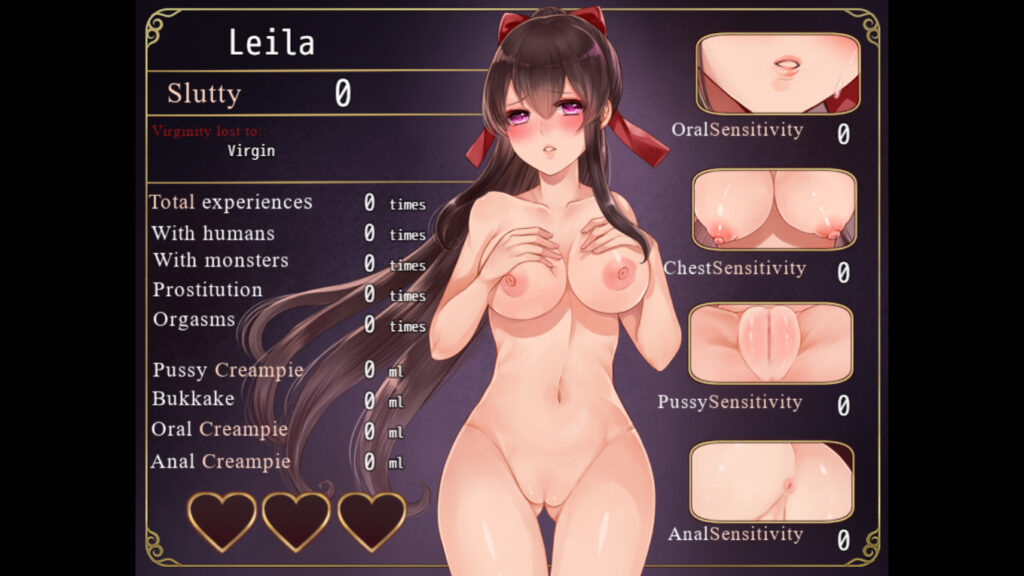 GRAPHICS
All illustrations were done by Oddrod. The DLSite page advertises 39 base CGs and +60 scenes. In actuality there are 25 base CGs for about 50 scenes. The numbers get inflated if you count outfit variations, dialogue changes for corruption, and the addition of dicks drawn on top of base CGs. These additions do make the scenes feel fresh and unique, but it is still noticeable that there are only 25 distinct poses.
The art in this game is simply fantastic. From the breasts to the facial expressions, this artist knows his stuff! I love how the thighs and ass are drawn so realistically regardless of the pose. Whether it's reverse cowgirl or the mating press, this artist demonstrates mastery of each position with vivid illustrations.
My favorite artistic touch of the game is how the two sisters actually look alike. From their eye color to their ears and shape of their faces, they genuinely look related and I love it. You can easily tell they're family.
The few instances of poor visuals are no fault of the artist, but rather, of the developer. Like how every bath, you start out covered in jizz, even if your character is pure and untouched. Things like this tend to break player immersion.
Another negative is the use of stock RPG Maker textures for the environment. Although these assets are used well, they'll still appear familiar to anyone who's played an RPG Maker MV game before. Thankfully, the dialogue and writing give the game enough personality to make up for these shortcomings.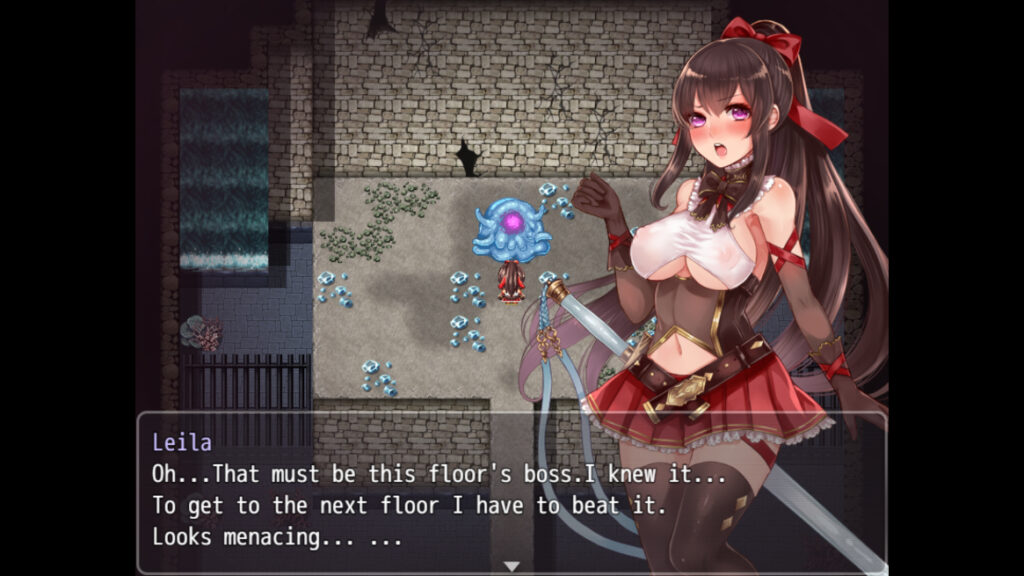 VOICE ACTING AND SOUND EFFECTS (SFX)
Tower of Aldia has partial voice acting. The two sisters are voiced by Sugar Salt for erotic moaning, battle cries, and bits of dialogue. My favorite moment was when my cute and lovable sister said "Onee-chan, daisuki!". Moments like this made it all worth while. I nearly died a thousand times, but hearing the gratitude of my sister made everything okay.
The general sound effects are a mixed bag. Outside of sex, the constant use of stock assets is rather unimpressive, and the noise for footsteps is so loud and rapid, it felt pretty unnecessary. However, the sound design in sex scenes is simply incredible. The moaning, the pounding, the liquidy squirt of a thick ejaculation, it was lovely. The sound design makes these sex scenes some of the greatest I've ever heard.
MUSIC
There are 51 music tracks in total. Rather than stock assets, the developer relied on licensed tracks from MusMus, Devil Soul, and a wide variety of other popular artists. This music was so impressive, I ended up saving some tracks for my own listening! The violins, the cymbals, and so many other instruments came together and mixed in a jazzy synth beat where the flute holds and carries the melody. Seriously, it was magical!
There's just one problem! Most tracks loop after only 30 seconds! Worst of all, it's very noticeable. Although the quality of the tracks is superb, the constant looping keeps this game from reaching true perfection.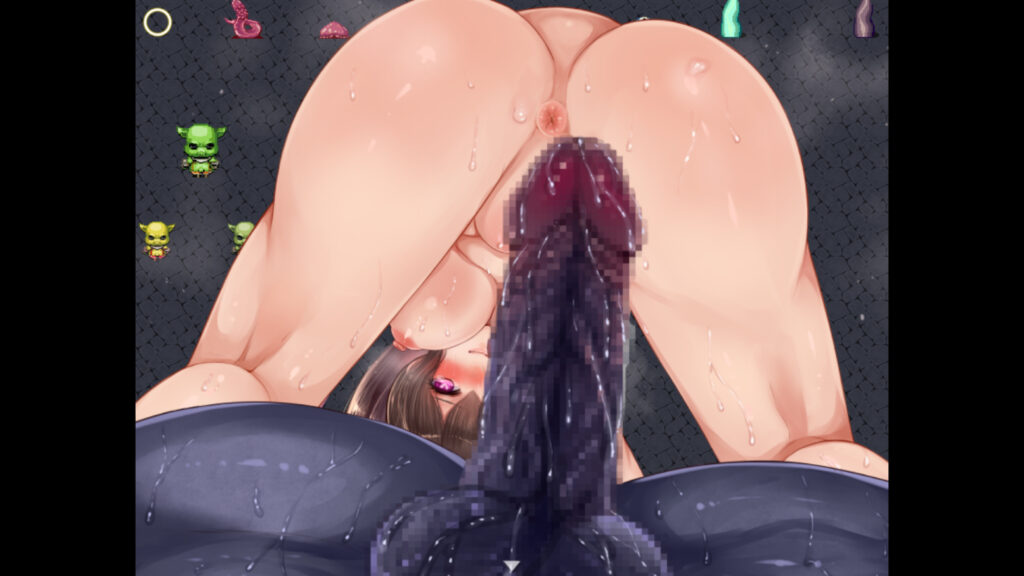 HENTAI
Tower of Aldia has about 50 scenes total, with CGs often repeating in a noticeable fashion. The home base features a recollection room with hints on where to find scenes. A sex shop in the slums has items to raise and lower your lewdness to help you locate all the scenes.
The frequently repeated CGs are bad enough, but the game also doesn't lend itself to erotic content. For example, prostitution pays very little, so you have no reason to do it. And with the dying sister plotline, the hentai doesn't flow naturally. Instead, it feels like you have to go out of your way to hunt down scenes. Speaking of the sister, she only has two scenes at the end of the game.
When you do find scenes however, they're awesome! Like when you get stuck inside a wall and a man finds your bare ass! The scene is told via a split-screen perspective, so you can see Layla's face alongside her pretty pussy. Another great scene was wandering the slums and walking into someone's tent. These men are horny as hell, and you're not leaving without relieving their cocks! You can fight them off of course, but I chose to lose that battle.
My only complaint about sex scenes is the lack of dialogue or visual indicators about losing your virginity. I sold my virginity at the brothel, and although the sex stats mention it, none of the characters in-game do. I wish my choices had more impact.
CONCLUDING WORDS
Tower of Aldia is a great RPG experience from a rather unknown indie developer. The visuals are gorgeous and the voice acting is phenomenal, but the basic gameplay and repeated CGs hold this back from being a true masterpiece. Still, the climax and ending of the story are enough for me to strongly recommend this title to anyone interested in adult RPG games.
Download Tower of Aldia. If you liked this game but want a happy and bouncy story instead, check out our review of Princess Project.
Graphics

Gameplay

Story

Music

SFX

Hentai