Written by Sabrina Valentine, edited by Otaku Apologist
Inugami: Doggy Dojo, a hentai visual novel developed by Norn/Miel and produced by Cherry Kiss Games. English localization released on May 2019. Download at Nutaku.net for $11.99. For PC Windows. Japanese voice acting. Censored genitals.
Kazuma is next in line to take over the family Dojo. But first, he must survive the hellish training from his overbearing father. Kazuma tries to escape to enjoy his holiday, but is quickly captured and shipped to a deserted island. When he wakes up, he discovers he has almost no supplies, or a way to get home. His only companion is a strange wolf girl who calls herself 'the demon of Inugami Island'.
Visit our perverted online store for more hardcore porn games.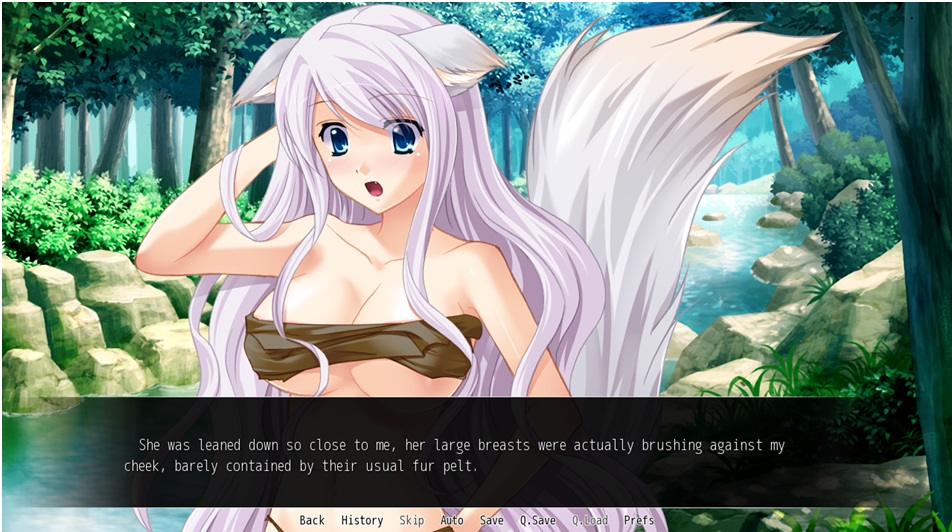 STORY
Kazuma is just like every other teenage boy, he desperately wants to dump his cum in some horny bitch's pussy. His overbearing father cockblocks him by forcing him to train to slay some demon everybody else in the family has already forgotten about.
Kazuma escapes but is captured off-screen and shipped to an island. There's no cell service, no technology. Kazuma finds a demon wolf creature in a cave. She's an inugami who transforms into a big-breasted, air-headed horny girl of his dreams.
The Inugami identifies herself as Tomoe and offers to fuck Kazuma every day of his life. The virtuous soldier declines the pussy! He insists on getting an education. Tomoe offers to train him into a proper warrior.
Inugami: Doggy Dojo has good writing. The first chapter leading up to meeting Tomoe is very boring and unfunny, but after that, the story improves. Most of your adventures on the island involve the same formula: You need to do something, you can't, Tomoe offers to fuck you if you do, you achieve task and pump her cunt. After the second fuck, you're bored with the formula.
CHARACTERS
Kazuma is a generic male hentai protagonist. He ticks off all the perverted anime boy tropes, like covering a checklist. His only virtue is his self-awareness of his uselessness. The game tries to lampshade this for humor, but the jokes don't hit the mark. The game tries to give him an arc where he becomes a better warrior, but with a cum bucket to bang whose affections he barely earned, it's not a good arc.
Tomoe is stunning. She is generic magical animal girl who is perpetually horny and loves Kazuma's cock any time of the day. She is playful, has a gorgeous body, and impressive tits, which are naked for most of the game. Her personality is lovable, but somewhat bland.
Despite focusing on only two characters, the story never tries to flesh out either character. The game takes 2-10 hours to complete which is more than enough time to give these characters some backstory. Kazuma is established as someone with aspirations, and a rocky relationship with his father. Tomoe is thousands of years old, and has been living by herself for centuries. None of that gets explored.
GRAPHICS
Inugami has amazingly beautiful artwork. It is more limited than the typical hentai game which makes me think the developers actually spent a lot of the budget making sure the artwork they put out will be good.
The backdrop for the island Kazuma visits is rich in colour and detail. Light and shadow is used expertly well. The beach area feels straight out of a tropical paradise. The forest and cave areas remind you of castaway series like Lost. The backdrops are not showcased nearly enough. They are usually covered almost completely by Tomoe's sprite.
Bodily proportions do not stay the same between images. Tomoe's breasts grow as big as the scene needs them to be. Her proportions are bigger in sex scenes than they are during normal conversations.
Tomoe's visual design is beautiful. Her hair is a mixed color of silver and light purple. She's the only character who got a sprite in this. Her tits are big and squishy, and her wolf form is just adorable. She barely wears any clothes, and constantly flashes inviting smiles.
The game's menu is distinctive from typical hentai games. The menu is simple, but the bright yellow colour scheme over the darkened backdrop, red buttons and orange text make for a lovely viewing experience.
GAMEPLAY
Inugami: Doggy Dojo is a visual novel. Clicking the textbox advances the story. It has normal visual novel functionalities, ie. buttons for 'skip' and 'auto' for hands-off play. You can replay any chapter and sex scene from the Gallery. You can view CGs after you've discovered them.
Throughout the game you are presented with choices. These choices have no material impact on the plot and deal mainly with which fetish scenario the player gets. There are no branching story arcs. There are more than enough save slots available.
SOUND EFFECTS AND VOICE ACTING (SFX)
Inugami: Doggy Dojo has full voice acting. Tomoe's voice actress sounds super horny even when she's not making slutty noises. She genuinely sounds like a clumsy wolf girl perpetually in heat. Her voice has a mischievous ring to it. Her moans are very sexy.
The game features a small library of sound effects, mostly nature. Waves break on the beach, seagulls scream in the distance, generic anime cicadas chrip in the forest. Meanwhile, the sex sounds are royalty-free stock material, or just cheap recordings.
MUSIC
The soundtrack is limited. Only two tracks stand out as distinctive. The other songs are so generic and similar to each other, they get wiped from your memory. Some songs are recycled from the developer's past titles.
Most of the songs use synthetic instruments, but also throw in real instruments like keyboards, triangles and saxophones. The end result is a bunch of disjointed melodies that feel hollow and repetitive.
The track that plays during H-scenes is dull. It's a generic, synthetic track with saxophones. Changes in the songs do not disturb play. Music loops continuously which becomes very annoying during long scenes.
HENTAI
Inugami features ten H-scenes between Tomoe and Kazuma. Each scene progresses their relationship further. Tomoe starts off by sucking Kazuma's dick without any romantic attachments – she's just horny and wants a dick in her mouth! As the game progresses, these sex scenes become longer and more intimate. Tomoe allows Kazuma to watch her masturbate before he licks her pussy.
She gives him a titjob using her spectacular breasts while she looks up longingly at the camera. In later scenes, Kazuma offers to impregnate her so she won't be alone on the island after he dies of old age. So romantic!
The sex scenes are lengthy enough that you'll definitely bust some sweet, sweet nuts while playing. The CGs are limited, but deliciously slutty. Tomoe's hot body is shown from every imaginable angle. She squirts from her nipples and her vagina when aroused.
CONCLUDING WORDS
Inugami: Doggy Dojo is a solid, but formulaic Japanese hentai visual novel. The art, the voice acting, the music, and the graphics are excellent on their own. The story could be better, but it's passable as fap fodder goes. The only glaring problem is the lack of variety of characters. You only fuck Tomoe throughout this sex adventure.
Recommend for lovers of sexy wolf girls. Download Inugami: Doggy Dojo.
Story

SFX

Music

Graphics

Gameplay

Hentai