Written by Rastafoo69, edited by Otaku Apologist
Horny Bunny Hana, a hentai RPG developed by Tonkotsu. Released December 13, 2019. Download on DLsite for $10.00. For PC Windows. Partial voice acting. Censored genitals. Download the English fan translation patch.
Good girl Hana has been cursed with the bunny outfit of a succubus! Unless she takes it off soon, she will become a demon girl!
Read our guide how to download DLSite games. Also consult our article how to apply translation patches.
STORY
Hana came to the capital city hoping to start her very own item shop, but those hopes were dashed when she got the succubus curse! Now, every night she is transported to the sealed lands to hunt demons and train to release the curse!
The writing in this game is hilarious. The guardian of the cursed land is a short girl named Shia, and you always treat her like a little kid. She's super cute, so if you want to, you can randomly sniff her bed sheets! This made me laugh so hard because she calls you out for doing that, saying you had no reason to be so weird.
The plot twist ending of the game felt super random. It turns out that Shia is a succubus, and the cursed lands were created by her people. This seems to contradict things from earlier in the story and felt very forced. Shia was originally shown to be a telepathic guardian of a mysterious land, but looks are deceiving!
The game punishes you for staying a virgin. In the virgin ending, Shia and the sealed land disappear forever and the story ends abruptly. You need to be a whore to get the happy endings. You need 31 fertilized eggs or sex with Shia. You're never told this in-game.
Having sex gives tons of money and stat boosts, so being a whore is basically easy mode. If you want the true ending, go slut it out!
GAMEPLAY
Horny Bunny Hana was created with Wolf RPG Editor, one of the greatest engines around. Move with the arrow keys. There is a game manual in the player bedroom explaining the controls. In particular, hold the Z key to speed up combat.
The game design is spectacular. You start out unable to leave your room. This encourages you to explore, find the manual, and read it. The manual tells you basic game mechanics like Lust and Libido. The developer nudges the player to learn to play naturally. For example, you cannot leave the starting room because your libido is maxed out. Your character needs to masturbate before doing anything else.
As the men in the bar grope and fondle Hana, they'll slowly begin to push boundaries and propose sex acts. This unlocks prostitution, which is great for money and stat boosts. Since you are slowly becoming a succubus, you cannot become pregnant. Instead, sex gives you power!
The game has a wide variety of quirks that make it a super interesting experience. For example, you can customize your skill loadout depending on enemy weaknesses. If you hate fighting, become a whore and earn new titles.
This game takes 5 hours on a virgin playthrough, and 8 hours if you hunt all the scenes. Once you're tired of level grinding, go whore yourself out. After you're done getting your release, get back to dungeons and unlock new skills! It's the perfect game cycle for an eroge!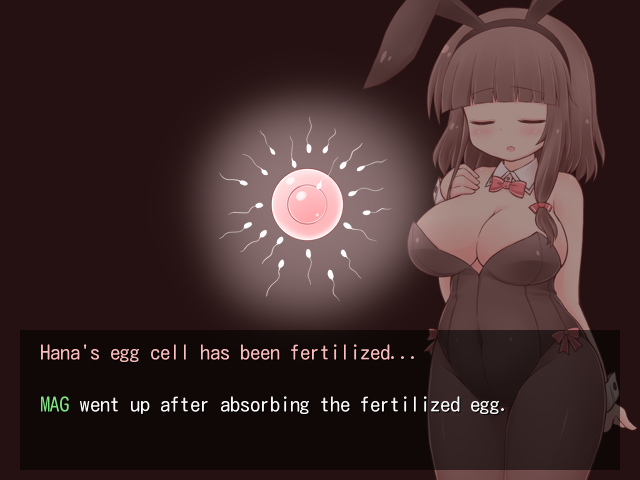 GRAPHICS
The art is drawn in the Japanese anime style. There are 27 CGs spread across 61 scenes.
The artist is incredibly talented, and manages a wide variety of perspectives and positions. You get to see the girls' bodies from a variety of angles. An x-ray view allows you to see inside the pussy as it gets flooded with cum! And after a successful breeding, you can see the sperm cells rushing toward the egg!
Rather than forcing the player to slug through random encounters, enemies roam the dungeons as icons. Some enemies have a red color, which indicates they're extra dangerous! This feature goes under-used. I wish the super enemies appeared more often.
The pixel art in this game is just plain gorgeous! The bar is full of food and drinks on the tables for the patrons to enjoy. Even though the entire game takes place in the bar and the sealed lands, the world feels alive.
VOICE ACTING AND SOUND EFFECTS (SFX)
Horny Bunny Hana has partial voice acting, primarily moaning during sex scenes. You never hear full lines, but the moaning is incredibly hot!
The sound effects in this game are standard assets for the Wolf RPG Editor Engine. They all fit the game without going overboard. Even during sex scenes, the sound effects for insertion and ejaculation are erotic without distracting from the moaning. In-combat sound design is also great, with variations for magic type or the type of attacks you're using. The developer did a great job, this title is a perfect example of sound design done right.
MUSIC
The soundtrack has 37 unique songs, many of which are licensed or made by this developer. Some tracks are never used, but it's still a great time when a brand new song begins to play.
Violin and piano come together to produce a fast-paced combat beat. Some tracks even have vocals as a woman harmonizes her voice with a "la la la" in the background. It was genuinely comforting and relaxing. One track sounds exactly like a children's music box, while another track has running water in the background. Undeniably, these tracks are fantastic.
HENTAI
The game has 61 scenes in total, illustrated via 27 sexy CGs.
The beginning hours of this game are purely focused on masturbation. The true ending features a lesbian relationship. And although eggs are fertilized, Hana can never actually become pregnant due to the succubus curse. These and many other quirks make this game a unique experience that's not for everyone.
You start out as a virgin, and achieving the true ending requires that you become a total whore. All of your sexual exploits are recorded in the pause menu. These sex stats also track your fertility level, in case you're trying to get fertilized, or avoid pregnancy. Certain items will affect your fertility like the ovulation drug, so keep that in mind.
The corruption and escalation in this game is done masterfully. Somebody caught you masturbating! You must buy their silence by showing them your bare breasts! They can look but not touch, so instead they start jerking off! Later on, a customer wants to grope Hana's ass and promises you money if you allow it! Will she really take the first steps to becoming a paid prostitute?
First she gives her first kiss, then her first blowjob, and soon she receives her first creampie! The old men who come to the pub absolutely adore her! While Hana starts the game as an innocent gal, she soon becomes a well known whore!
CONCLUDING WORDS
Horny Bunny Hana is an incredibly erotic RPG with some unique quirks. Your eggs get fertilized, but you can't get pregnant. If you stay a virgin, you get the bad ending. You can't leave the player home, but you can teleport to a land of demons. This game is unlike any other I've played so far, and I'm glad to say I've beaten, and beaten to, this instant hentai game classic.
If you love watching a busty bunny girl take creampies from old men, Download Horny Bunny Hana. If you prefer men of all ages, check out our review of Breath of Fire and Iron!
Graphics

Gameplay

Story

Music

SFX

Hentai