Written by Rastafoo69, edited by Otaku Apologist
Forest of the Beasts, a hentai action game developed by oneLegNinja. Released May 8, 2019. Download on Nutaku for $3.50. For PC Windows. No voice acting. Uncensored genitals. Available in English, Chinese, and Japanese.
It's the story of a busty warrior woman fighting monsters during their mating season! She's not some shy bitchy virgin, but a hard-boiled slut who can take the biggest cocks with absolute ease!
STORY
Megumi and her people have recently migrated to a new area filled with monsters to hunt. Unfortunately for her, her best scouts have gotten lost in the forest! Looks like it's time to take on the challenge and track them all down!
The story is explained on the store page for the game. Playing the game directly will leave you dazed and confused, because nothing is really explained.
Spelling errors are common during written cutscenes. These scenes are few and far between, but always immersion breaking. To misspell the word "beast" as "beats" is just sad. It seems so unprofessional for such a good looking game.
Megumi has a history of being a total slut. The very first guy she speaks to asks her for sex, and she says they did it yesterday. It seems like her only two personality traits are fighting and sex.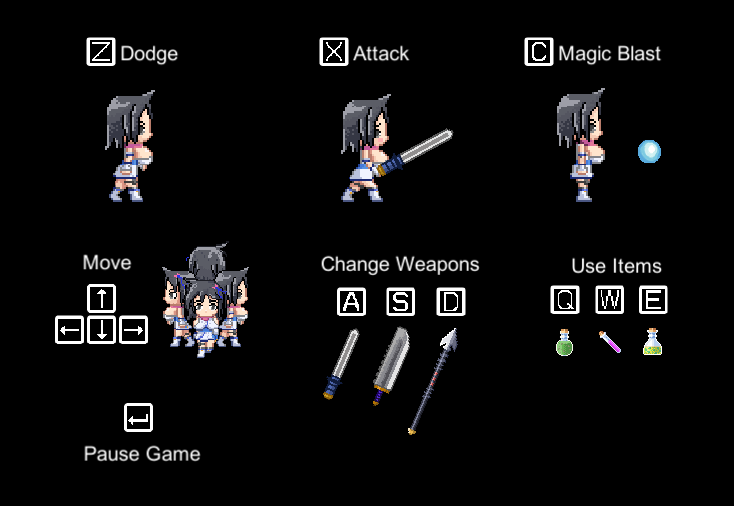 GAMEPLAY
Move with arrow keys. Press Z to dodge. Press X to attack. Press C to cast spells. Press 'ASD' to change weapons. Press 'QWE' to use items. Press Enter to pause.
The game was created with the Unity game engine, and functions as a top down action game. As a fast-paced title, learning the controls is crucial to success.
Dodging is rarely useful, since it can never interrupt a combat animation. Casting spells is never useful, because it does no damage.
There are three weapons to choose from, each with its own benefits and drawbacks. The spear does long range damage in front of you. The Shortsword does quick and heavy damage close to you. The machete does damage to all enemies in the front and at your sides.
The game needs some polish. Many aspects break the game and bring your experience to a stand still. For example, being caught between a horny monster, horny tree vines, and a wall, ensures you will be stuck in place for at least the next three minutes. There is no cooldown for the sexual harassment animations.
Some enemies have horrible path finding and will only attack if you are directly on their left or right. This means you can attack them from above or below, and they'll just stand still to take it.
In spite of all this, the game is very enjoyable. Rather than level ups, players are tasked with tracking down magic stones that will permanently boost their stats. Pair this with an item management system and ever stronger enemies, and you're facing a fun but fair challenge.
GRAPHICS
The visual presentation is primarily pixel art. Although dialogue and death scenes have an anime style CG image, they are rare when compared to the large amount of pixel animations throughout this title.
There are 11 enemies in the game. Each is given unique animations for combat and sex scenes. Almost all enemies have routine walk cycles to help you avoid them if your health is low. However, if an enemy sees you, there's a chance they'll run toward you, leading to a fight.
The pause menu features a map and teleportation system, to easily allow you to traverse the world. Alongside the teleportation system is a log of all unique items found in a region. Collect them all to maximize your power and breeze through the later stages!
VOICE ACTING AND SOUND EFFECTS (SFX)
Forest Of The Beasts has no voice acting.
Sound effects are frequently used throughout the game to enhance the user experience through audio feedback for your actions. In particular, there are unique sounds for each weapon and attack. This is especially useful when you're not sure if your attacks are connecting or not, because you can hear and then adjust accordingly.
MUSIC
There are a handful of music tracks in the game, most of which are forgettable adventure music. Still, when dialogue or special events occur, the music truly shines. For example, the placement of triumphant song marks your victory! The orchestral tune of violins and horned instruments come together to give a strong sense of satisfaction.
HENTAI
With about 15 hentai animations, you would think that this game is incredibly hot! Sadly, that's not true.
Many animations are done in such a way that you can barely tell what's going on. Even worse is how often these animations repeat. Chances are, you'll see every animation at least 50 times throughout your playthrough. The enemies just keep running up and fucking you. After the 40th time, it's not hot anymore!
Enemies with hearts above their head will pounce you, so if you have room to run, you'll be able to avoid another animation loop.
With each sexual encounter, Megumi will earn more sexual experience, which is tracked in the pause menu. You can try to keep her pure, but later levels are cramped and you will be forced into sex against your will.
CONCLUDING WORDS
Forest Of The Beasts is a fast paced action rpg with tons of hentai animations to discover. The visuals are great, the story is simple, and the music enhances the experience greatly. If you're looking for a fun monster sex game, this one is sure to please.
I recommend this game to all hentai gamers. Download Forest Of The Beasts.
Graphics

Gameplay

Story

Music

SFX

Hentai