Hentai Visual Novel Review: Nakadashi Banzai
Hentai Reviews

>

Reviews

>

Hentai Visual Novel Review: Nakadashi Banzai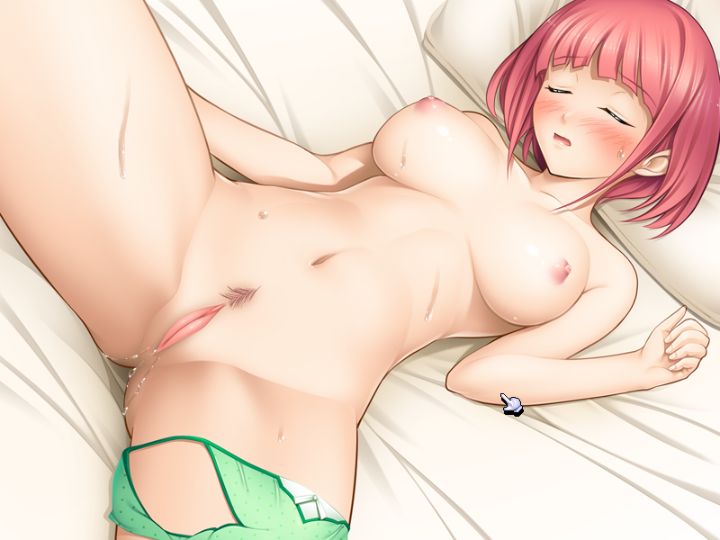 Written by Rastafoo69, edited by Otaku Apologist
Nakadashi Banzai, a hentai visual novel developed by UmeSoft. Released on October 12, 2016. Download on Nutaku for $15.00. Download on Erogames.com for $14.90. For Windows PC. Full Japanese voice acting. Uncensored genitals.
You're a man who lives his life by "The Three F's": Flirt, Fuck, and Finish inside! You have three girls to choose from. Seduce them, and creampie them on the same day as you meet them! Become the ultimate pickup artist, and drop your load in these babes!
There are currently six installments in the Nakadashi Banzai series. Read our review of the fourth game.
Note: The Nutaku version is only available on PC Windows. The Eroges version also plays on mobile devices.
STORY
You are a master pickup artist who loves to engage in "nakadashi", which means creampies! Seduce these women, creampie their pussies, then never call em again! You are such an asshole!
The plot of the game is divided into three parts. There is no overarching story, just pump em and dump em!
The first lady is Kotomi Shida, a shy and humble girl looking for a job in town. Under the pretense of an interview, you convince her to come back to your hotel room and show some skin.
The second lady is Kozue Kaji, a sexually repressed housewife who isn't satisfied by her husband. By pretending to ask her survey questions, you'll be able to lower her guard and possibly even her panties.
The third lady is Berika Honjo, a petite virgin tsundere who is completely inexperienced with dating. With just a small bit of manipulation, you can convince her that sex on the first date is common. Her virginity is yours if you choose the right words!
The game is very well written. You'll probably forget you're even playing a game, because the writing is so realistic. When you cross the line and act too horny, the girl will become suspicious of your true intentions.
Seducing the girls requires you learn their personalities and how to relate with them. You need to know when to push and when to pull. People on the autism spectrum will find this game impossible to complete.
GAMEPLAY
Nakadashi Banzai is a visual novel with numerous features standard to the genre. Press M for pause menu. Press S to quicksave. Press L to quick-load. Press A to automatically progress dialogue. Press V for voice replay. Press CTRL to fast-forward dialogue.
Press F1 to open the game manual. This lists all the game controls as well as character bios. Be warned that the manual may contain minor spoilers to the story and game events. The game has 2-4 hours of content, depending on reading speed.
There are countless choices throughout the game. As you talk to your waifu and learn her personality quirks, you'll be able to better identify which dialogue options will earn her trust. Talk smooth and you'll get your dick wet.
For example, when you see a girl holding something, you can either ask loudly, "IS THAT A DIRTY MAGAZINE???" Or, you can ask casually, "What's that in your hand?" Some girls like the brash and loud approach, others don't.
Even if you're not horny, this game is a ton of fun. Act as autistic as you want, and watch the girls get wide eyed and flustered. It's totally hilarious and gives the game a sense of freedom.
Before seducing a girl, you'll have to find her. Choose your direction and activities as you wander the town. You'll meet lots of girls you can't actually fuck. Only three encounters will lead to actual seduction, so be sure to search thoroughly!
GRAPHICS
The art is classic Japanese anime style. The imagery repeats a lot.
There are only two locations in the game, and only two background images: The public streets, and the hotel bedroom. Thank goodness this game is short, or the visuals would get very annoying.
The protagonist dick size is inconsistent. Sometimes it looks to be 7 inches, sometimes it's literally a foot long. Why does his dick size change depending on which girl he is seducing?
Sex scenes have numerous moments where actions are being described without an image to accompany it. Say for example, your character is groping the girl. There's no visual feedback on that. All you see is the standard character sprite.
VOICE ACTING AND SOUND EFFECTS (SFX)
All characters in the game have voice actors behind them that fit their personalities.
The voice acting is unique, cute, and very bold. From the sultry tone of the older housewife, to the high pitched squeal of a young virgin, each girl is instantly recognizable by voice.
Many voice performances seem like they could have come from an anime. From a shocked gasp to a quiet murmur, these are professional performances with significant range that fit absolutely perfectly with the visuals and dialogue.
Sound effects are frequently and skillfully used throughout the game to emphasize funny and dramatic moments. A grouping of low notes on a piano signify that something bad has happened, and it serves your cue to pay attention.
MUSIC
The soundtrack includes only a handful of tracks, and though they are unique, they are also very forgettable.
I'm not sure if this was intentional by the developers, but any attempt to skip dialogue will reset the music track so it starts from the beginning. If you skip even a tiny bit of dialogue, the song replays itself from the start.
The best track is the one that plays in the hentai scenes. It smoothly mixes violin, guitar, and bass together! The musician balanced the three instruments to create a soft and slow tone. It's very sexy.
HENTAI
Nakadashi Banzai features 21 porn scenes in total. Each scene has a unique CG with sexy dialogue to accompany.
The entire story is told from a first person perspective, so you can really sense the thrill and excitement of being a pickup artist. Whether its romance, lust, or trickery, each girl has her own reason for opening her legs for your cock.
Each girl has seven scenes to explore. Making different choices in the bedroom will unlock new scenes, meaning that multiple playthroughs are required to complete the gallery. The H-Scene gallery is available from the main menu.
My favorite scenes are obviously the cheating housewife. She hasn't been satisfied by her man, so she's cheating on him with your young and vigorous cock! To creampie a married woman and walk away like that, is the ultimate fantasy for many young and horny men.
Considering the game is called "Nakadashi Banzai", its only natural that heavy emphasis is placed on the nakadashi (creampie). The girl will ask you to use a condom, she'll ask you to pull out, she'll ask you for your phone number – but ain't nobody got time for that!
The game ends when you creampie the virgin, give her a fake phone number, and skip town, never to be seen again. You're like the ghost of creampie's past, dropping a load and dropping all contact. Its pretty harsh, but its just hentai, so its still pretty hot as wish fulfillment.
CONCLUDING WORDS
Nakadashi Banzai is a fantastic creampie experience for girls and guys who love sex. The dialogue is engaging, the women are gorgeous, and the voice acting is perfect! If you're looking for a guaranteed good time, this game is for you.
I recommend this to fans of creampie sex. Download on Nutaku. Download on Erogames.com.
Graphics

Gameplay

Story

Music

SFX

Hentai