Written by jin0uga, edited by Otaku Apologist
I Walk Among Zombies Vol 1, a hentai visual novel developed by Seacoxx and published by Denpasoft. Released on December 18, 2018. Download on Steam for $14.99. For PC Windows. Full voice acting. Uncensored genitals.
Play as a morally bankrupt man who uses his immunity to zombies to get pussy. With the world gone to shit, no one will stop him. Fuck girls and make them into your little bitches in the post-apocalypse!
Discover more high quality hentai games we've reviewed at our webstore.
STORY
Society is utterly wrecked by a strange virus. The main character, Yuusuke, is cooped up in his room playing video games while everyone else is dying screaming. As he leaves his home to get food, he is attacked. He barely gets away with his life and passes out on his bed. Despite the virus having a hundred percent fatality rate, Yuusuke survives.
Naively thinking that the ferociousness of zombies were exaggerated, he wanders out of his home. On his way out, he rescues a mother and her daughter. They escape the building, but are immediately swarmed by hungry zombies. Yuusuke witnesses them being torn apart and finally realises the world he's known has truly ended.
The premise of I Walk Among Zombies is not a new one, but it does enough to set itself apart from other stories of this genre. Yuusuke, for one, is not heroic. He's a regular person, weak to the temptation that comes with his newfound power. It gets annoying how he tries to excuse his morally corrupt actions by convincing himself that what he does is rational. In the case of Mitsuki, he makes her prostitute herself in return for keeping her and her brothers fed. That's our hero, folks!
Unlike zombies in typical fiction of this type, the undead in this story are fast, on par with the speed of a human. You learn more about them through Yuusuke's observations. As the plot progresses, Yuusuke begins to unravel the mystery around the zombies.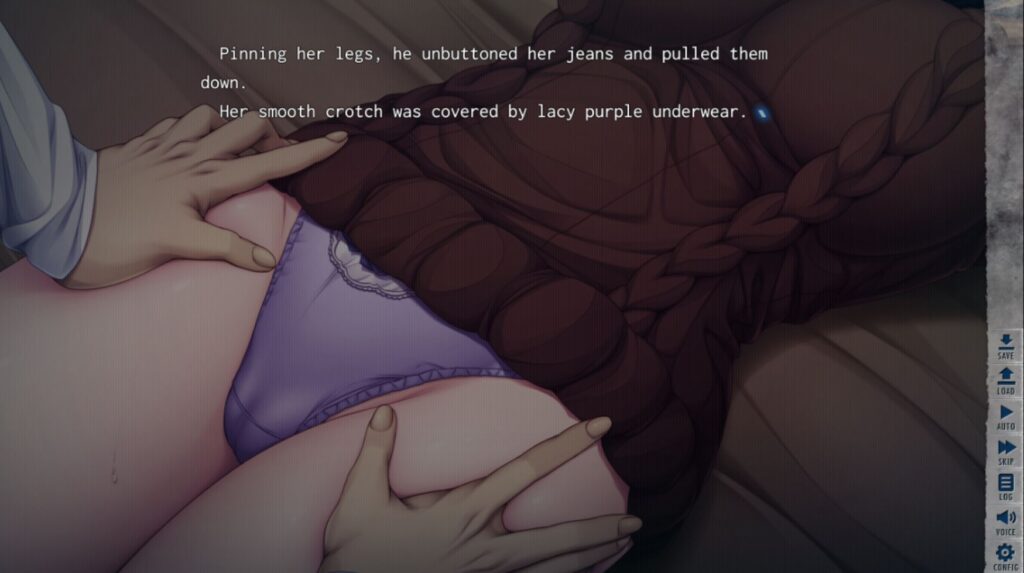 CHARACTERS
Yuusuke Takemura is a jobless twenty five year old wreckage of a man. He's the protagonist. Though some of his actions are morally questionable, he tries his best to navigate his way in the post-apocalyptic world.
Kurose is Yuusuke's apartment neighbor. When the world was still functioning, she was a typical, soulless female employee with zero personality who would get sexually harassed by her co-workers.
Mitsuki Fujiko is a teenage girl who Yuusuke encounters during his scavenging. She's saddled with two younger brothers after the rest of her family was attacked and eaten.
GRAPHICS
I Walk Among Zombies has a Japanese anime art style. Background and characters are crisp with detail. Kurose is described having curves to die for, and it's reflected in her visual design. Her breasts and thighs are plump and delicious. The angles of her hips and the slight curve to her taut stomach is mouth-watering. Likewise, Mitsuki is also attractive, though not as impressive as Kurose.
The colour palette is sharp and vibrant. The shading on characters is done extremely well, one example being the glazed look to Kurose's eyes. Her gaze is vacant and reflected by the dusky red of her pupils.
SOUND EFFECTS AND VOICE ACTING (SFX)
The game has voice acting. Only the main character isn't voiced. The voice actors do a good job and each character sounds distinct. The VA for Mitsuki is decent in normal dialogue, but absolutely shines during the hentai. Her gasps and moans will get you hard.
I was impressed by the wide range of sound effects. When the fridge is opened, objects clink together, and the suction of rubber is heard. When a human gets mauled by a zombie, you'll hear the gruesome sound of flesh being torn as the people are devoured. The sheer number of different sounds make the game come alive.
MUSIC
The game's title screen immediately opens with a heart thumping orchestral track. The ominous sound effects in the background are overwhelmed by vicious violins played in tandem. The song instantly sets the mood.
After the opening dream sequence, we're introduced to the main character waking up in a frenzy. In the wake of silence, a melancholic song starts to play. I particularly liked this tune. It has a nice blend of instruments and a unique violin. Leading the slow piano tune in the background, the scratchy violin is something I've never heard before. I can't tell if the coarseness of the violin is done on purpose, but it made for a splendidly depressing song. The game's soundtrack is wonderful. Each song is almost perfectly suited for the scene they play in.
GAMEPLAY
I Walk Among Zombies is a kinetic novel. There are no choices to be made. The story is linear.
Click the screen to 'turn' the page and progress the story. Unlike regular visual novels which place text at the bottom of the screen in a textbox, this game uses a more novel-like format. Words are overlaid on background art and CGs. You can easily view the CGs without the overlay using the spacebar. I didn't have problems reading since the font is decently sized.
HENTAI
Hentai scenes are lengthy and deliciously erotic. The plentiful descriptions are accompanied by sound effects, like moans and soft squelches of Yuusuke's dick ploughing into a pussy. The sex is vanilla, save for the times Yuusuke has sex with fresh zombies. It might sound gross, but the ones he chooses to fuck are lifelike and injury free, like regulars humans.
The first scene sees Yuusuke raping Kurose, his voluptuous neighbour turned zombie. Her corpse is perfectly unharmed, and he's aroused by her gorgeous curves. She's totally vacant as he leads her to her bed and undresses her. She shows no emotion or reaction as he moistures her vagina before stuffing his cock inside her.
You don't get the same thrill as watching a sexy anime girl get raped, but it's arousing how Yuusuke uses Kurose as a meat sleeve. When he discovers she was being harassed at work, he half-heartedly apologizes before filling her insides with cum. He's quite the bastard, but it makes the hentai that much more stimulating.
Throughout the visual novel, it's common for Yuusuke to take full advantage of the death and destruction caused by the zombies. He gets laid like a motherfucker while everyone is fighting to survive. There's tons of hot sex scenes to use as fap material.
CONCLUDING WORDS
I Walk Among Zombies has a competent story and a number of well written hentai scenes. The production quality is impressive, with very immersive sound effects and voice acting. The horror aspects are tastefully done, and make for a thrilling experience.
You can download this game on Steam. Also check out the below amazing porn service, highly recommended.
Story

Graphics

SFX

Music

Gameplay

Hentai