Written by Rastafoo69, edited by Otaku Apologist
The Dungeon of Lulu Farea, a hentai RPG developed by Galaxy Wars. Released November 30, 2014. Download on DLSite for $10.00. For PC Windows. Available in English and Japanese. No voice acting. Censored genitals.
Klurs saved up money to buy armor, and has finally joined in the effort to plunder the dungeon of Lulu Farea. Hoping to meet many sexy monster girls along the way, will Klurs be able to pound every pussy?
Before trying this game, please read our guide how to download DLSite games.
STORY
Klurs has spent years dreaming of the day he plunders the dungeon of Lulu Farea. He's not looking for treasure or fame, he's hunting for pussy! His goal is to knock out the male monsters and seduce the female monsters!
The story is simple, but the lore of the game is incredibly detailed. Every plot point is given tons of explanation. The player has a realistic world to explore. From the culture of demon-kind, to the history of the human world, everything is fully explained in an engaging manner that entertains.
This game has some of the best written dialogue I've ever seen. The roster of characters features tsunderes, traditional girls, and even a hopeless romantic zombie girl! Each character has a unique personality. For example, the zombie girl is a virgin because no man is attracted to zombies.
Many in-game mechanics are explained through the lore. The protagonist of the story never kills monsters. He instead knocks them out in combat. Because you never kill a monster, you never get to level up. You grow stronger by picking up "Goddess Shards" that boost your strength and defense.
Although the puzzles are stressful, the dialogue and character interactions make them worth the while! For example, when you win a battle and the slime girl tries to clap her hands for you, she makes sloshing sounds like gelatin, and you remind her that she can't actually clap. It's so random and unexpected, but also funny.
There are two endings to this game. You unlock the normal ending if you lose your final battle to Farea. The perfect ending requires that you win against her. Some players say the ending was way too rushed, like the developer wanted to set up a sequel. Other players say it was satisfying and they cried their eyes out. Without giving spoilers, I can confirm he was just setting up a sequel, which has already been released.
Even though the dialogue and lore were fantastic, the lack of an overall plot stops this game from being perfect.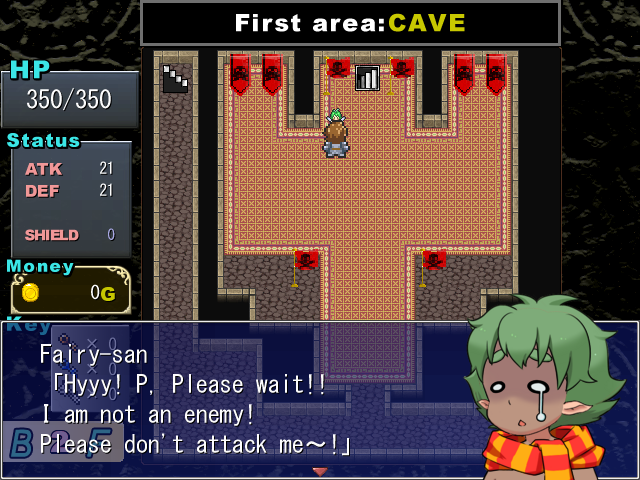 GAMEPLAY
The Dungeon of Lulu Farea was created with the Wolf RPG Editor, the best engine on the market. You move with the arrow keys and press spacebar to interact with objects and people. Press CTRL to skip dialogue.
The entire game is focused on a single dungeon with 60 floors. Although there are battle and maze mechanics, this is more accurately described as a puzzle game.
Players need to juggle their resources: Keys, health points, gold, and stat boosting items. Whether it's saving keys, or trying to minimize damage to save health points, you need to think carefully about every decision you make. For example, gold is only found by killing monsters, but they do not respawn after being defeated. If you waste all your gold, you will be unable to get more and never beat the game. The same applies to keys and other items.
Simply put, you will be forced to start the game over, many times. Each playthrough, you'll learn a bit more about the game mechanics and how to progress. This gets infuriating, so thank God there's a cheat room!
A walkthrough or game guide is absolutely essential to completing this game. I promise you, no matter how good you are, you will eventually run out of money or keys, and have to start the game over. Some would call this "tense" or "difficult" – I call it pure bullshit. The gameplay was great in concept, but incredibly irritating in execution.
GRAPHICS
The art is classic Japanese anime style. The game is almost entirely unique assets and CGs. It's a visually refreshing experience among RPG Maker games.
Each character looks completely unique while still remaining stylistically consistent. From the slime girl without hands, to the furry chick with huge tits, the artist crafted an incredibly diverse cast.
Chibi art is used frequently for comedic effect during dialogue. Some moments are cute and comical, it made me think the artist should be drawing for anime studios. The enemy artworks seem to be made by a completely different artist, and some are almost certainly stock assets. This change in art style clashes with the overall visuals, and makes for an inconsistent experience.
Although there are 27 base scenes, there are nearly 250 CGs for the hentai scenes. This means that on average, every scene has eight variation images. And these are erotic scenes only! If you include cut-in images and chibi artworks, there are many hundreds of unique art assets spread out across the game.
There are two versions of this game: 1.0 & 2.0. The DLSite promotional images are from 1.0, while the images in this review are from 2.0. Changes in graphics and textures are minor, but generally beneficial.
VOICE ACTING AND SOUND EFFECTS (SFX)
The Dungeon of Lulu Farea has no voice acting.
The sound effects are magnificent. You have the erotic sounds of a dick dipping into a vagina, a slamming noise for dramatic moments, and much more. Even when characters react to exciting topics, there's an audio cue to indicate the surprising nature of the scene. With hundreds of sound assets sprinkled across the experience, this title is masterfully crafted.
MUSIC
There are 110 songs in this game, mixed between original tracks and a minority of stock assets.
All tracks are digitally synthesized with tones and beeps, alongside real instruments like drums and bass guitar. Most tracks loop after a minute, but battles never last long enough for you to notice. My favorite track had this funny and quaint melody with bells, flutes, and wind chimes. The variety of tracks is strong, but few are particularly memorable.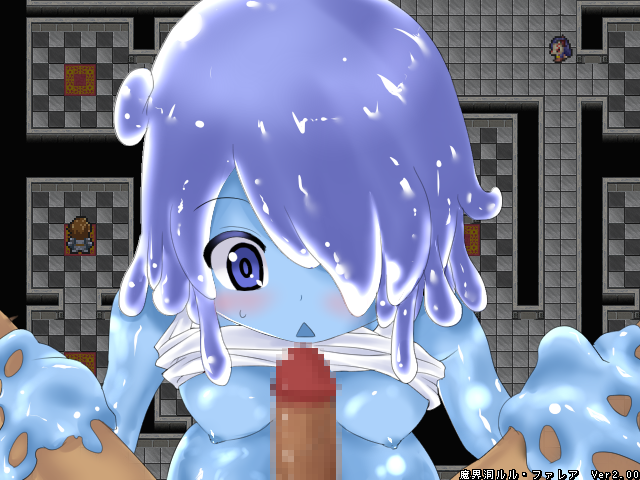 HENTAI
The game has 27 base scenes with nearly 250 erotic artworks in total.
Every scene in this game is downright incredible. With over ten girls to choose from, you can enjoy deflowering and dropping a thick load into their virgin monster girl pussies. Every girl is a virgin at the start of the game.
From busty to petite, from slime to furry, every fetish is completely covered! Most girls have two or more events to be found, with all sorts of sex positions including the missionary, doggystyle, titfucks, blowjobs, and even a unique footjob scene!
My favorite scene was the cat-girl one, due to the erotic dialogue. She's so quick to overthink things and say "If I lick his cock, I wonder how he'll react?" – her curiosity and virgin innocence are wonderful, I almost came right then and there! Add in some romance and a blossoming crush, and you have some of the greatest hentai scenes ever!
CONCLUDING WORDS
The Dungeon of Lulu Farea is one of the best harem hentai RPGs I have ever played. Lovable characters, interesting lore, and unique gameplay draw you in to the experience. Sexy creampies and all types of demon girl sex will keep you around for more! If you've been looking for a quality adult RPG, check this one out!
I highly recommend this game to harem anime fans. Download The Dungeon of Lulu Farea.
Graphics

Gameplay

Story

Music

SFX

Hentai