Hentai Visual Novel: Crystal City, Stop the Earth, I'm Getting Off
Hentai Reviews

>

Reviews

>

Hentai Visual Novel: Crystal City, Stop the Earth, I'm Getting Off
Written by Mistress Valentine, edited by Otaku Apologist
Crystal City, a visual novel game developed and published by Enjoy Games. Released January 16, 2017. Download on Nutaku.net for $8.00. For PC Windows. No voice acting. Censored genitals.
After a wild night of sex with the beautiful Lin, Aki wakes up in the body of a much hotter version of himself from a parallel universe. In this universe he is married to Lin. He learns that his former self was a douchebag and sets out to win Lin back, and fuck as many of the cute police girls patrolling the futuristic version of the city!
Visit our perverted store for more hardcore porn games!
STORY
Aki is a boring IT guy. He lets a beautiful girl named Lin into his house. She's lost a bet to her friend and now has to fuck his brains out. Aki kindly offers to pose for a photo, so it looks they fucked. Lin takes the photo, but stricken by his chivalry, fucks him anyway.
The next day Aki wakes up in a strange parallel world where technology is super advanced. His body is ripped, his cock is massive, and Lin is his wife! His favourite newscaster is now a series of cute robots who don't wear underwear. Amidst all the chaos, Aki struggles to cope with his new life. He also investigates what might have caused him to switch places with a super attractive alternative version of himself.
The writing for Crystal City is average. The plot is good enough with a mystery at the centre to hook players in. The script features a large assortment of weird ideas such as monkeys in suits, talking cars and robot police girls with shaven bare pussies.
Aki is a likable character with a genuine nice guy personality. The script treats his sexual encounters as rewards for being a decent person on the outside. The fucker hasn't had sex in twenty four years, so you can put two and two together.
There are one or two grammatical errors. They are rare but quite noticeable. The game explores the concepts of parallel universes, doppelgangers, divorce, rekindling old romances, mystery and young love. The game isn't very long and is sometime too reliant on descriptive text over dialogue. Jokes are hit and miss.
SOUND EFFECTS AND VOICE ACTING (SFX)
Crystal City has no voice acting.
Sound effects are limited. Stock moan noises are used sparsely throughout the various sexual encounters but are deafened by most of the time. Other noises include doors opening and closing, a generic sound for balls slamming into pelvis, monkeys chattering and fabric rustling.
The scarcity of sound effects renders this game generic and bland.
MUSIC
Crystal City has subpar quality music. The soundtrack is not very large. It is composed of a combination of synthetic and original instruments with the focus mostly on synthetic songs. These tracks fit the overall sci-fi setting but don't feel interesting. Real instruments are used in the songs that play during sexual encounters. These tracks are forgettable.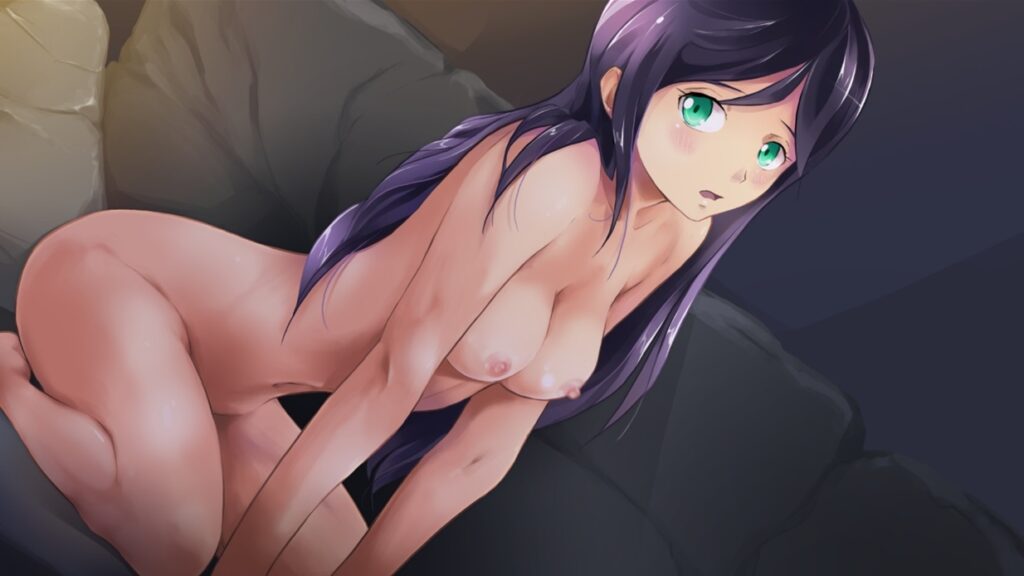 GAMEPLAY
Crystal City is a kinetic novel. Clicking the textbox advances the story. Functionality features are normal to other visual novel games with an 'auto' button for smooth play and a fast forward feature for replay purposes. The game is linear with no branching story arc.
From time to time you are presented with the option of clicking the screen for items to load into your inventory to use for later. This is useless since you never get to actually use any item you pick up. There are more than enough save slots available.
There is also a music gallery where you can listen to the soundtrack.
GRAPHICS
Background artwork features bright and vivid colours that portray a clean environment. There is an emphasis on the color white. Artwork mimics western cartoon animations with simplistic designs. Interiors feel bland and generic in places. Outdoor settings look desirable and feel expansive. There isn't much detail featured which makes some of the background art look cheap.
Characters' body proportions remain consistent with colours and lighting used to enhance quality. Characters look different enough with their varying hairstyles, attire, bodily proportions, faces, etc. Shadows are utilized fantastically, especially in the police uniforms. The rippling shadow effect creates a beautiful fabric look.
The camera work is excellent with only the lewdest angles selected to make the action look as sexy as possible. Unfortunately there are no alternates to showcase the evolution of a scenario. The game suffers from a lack of artwork.
HENTAI
Crystal City fucks players over with its sex scenes. It's difficult to review H-scenes because the game skips over most of them just after they start. Oftentimes, the escapades are left to the player's imagination.
The few sex scenes with actual art don't show genitals, groping, kissing, penetration or even cum. The scenes are short-lived eye candy. That said, the images showcase characters from wonderfully sexy angles in lewd poses before cock-blocking you.
The only redeeming aspect of the hentai content is the descriptive text during H-scenes, but even they are too short to rub one out. Characters provide running commentary of their actions. Girls are portrayed as pure virgins.
CONCLUDING WORDS
Crystal City is a short little hentai visual novel that doesn't have the balls to go all the way. The developers tried to make up for lackluster sex scenes with entertaining storytelling. The game is not sexy enough to rub one out but it's worth checking out if you're not in a hurry to fap, and have low standards for your eroge.
You can download Crystal City: Stop the Earth, I'm getting off at Nutaku.net.
Graphics

Gameplay

Story

Music

SFX

Hentai