Written by Rastafoo69, edited by Otaku Apologist
Metal Edge Girl Blazer, a humiliation-themed hentai RPG developed by circle Ankoku Marimokan. Released on June 9, 2018. Download on DLSite.com for $18.00. Available for PC Windows. No voice acting. Censored genitals. Free demo available.
Tojo Takeru seems like your average schoolgirl, but she's actually the superhero Blazer Girl! Will her fighting skills be enough to defeat the hundreds of monsters terrorizing the city? She'll either win, or get sexually humiliated in front of everyone!
Before trying this game, please read our guide how to download DLSite games.
STORY
Tojo Takeru has been working alongside her best friend Yusuke to cleanse the city of crime and monsters! But when Yusuke is injured by a mysterious android girl, Takeru the Blazer Girl is on her own to save the city!
There are only five dungeons, and the game ends abruptly after the fifth. With each dungeon you solve another crime until the main villain decides to deal with you personally. You never find out the identity of the mysterious android girl. She only appears one time and never again!
On the plus side, the dialogue and buildup for hentai content is fantastic! Like when Tojo gets a job working as an actress. At first her clothes are a bit see through, but soon they rip and she is exposed fully nude in front of a crowd! If you keep this up, the reputation of the Blazer Girl will be permanently damaged!
In other words, the story is too short and leaves too many questions unanswered. All of the developer's attention went into sex scenes while the main story was left to suffer.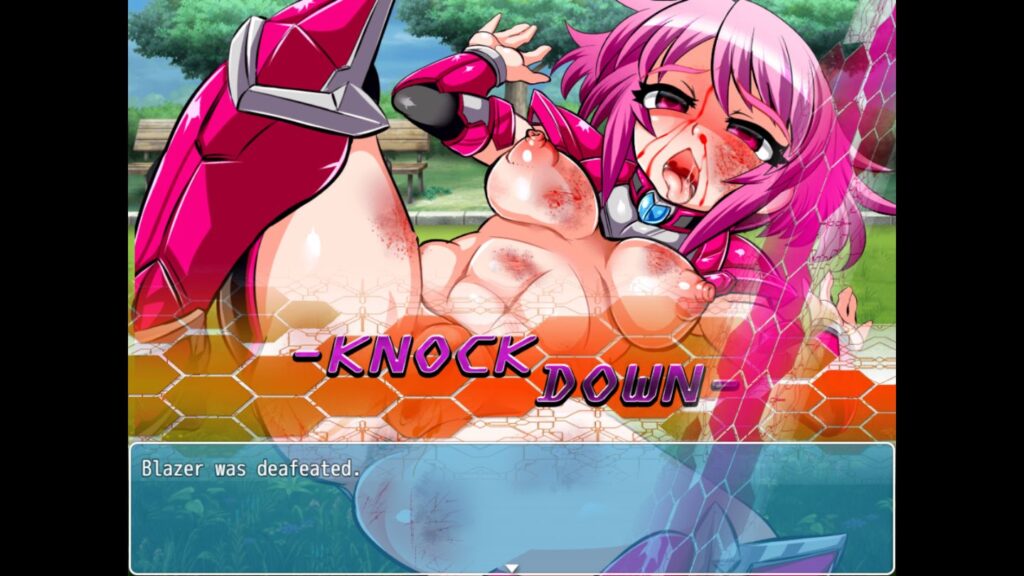 GAMEPLAY
Metal Edge Girl Blazer was created with RPG Maker MV, a clunky but versatile engine. You move with the arrow keys and press spacebar to interact with people and objects. Hold 'w' to skip dialogue. Press CTRL to hide the dialogue box. The game window can be resized to whatever resolution you like.
The game cycle has you clearing out dungeons full of enemies and return home to recover health. Sometimes dungeons have automatic healing spaces, so don't waste all your money on healing items!
This game is missing key features from earlier titles by the developer. For example, you cannot check your experience points or skills. You also cannot stealth attack your foes. These features are replaced with sex stats, public reputation, and impregnation mechanics.
The developer clearly put more attention towards a hentai-filled playthrough. While the ending of a virgin playthrough is only a few lines long, the ending of a slut playthrough is extended with tons of dialogue and CGs.
In total, the game will last 2 hours on a virgin playthrough. Seeking out all the hentai scenes adds up to six hours of gameplay. Of course, play however you like because a new game plus option will allow you to breeze through your second play.
GRAPHICS
The art is a unique variation of the Japanese anime style.
With humiliation and degradation as the primary fetishes, the art walks a fine line between grotesque and erotic.
Tojo's transformation into her hero form is fully animated. This creates great excitement, but sadly the animation covers up the dialogue, so you'll be unable to read for a moment. Another animation comes in the form of an X-ray cut-in image, which illustrates a penis thrusting into her body. The animation seems small, but it adds life to the scene.
Like previous games by this developer, every menu and interface is given a heavily stylized and unique design. In battle you can hardly tell you're dealing with RPG Maker at all. The engine is only the framework, these developers put hard work into personalizing this game.
There are 36 base CGs with over 300 variation images. Add to that a world map, unique character sprites, and sexual harassment mid-battle, and it's a glorious hentai experience. When it comes to visuals, this game hits the nail on the head!
VOICE ACTING AND SOUND EFFECTS (SFX)
Metal Edge Girl Blazer has no voice acting.
The sound effects are recycled from the circle's previous titles. From punching to dick bouncing, each audio asset fits the anime aesthetic. While the violent sounds are realistic, the sexual sounds are more cartoonish. All of the audio fits the game.
MUSIC
There are 35 songs on the soundtrack, some are stock assets while others are carried over from previous games by this developer.
The most memorable track relies on piano and tambourine, creating a relaxed, bouncy melody. The majority of tracks are forgettable, but that's largely because the game is short. Assuming you play a virgin route of two hours, you'll likely never hear all the tracks. Your playstyle will determine whether you get a large variety of music or not.
Heavy electric guitar tracks play during sex scenes and battles. These are incredibly uninspired songs and only meant to fill the silence. I think the musician knows only two chords, and it shows.
HENTAI
Metal Edge Girl Blazer has 36 unique sex scenes, each with their own CG. Most sex scenes have multiple stages depending on virginity and sexual experience. Cowgirl and missionary are only the beginning. Tentacle beasts, bondage, and even vore content can all be found in this crazy hentai adventure. Your character is doomed to be brutalized if she loses in battle, so don't expect condoms and kisses!
The game tracks your sex stats and fertility level. Use condoms or birth control to avoid pregnancy. Otherwise, you may stumble across a scene where Tojo is forced to give birth in public!
There are elements of NTR, because Yusuke is in the hospital unaware that his beloved is being a whore. In fact, you cannot visit him if you had sex earlier in the day. This culminates in a handful of scenes where it's possible for Yusuke to learn the truth, like having him watch Tojo give birth to another man's child.
The focus of the game is humiliation. My favorite scene was when I tried to stop a bank robbery, only for the the robbers to defeat Tojo and fuck her in front of a crowd! These hostages are waiting for their hero to save them, but instead watch her cum!
CONCLUDING WORDS
Metal Edge Girl Blazer is a fantastic humiliation and degradation hentai game, one of the best on the market today! The visuals are gorgeous, the gameplay is easy to handle, and the sex scenes are the most taboo and sexy I've seen in a long time!
I recommend Metal Edge Girl Blazer for sadistic anime fappers who love abusive sex. Download Metal Edge Girl Blazer. If you loved this game and want something even better, check out our review for Kamikaze Kommittee Ouka.
Graphics

Gameplay

Story

Music

SFX

Hentai