Femdom Hentai RPG Review: The Ordeal to be the Hero
Hentai Reviews

>

Reviews

>

Femdom Hentai RPG Review: The Ordeal to be the Hero
Written by Rastafoo69, edited by Otaku Apologist
The Ordeal to be the Hero, a hentai RPG developed by Mangetuhagure. Released November 27, 2018. Download on DLSite for $4.00. For PC Windows. No voice acting. Censored genitals.
You have trained all your life to become a true hero! Now, to prove your worth, you must pass the hero's trial! Stay strong and you can be dominated by your sexy maid along the way!
Before trying this game, please read our guide how to download DLSite games.
STORY
When your father died, he entrusted you with one goal: to succeed where he failed and defeat the demon king! Since that day, you have trained with your mother and your housemaid to prepare for the day that you become a hero. You must complete the Hero's trial in order to leave your home and save the world. Your maid will accompany you and have sex with you to test your power during the trial.
Although you can provide her some pleasure too, most of the dialogue is focused on how you're a useless premature ejaculator. You're so pathetic that you even cum without physical contact!
The game ends when the maid doesn't want to lose you and makes you a deal. If you fail the hero's trial, you can stay home and have sex with her forever and ever! There is only one ending to this game.
Discover more femdom hentai games we've reviewed over the years!
GAMEPLAY
The Ordeal to be the Hero was created with the Wolf RPG Editor. You move with the arrow keys and press spacebar to interact with objects and people. Press CTRL to skip dialogue.
The entire game is focused on a single forest and cave. Although there are battle and maze mechanics, this is more accurately described as a puzzle game. Players need to juggle their resources: Keys, health points, gold, and stat boosting items. Whether it's saving keys, or trying to minimize damage to save health points, you need to think carefully about every decision you make. For example, gold is only found by killing monsters, but they do not respawn after being defeated. If you waste all your gold, you will be unable to get more and never beat the game. The same applies to keys and other items.
This gameplay format is taken directly from "The Dungeon of Lulu Farea", only this game is unbalanced and impossible to complete. Thankfully, you have three continues after dying and can become invincible after exhausting all continues. This only occurs in normal mode. In hard mode, this game is seriously impossible.
When an exclamation mark is in your path, your maid will have sex with you. Ejaculating will damage your health immensely, so a smart player will avoid hentai scenes.
Overall the gameplay is incredibly difficult and annoying. Good thing you unlock all H-scenes at the game-over screen!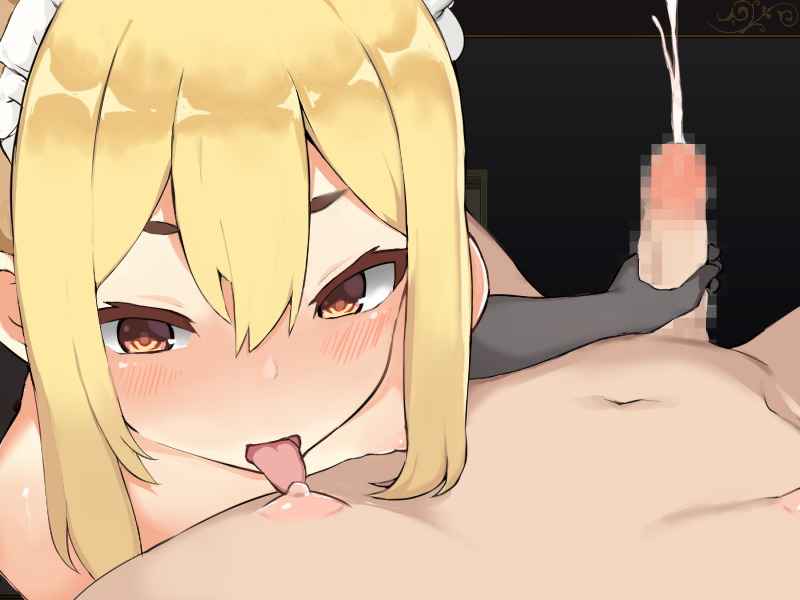 GRAPHICS
The art is Japanese anime style. With a relatively small amount of CGs from an indie studio, things can get repetitive fast.
The game world consists of three locations. The player home cannot be entered even though it is where sex scenes take place. The forest is the first dungeon that is at least theoretically possible. The underground caverns are infested with monsters, making them impossible to complete. In other words, the further you go from home, the more dangerous the world becomes.
Your unnamed maid is the only illustrated character in the game. Her blonde hair and petite frame is very cute and enticing. Her frame stays consistent even during sex scenes where parts are normally exaggerated. That means that the titfuck scene shows her try and squeeze her small breasts on your cock. She actually comments on this in dialogue.
With only six base CGs in total, it's only expected that there's repetition across the game. In particular, the vaginal sex artwork is shown in four different scenes, which loses its excitement over time.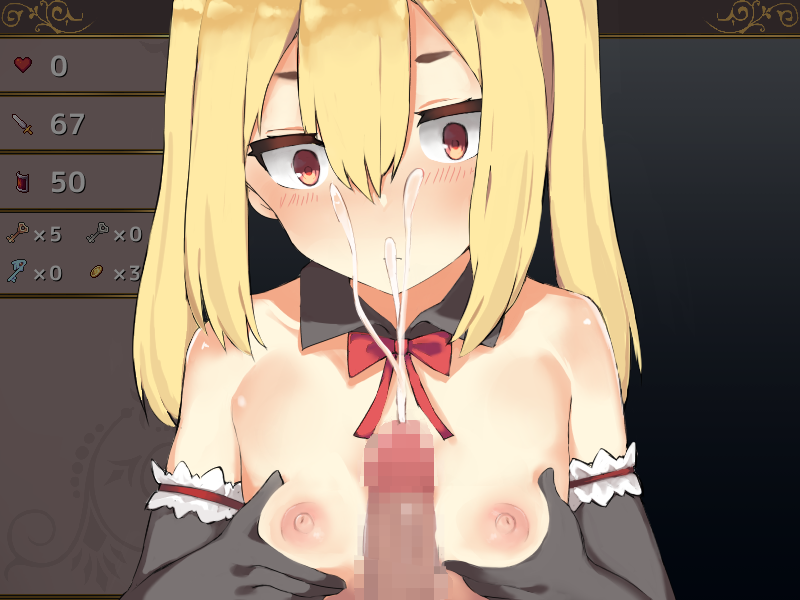 VOICE ACTING AND SOUND EFFECTS (SFX)
The Ordeal to be the Hero has no voice acting.
The sound effects are standard RPG Maker assets. From the pound of a monster to the clink of a gold coin, everything sounds like an arcade puzzle game. Overall the sound design was forgettable.
MUSIC
There are 75 songs in this game, almost all of which come from the RPG Maker stock library. Only a handful are ever used.
The unique tracks in this game are fantastic. From atmospheric crickets to the simple strum of a guitar, everything feels organic and original to this title. The title menu is very light and sweet, even though the game is a dungeon crawling femdom adventure. Although the music is high quality, I think this game was too short and simple to actually use the tracks to their fullest.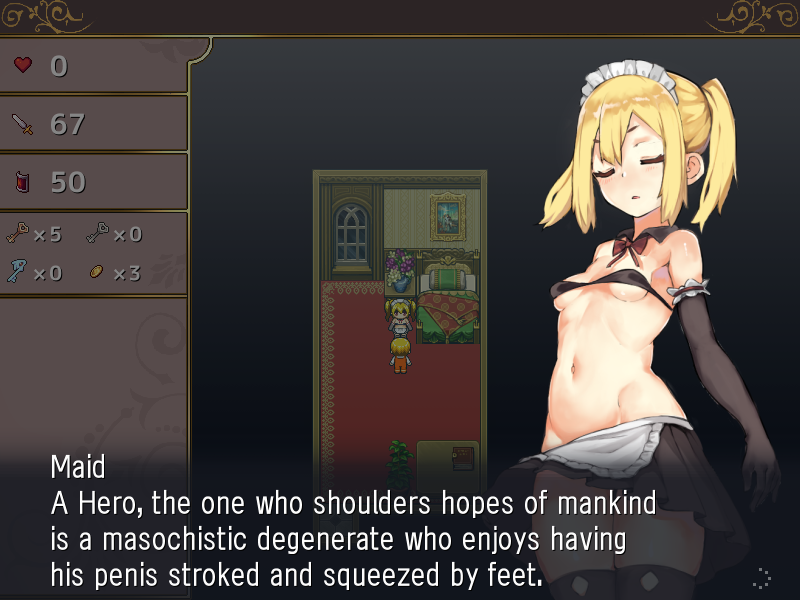 HENTAI
The game has 13 scenes with six base CGs. Naturally, multiple artworks repeat.
Your blonde petite maid is being paid to give you sex education and training. If you want to be a mighty hero, you need to become comfortable with the allure of women and resist them. Unfortunately, you're a premature ejaculator who does anything a woman asks!
One of the best scenes shows the maid use her magic to stop you from cumming. She lets you thrust at first, but she doesn't want your cum, and instead decides to use magic to stop you. Then she makes you pull out, and forces you to jack off instead! Your cum belongs on the floor, you haven't earned the right to fill her pussy yet!
The primary fetishes are femdom and being a submissive male. If you love the idea of a gorgeous woman stepping on your cock with her sweaty feet, this game is perfet for you! Femdom anime is underappreciated, and this game is a prime example!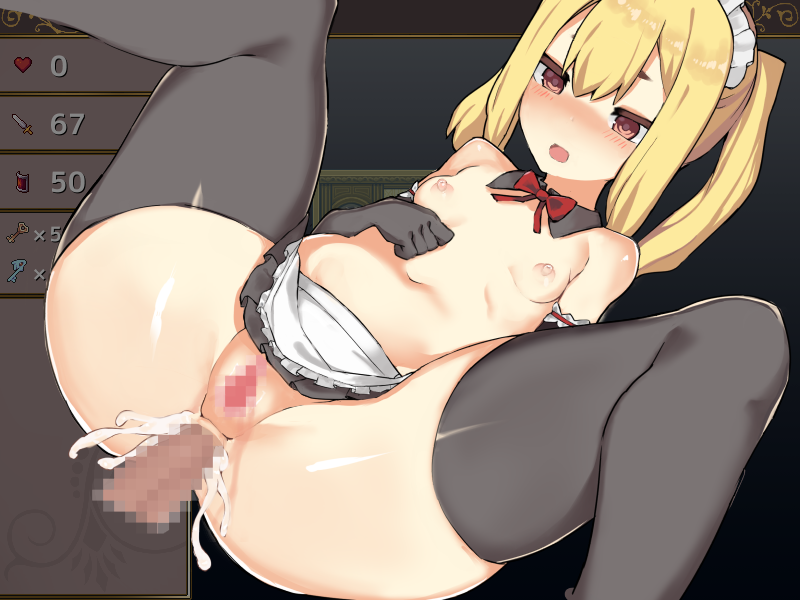 CONCLUDING WORDS
The Ordeal to be the Hero is a fun little femdom hentai game. The puzzles are incredibly difficult, the story is painfully simple, but the sex scenes are incredible! If you love being dominated by a sexy blonde maid, this game is a fantastic experience.
I recommend this game to submissive guys. Download The Ordeal to be the Hero.
Graphics

Gameplay

Story

Music

SFX

Hentai