Corruption Hentai Game Review: Agent Leona
Hentai Reviews

>

Featured

>

Corruption Hentai Game Review: Agent Leona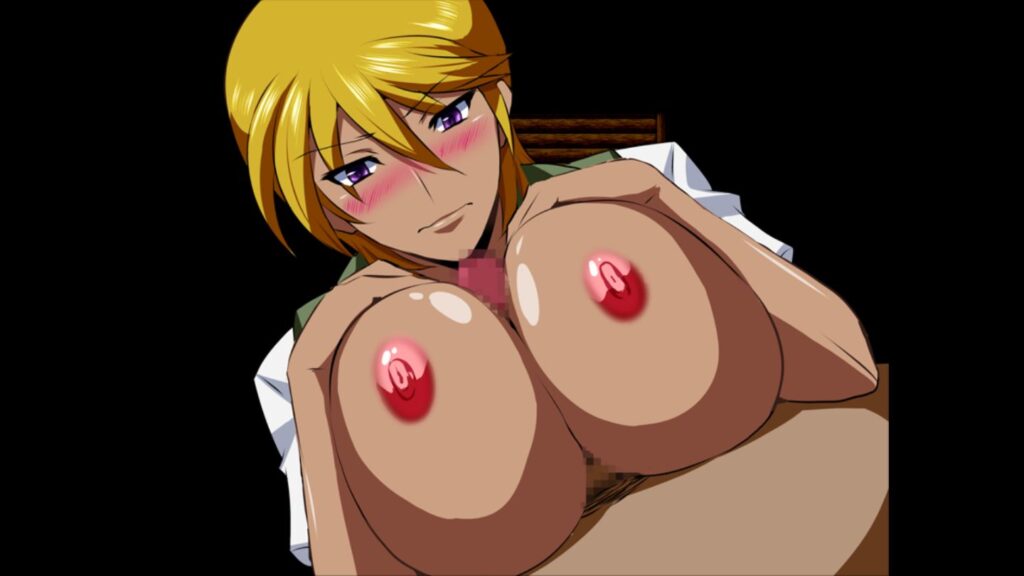 Written by Rastafoo69, edited by Otaku Apologist
Agent Leona, a corruption hentai game developed by circle GapTax. Released June 5, 2018. Download on DLsite for $10.00. For PC Windows. No voice acting. Censored genitals. Free demo available. Download the English fan translation patch.
Leona is a talented secret agent who hunts down the plague known as "desire". But when she becomes infected as well, will she be able to resist her desires? The island is full of horny men, and they'll stop at nothing to violate her!
New to Japanese eroge? Read our guide how to download DLSite games.
STORY
Leona is a talented secret agent who always works alone. But that lone wolf lifestyle may finally be her end when she's infected by the desire virus! Have sex with strangers, find the source of desire, and save the island!
The main story of the game can be completed in under an hour. It's the side events and sexual encounters that extend the game to four hours total. Depending on your playstyle, this game can be a quickie or a fun afternoon!
The ending of the game seemed to foreshadow a sequel, but none have been made yet. Leona exposed the corrupt town mayor who was working for a shadowy organization, but sadly, the story ends there.
In the bad ending to the game, the players enters a free-play mode where Leona is a cum dumpster for the entire town. Even if you get the good ending, you can still access this free play mode at your leisure.
The writing of this game is good but imperfect. Instead of engaging in sexy talk, Leona often just moans and says "yes" or "no".
GAMEPLAY
Agent Leona was created in RPG Maker MV. Use arrow keys or mouse clicks for movement. Press 'Z' to talk to NPCs and activate items. The 'X' button cancels dialog and menu choices. Press CTRL to skip dialogue. Right-click to hide textboxes.
There are no battles or puzzles. Dialogue will tell you where to go, and then you're expected to go there. Player choice only influences how corrupted Leona becomes. Will she have sex with every guy in town? Or will she focus her time on curing the virus? You choose!
The game lacks polish. Some of the dialogue is repetitive, and the player cannot skip sex scenes he's already seen. This means if you want to raise Leona's corruption, you'll be forced to re-watch old scenes.
There's a public reputation system but it's clunky. Only ten minutes into the game and you'll go from "Random Lady" to "Public Slut". Slowing down the pacing would make your reputation fluctuation to feel more realistic and exciting.
GRAPHICS
The art is Japanese anime style. There are over 250 images total and 45 sex scenes to view.
Every sex scene and has unique variations dependent upon Leona's outfit and corruption level. The sexiest scenes feature Asuka on her knees giving head while wearing her skin-tight spy suit. The tight latex caressing her luscious body makes for a fantastic view!
The game world is very small. There are a handful of buildings, each offering a sex scene. This makes the game easy to navigate. The visuals are RPG Maker stock material aside from the sexual artwork and other hand-drawn imagery.
Changes in facial expressions make this game super orgasmic! To watch Leona's eyes widen as her pussy is stretched out, I almost came in my pants! Super expressive characters make for very appealing visuals.
VOICE ACTING AND SOUND EFFECTS (SFX)
Agent Leona has no voice acting.
Sound effects are rare and almost completely comprised of stock assets. From punching mutants to opening doors, the sound cues are predictable albeit fitting. However, some scenes are great, like the scene where an evil plant suffocates and kills Leona. Just hearing the constricting and tightening vines made me feel scared like I was right there watching!
MUSIC
The soundtrack has 14 songs, most of which are stock assets. Digitally synthesized violins and chimes make for a standard but enjoyable collection of background tracks. As a typical RPG Maker MV game, music doesn't always sync with the scenes. Many times, a scene will begin playing only for the music to start a few seconds later. This lack of polish is embarrassing.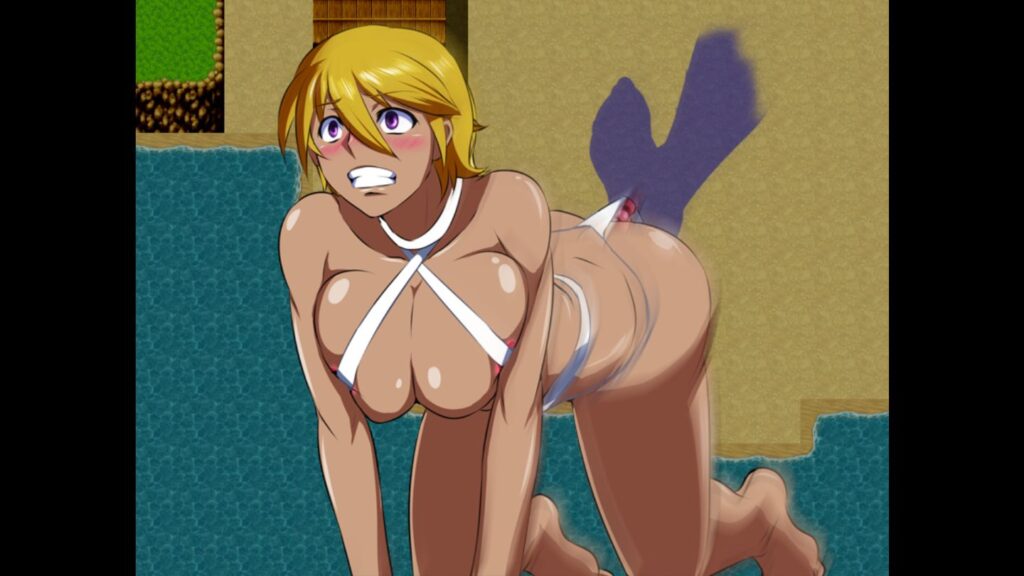 HENTAI
Agent Leona has 45 erotic events, portrayed through 15 some unique images. The images showcase changes in clothing, dialogue, and facial expressions, which keeps things fresh. For example, a titjob in a latex body suit is a lot different than a naked boobjob!
Corruption in this game is fantastically executed! Early on, Leona knows she has a hot body and is glad to let people admire her. Later on, when the men start groping her, she gets all flustered! The change from prideful to shy was glorious to see!
My favorite scenes in this game had Leona posing for a camera guy on all fours, Leona using the men's public baths, and letting a line of men run a train on her! My number one favorite was when she gave a titfuck to an elderly man! He's old enough to be her grandfather, but she doesn't care! A cock is in front of her and she knows what to do!
After completing the game, you unlock the free play mode, which allows you to change your outfit and purse various men. I enjoyed wearing Leona's spy outfit while whoring out her pussy as a public cumslut. Leona was once a great hero, and now she gets on her knees for any man who asks. Best of all, many of these scenes are not available in the recollection room! This encourages players to experiment with different outfits. What a great feature!
CONCLUDING WORDS
Agent Leona is a fantastic hentai game focused on the corruption fetish. The graphics are gorgeous and the gameplay is easy to pick up. The soundtrack and audio design are solid but imperfect, and there is no voice acting, sadly. With 45 unique sex scenes and multiple sexy outfits, this game is a joyful experience.
Download Agent Leona. If you love this developer, check out our review for Thunder Steel Raiouger.
Graphics

Gameplay

Story

Music

SFX

Hentai