Hentai Harem Game Review: Hot Spring Hero
Hentai Reviews

>

Reviews

>

Hentai Harem Game Review: Hot Spring Hero
Written by Rastafoo69, edited by Sexy and Otaku Apologist
Hot Spring Hero, a harem hentai game developed by ExamGames. Released November 14, 2020. Download on DLSite for $18.00. For Windows PC. No voice acting. Censored genitals. Free demo available.
Your name is Gayle, and you've signed up for a job at the Nururuto Hot Springs Inn! Little did you realize that this place is a dump! But you are in luck, as despite making one shitty life choice in regards to your career, the owner of the place, named Ethel, wants to suck your cock.
Read our guide how to download DLSite games.
STORY
The story is a slow-burner where nothing much happens until the 6th hour of playtime. You should approach this game expecting "slice of life" content. The is an entire plot about a mysterious devilish figure interested in Ethel, and that doesn't even develop until basically the endgame.
You are a magic plumber, or something. First you have to repair the hot springs by finding the pieces of the magic stone that heat the water. Then you do missions on the quest board like "bring me 10 fish", which builds up the popularity of the inn. Which is not all in vain as a chef and a catgirl join your efforts. Coherence is a rare property in casual hentai games.
The dialogue and charm is enjoyable at first, but gets less charming over time. Like how Ethel tricked you into a contract that's basically slave labor. Or how Nururuto only helps if she gets something out of it. Or how Mizuki is also enslaved because she lost her money. The charm is surface level, but the content of the game feels too predictable for its own good.
Progress with the ladies of this game is dependent entirely on how many dungeons you've completed. You're not fucking Nururuto or Mizuki until you're 8 hours in and over level 50. What's the point of including hentai if it's so hard to get? Grind first, fuck later. This game is a cock tease for longer than most.
GAMEPLAY
Hot Spring Hero was created in Wolf RPG Editor. Move with the arrow keys and press 'Z' to interact. Hold shift to speed up battles and dialogue. Check the in-game manual for tons of information, access it at the start of the game. There is no text log.
Although the game technically has a wide range of features, none are particularly interesting. Bug catching is simply timing a button press next to a tree. Farming is just watering crops once a day. Foraging is just walking up to plants. Fishing is simply pressing 'Z' when a yellow light appears. Crafting and cooking are just ways to improve equipment or restore health points without an item shop. The quest board boils down to stockpiling items you've foraged and redeeming them for currency. The game is basically Stardew Valley with level grinding and porn.
You can upgrade the land around your inn for more trees, more livestock, more plots of land, and so much more! The problem is, all the upgrades can be done in under six hours. However, the final dungeon and all the sex scenes will take 10 hours to complete.
Getting new recipes is slow. The customers are quirky and fun at first, but get dreary fast. Unlocking temple treasures is nice, but often the rewards are underwhelming. The game fixes flaws its predecessor had, like the encounter rate, but its fundamental core is the same. You have a home base to pick up sex scenes, and a list of dungeons to go grind in.
What holds this game back is the lack of a relationship system. All farming games have them, because it gives you a break from the monotony of the grind. But this game only has 20 erotic CGs to last a 10-hour experience. Two artworks per hour! No lewdness levels, no relationship mechanics, no sex stats, nothing! If a hentai game is going to last 10 hours, it needs at least one of those!
It's pitiful, but I want the catgirl to give me vague hints that she'll spread her legs because I washed her socks 17 time. I want to get her drunk so she confides in me how terribly lonely a cumslut she is, and if only there were anybody around to help her with that.
GRAPHICS
The art is drawn in the Japanese anime style with a heavy emphasis on the first-person perspective. This game relies on a single hub world with a list of accessible dungeons by the teleporter.
There aren't enough artworks to last the full ten hour experience. Movement speed is improved since the previous game via a dash ability for 500 gold. The title menu is just the four standing artworks of the main girls. This is deceptively simple, since the actual game has tons of effort put into it.
Many fans describe this as the hentai Stardew Valley, and it's easy to see why. You start out with a house complimented by empty plots of land for farming and animal husbandry. As you progress, you domesticate animals and plant crops. There's also a pond on your property for fishing. The main base has a bulletin board for quests, though you may prefer to cook instead. The entire vibe and aesthetic to this game is a rural farming simulator. The RPG style combat mixes that up of course, but the core is highly reminiscent of classic farming titles.
Although the developer advertises 24 CG images, only 18 are actually sexual. The rest are miscellaneous like the meal together, or the maid outfits. While these nonsexual images are great for character building, they're spread out very thinly throughout the game. Often times a full hour will pass without any CGs at all.
While fundamental character designs remain consistent all throughout, the details of the illustrations do change. For example, Nururuto's skin is sometimes a chocolatey brown, and other times it's closer to caramel. And sometimes Ethel's hair is a dark magenta, while other times it's bright pink.
For such a long game, you're probably expecting a wide range of dungeons, but you'd be mistaken. Nururuto's base has an endless labyrinth dungeon where a lot of your time will be spent. There's a beach level and an ice level, but most of the game is spent in a deep rocky cave.
All characters have only one standing artwork. Their facial expressions are shown to change in the dialogue box on the bottom left corner of the screen. This is noticeably bad in certain scenes like when a character's outfit changes, but the art used in the dialogue box remains the same.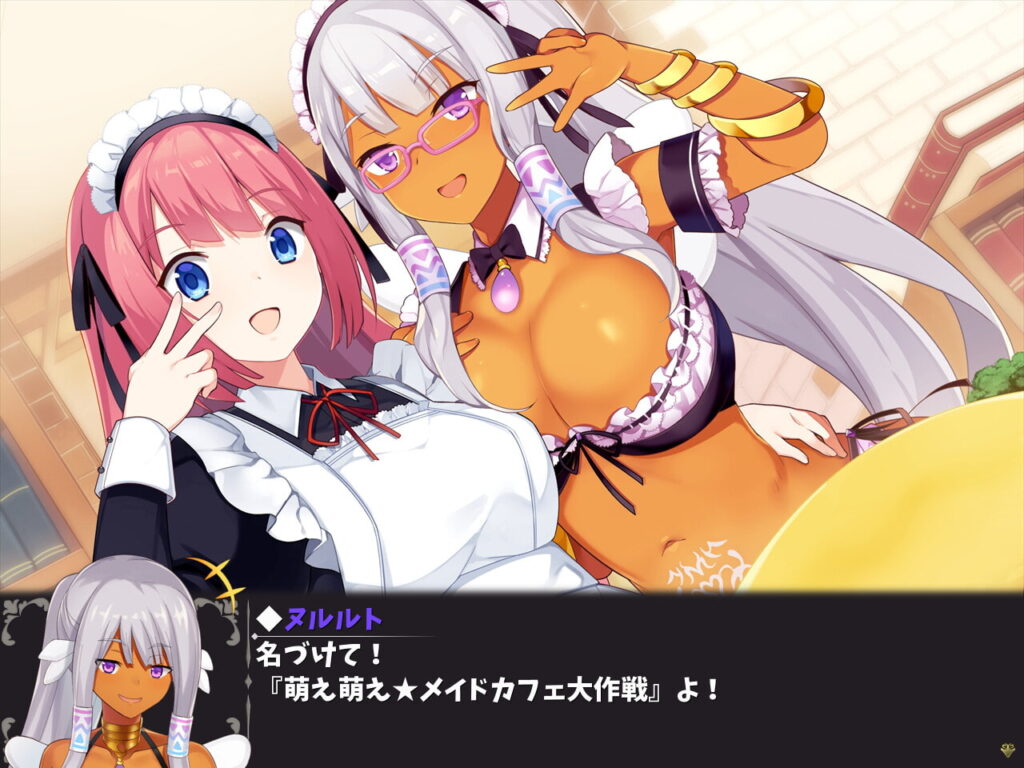 VOICE ACTING AND SOUND EFFECTS (SFX)
Hot Spring Hero has no voice acting.
The sound design is extremely well done! Battles have unique assets used to convey the special moves of each character and enemy. Even after a lot of level grinding, it still feels fresh. Dialogue is even better, with sound effects adding onto the feeling of a scene. For example, a voice moans "wow" whenever Ethel sees you naked. It makes me laugh out loud every time!
MUSIC
The music in this game is fantastic. With over 30 unique tracks, the developer really captures the rural farming aesthetic. Even during sex scenes, the soft guitar strums keep a steady and relaxed pace that make the player feel like they've escaped to a truly happy place. However, this game has exactly one vibe! Relaxed and rural! Don't come here expecting electric guitars or something!
HENTAI
There are 18 erotic CGs, but not all of them are sexual. Due to the first-person focus, sex positions are chosen based on what gives the best view. Doggystyle, cowgirl, and missionary are the focus. If you were expecting the mating press or prone bone, this game may be too soft for you. In fact, even though Mizuki clearly states she is a virgin, her deflowering scene doesn't seem to confirm it. This game is going for softness, so don't expect something hardcore.
Erotic dialogue boils down to "I'll help you relieve your stress". Ethel fucks you to keep you as a loyal employee, but that setup gets ignored as she begins to enjoy it more. My biggest complaint is the dark skinned goddess Nururuto. Fucking a goddess should have felt like a big deal, but by the time it happens, you were already pounding everyone else, so there was little sense of accomplishment.
The art quality changes dramatically between scenes. Some scenes have a clear light source, shadows, shading, and light blush. Other scenes are drawn without any regard for those things, focusing more on tits and ass. I wouldn't be surprised if multiple artists worked on this project, because the quality of art seems to go up and down at random.
CONCLUDING WORDS
Hot Spring Hero is one of the longest hentai games on the market today. With over 10 hours of content, players will enjoy farming and level grinding with a casual slice of life story, tons of hot girls, and sparse but sweet sex scenes. Although this game is marketed as an RPG, I recommend you play it casually, turn your brain off and relax and look at tits.
Download Hot Spring Hero. If you liked this game but prefer a more hardcore RPG experience, then check out our review of SonabiA.
Graphics

Gameplay

Story

Music

SFX

Hentai