Written by Rastafoo69, edited by Otaku Apologist
Big Black Cock & Big Black Butt & My Sweet Wife, a hentai visual novel developed by OrcSoft. Released April 25, 2014. Download on DLSite for $28.00. For PC Windows. Full Japanese voice acting. Censored genitals.
You and your white wife want to try out swinging. The black couple next door are the perfect choice! Will things go smoothly? Or will your wives become total cumsluts? Play the game and find out!
STORY
You play as Yoshio Shinozaki, your wife is named Miwako Shinozaki. Your neighbors are a black couple, Bob and Marika Mihara. You and Bob agree to swap wives, the rest is history!
The writing in this game is very straight-forward and the choices are minimal. Will Bob seduce your wife first? Or will you pursue his wife? Depending on who goes first, different scenes will be made available.
The game starts out with bareback wife swapping, then does a flashback to build the premise. This was a weak decision, because it ruined any sense of tension. While other games leave you guessing when and how the sex will occur, this game gives you a rushed setup where your wife quickly agrees to the swap.
The story culminates in you or Bob getting a complete stranger to fuck the wife during the swap. This was very predictable, since the game already began with unprotected sex. The author didn't have anything else to build up to.
The dialogue in this game is generic at best. Bob says he might not be able to control himself and may force himself onto your wife. A big black guy using intimidation to steal a white man's wife is such a cliché. I felt like I was watching some racist porno from the 70s.
Another key flaw to the writing is how many monologues the protagonist has. Sometimes he begins an internal monologue in the middle of a conversation, completely halting any build-up or engagement. These monologues were more irritating than suspenseful.
GAMEPLAY
Big Black Cock & Big Black Butt & My Sweet Wife is a visual novel style game. Click the screen to advance the story. You can save progress into multiple slots. Very rarely you'll have a choice on what to do.
The game engine is clunky and entirely unique to this developer. Included in the ReadMe file for the game is a list of absurd notices before playing the game. For example, using the screen-capture function may stress your hard drive and crash the game. The ReadMe also encourages players to turn off their antivirus if the game won't run. Even if you do, the game is liable to freeze if you toggle a different window.
The choices in this game are rare and not very engaging. Will you pull out? Will you fuck Bob's wife now or later? None of these felt like exciting decisions to make. The story will always flow in the same direction no matter what you do.
On a positive note, this game does include a branching scene guide. Simply click "scenes" on the main menu to see where choices will appear and where they lead to. The content is all generally cuckolding themed.
GRAPHICS
The visuals in this game are a unique variation on the anime art style, iconic to the developer. The black characters look rather human while the white characters abide by the anime style. And light reflecting on skin and hair is heavily overused. Even in a dark room, the characters look oily and shiny like they bathed in grease.
The main character of the game is a balding, ugly middle-aged man with an enormous belly. And in spite of the title, the black guy has an average sized cock. The title promised me a big cock. I felt cheated!
Image cut-ins often appear to indicate kissing and other movement. While the standing art is well drawn, some of them are underused. I would have loved to see my neighbor's wife in a towel more than once.
In spite of the artistic gripes I have, the artwork is well-drawn overall. There aren't any artistic mistakes like extra fingers or similar, and the women tend to have sexy facial expressions. Still, the characters are always sweaty and the clothing is always wrinkled like it was run over on the freeway.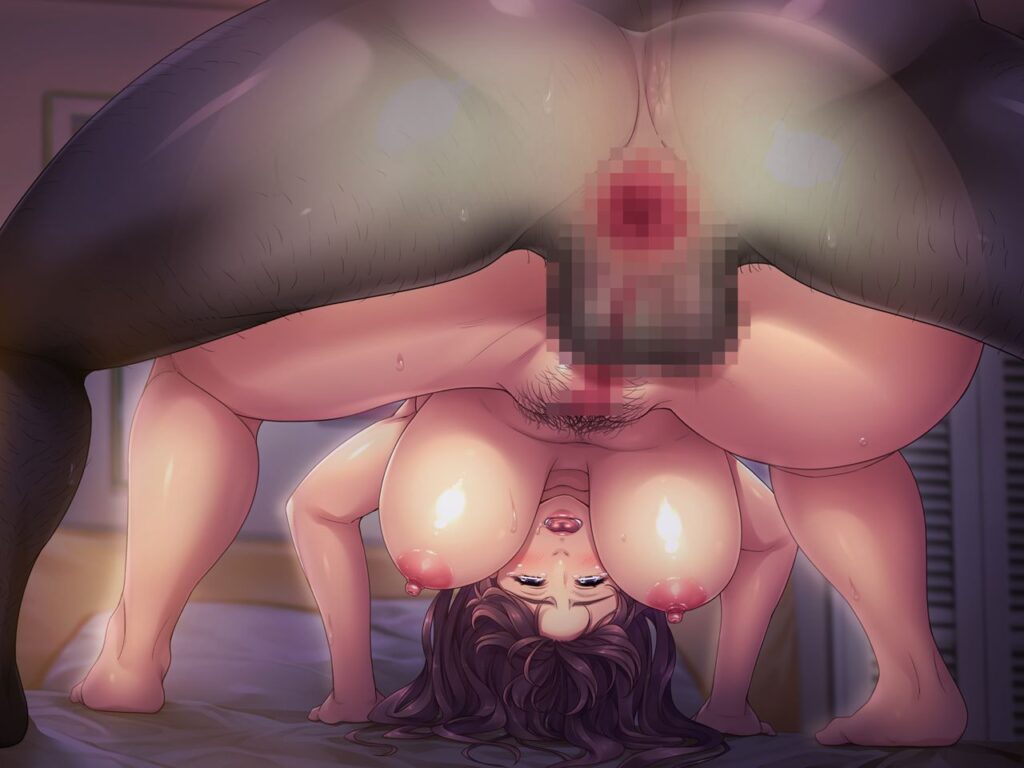 VOICE ACTING AND SOUND EFFECTS (SFX)
Both of the wives in this game are fully voice-acted and sound pretty similar. You'd think a black girl would have a different tone and delivery than an Asian, but I guess not.
The voices in this game provide a mixed bag experience. The lines are delivered well and sound effects for sex scenes are fantastic. Hearing a woman suck dick is always realistic and super enjoyable! On the other hand, the lines are delivered painfully slowly. Often times this game makes use of long, dramatic pauses. You could read the dialogue a hundred times before the voice actress finishes with all her random pauses.
The sound effects in this game are well placed and detailed. Ambient sounds like splashing water make for a very hot addition to the voice acting. Of course, the game takes place in an urban setting where opportunities for audio are few.
MUSIC
The music in this game is fantastic. The title theme is a unique guitar theme that's both relaxing and enticing. Meanwhile, the suspense theme is digitally synthesized and mimics Asian gongs that create a foreboding feeling for the events to come. My only complaint is the over-reliance on percussion instruments that don't really capture attention when overused.
Although the music is great, you'll only think so when you begin. After hours of playing this game and listening to the exact same tracks every time, you'll begin to get irritated. Thank God the voice acting provides enough variety that most people will be able to tolerate the same five tracks on repeat.
HENTAI
There are 37 sex scenes in total spread out among 3 basic routes.
The three routes represent the different meanings of the term "NTR". Are you going to steal the black guy's wife? Or are you going to let him steal your wife? Or will you make it an equal swap? Choice is yours!
The netori route involves your neighbor stealing your white wife and making her fuck a stranger. The netorare route involves you stealing the neighbor's wife and making her fuck a stranger. The routes aren't all that different.
Scenarios range from sex in front of a window to sex with complete strangers at a hot spring. However, there is no impregnation or aftermath scene. Some pregnancy content would have made this game stand out among the crowd.
Completing the game unlocks a special art gallery of short doujins unrelated to the story or its characters. It was a little strange and felt pointless, but at least completing the game is rewarded.
CONCLUDING WORDS
Big Black Cock & Big Black Butt & My Sweet Wife is a strange game in the hentai genre. The cock was not big. Your wife wasn't all that sweet. And the big black butt got the least amount of scenes. While this game is a fun little porn experience with gorgeously faptastic visuals and an enticing taboo premise, it's far from perfect.
Recommended for hentai gamers who love interracial sex. Download Big Black Cock & Big Black Butt & My Sweet Wife.

Graphics

Gameplay

Story

Music

SFX

Hentai