Power Rangers Porn Parody Game Review: Fruity Rangers
Hentai Reviews

>

Reviews

>

Power Rangers Porn Parody Game Review: Fruity Rangers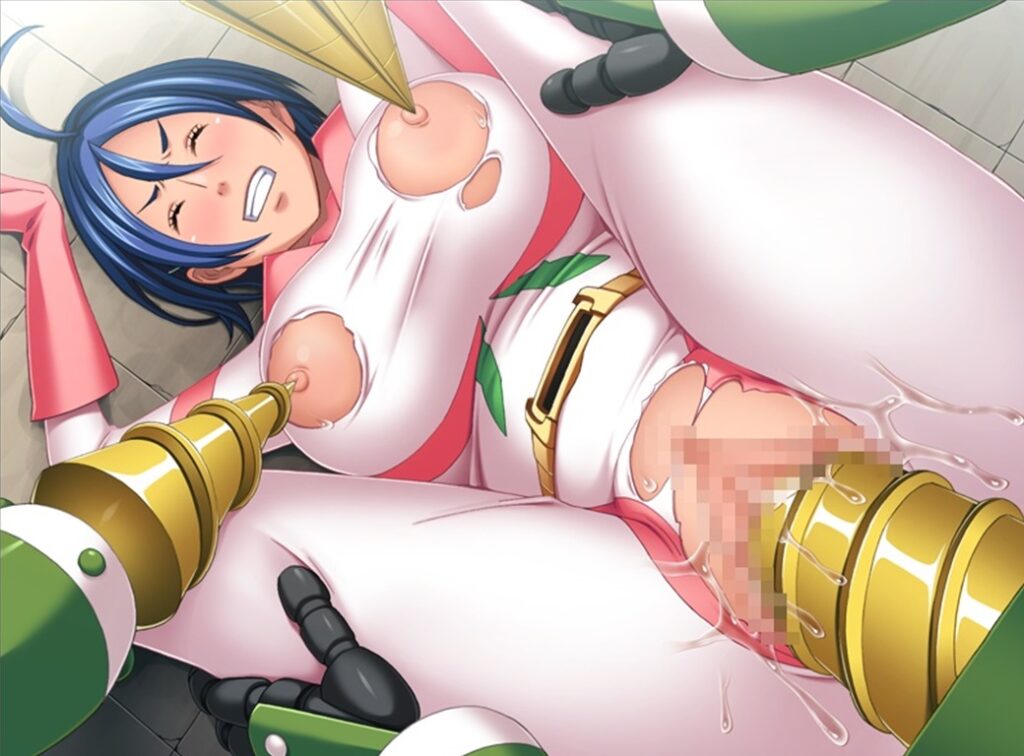 Written by Mistress Valentine, edited by Otaku Apologist
Fruity Rangers: Peach's Predicament, a visual novel game developed by トルピード. Released March 23, 2013. Download on dlSoft for 980YEN. For PC Windows. Full voice acting. Censored genitals.
Peach, a member of some super sentai band of super sluts, has been captured by an evil organization and is about to be turned into a cock-sucking force for evil. Go, go Power Bitches!!
SOUND EFFECTS AND VOICE ACTING (SFX)
Peach's voice actress does her best with the material she is given. Her delivery is good, but the performance suffers due to poor scripting. The sex isn't particularly better with generic moans and groans that blend into one another very quickly.
Fruity Rangers uses a lot of sound effects to make the battle Peach is involved in feel more exciting. These sounds are lifted from a generic library on the internet but are well placed. You can hear gun shots, gas spraying, energy blasts, thuds, kicks, explosions and drilling throughout the game. Sex sounds are scarce with light dick sucking noises making up the bulk of it.
MUSIC
The soundtrack features a handful of songs that sit in the middle of being entertaining and uninteresting. Songs are repeated too often and are noticeable. The beat becomes bland very quickly. Most songs are fast-paced and used during battle sequences. These songs inject the scene with a sense of adrenaline that make you feel like you're watching an action movie.
There is at least one ominous, fear-inducing track that uses original instruments to make you feel sorry for all the abuse Peach is about to go through.
HENTAI
Fruity Rangers tries very hard to be an edgy game with hardcore sex, but it doesn't work out like that. Peach is restrained by robo-tentacles before one slithers up her pussy without her consent. She begs it to stop but it's only the beginning. An enema is inserted into her and she is puffed up until she shits herself. After more battling, Peach receives a tentacle up the ass before another one generously provides her with a double penetration.
In another scene, Peach has her mask removed so she can suck a group of human dicks until they cum all over her costumed body. She also gets to feel what it's like to be drilled in the pussy by an actual drill, courtesy of another robo monster. Sex in the game feels short with dialogue that feels copy-pasted from highlight scenes in better hentai games.
GRAPHICS
The game is not very exciting visually speaking. The game only has one background image, the stadium. It doesn't help that there is barely any detail and the color scheme is bland with uninteresting colors. The developers cheat further by making Peach wear a mask for most of the game so they don't have to animate facial expressions. Characters have little to no poses.
Peach's sprite design makes her look like a Power Ranger, but her costume's aesthetic lacks creativity. During sex, the camera focuses in on her breasts and butt. Half the time she has sex while costumed which takes away some of the naughtiness of the scene.
Some effort went into making sprites for the three robotic monsters that fuck Peach, but their designs are goofy looking. Sex artwork is decent with scenes using multiple different CGs. The developer cheats some more by zooming in on Peach several times to make you think there are more CGs than there actually are.
GAMEPLAY
Fruity Rangers is a visual novel game. You click on the screen to "turn the page". Throughout the game you are presented with choices of which attack to use to win fights. The designed-to-fail decision-based battle system means that no matter what you choose, Peach will lose and end up fucked silly. There are options to skip through text or have it play automatically so you can focus on rubbing one out.
STORY
Fruity Ranger Peach wakes up in a strange arena. She has been captured by the Overlord who challenges his three top enforcers. If she can do that, he'll have her go free. These minions are robots resembling various forms of sex torture devices given souls. Peach accepts the challenge but doesn't realize how outclassed she is. The rest of the plot is short and non-existent with Peach battling each enforcer one on one, getting fucked afterwards until the game ends.
The writing is average with Peach having no particular character. We never learn anything about her except that her pussy can take multiple poundings. The Overlord is generic and while all his minions look different, they act the same. The game's length is two hours.
CONCLUDING WORDS
Fruity Rangers: Peach's Predicament is a subpar hentai game that is aimed at fans who love Power Rangers, Super Sentai, and hardcore porn with scat. The budget isn't big and the gameplay isn't very good. It's easily forgettable despite the juicy artworks and interesting scenario. If you're a connoisseur of classic hentai games, download Fruity Rangers.

Graphics

Gameplay

Story

Music

SFX

Hentai